Here's your roadmap to cloud ERP.
Focus your search with this handy checklist from Aberdeen Group.
More and more of your peers are choosing cloud ERP. Does that mean it's the right choice for your organization, too? Possibly—but you need to ask yourself the right kinds of questions first.
That's why Aberdeen Group has prepared a checklist that's designed to guide you through your decision process. Just follow these simple steps to find a solution that will power your business growth.
"ERP is only as good as the capabilities it enables in your organization. Here is a roadmap for getting the most out of cloud ERP."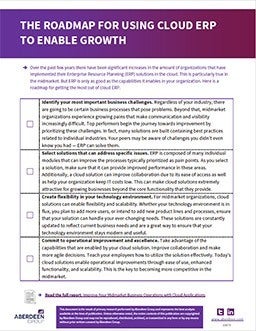 With this checklist, you'll learn:
How to address the unique challenges of midmarket organizations.
What cloud ERP brings to the table that on-premise solutions don't.
How to maximize your flexibility and scalability as you grow.
What it takes to compete more effectively in the midmarket.
How to get your free copy of the Aberdeen Group report, "Improve Your Midmarket Business Operations with Cloud Applications."
Don't miss this valuable resource. Enter your information, and the checklist will be yours in seconds.
This checklist is provided by Acumatica, a leading provider of cloud business management software that empowers small and mid-size businesses to unlock their potential and drive growth.
Get it now!
We won't share details without your permission