Cloud ERP: More than just a money-saver?
Learn the less-publicized benefits of cloud ERP in a free report from Aberdeen Group.
Business leaders are right to tout the cost-saving benefits of cloud ERP—but they're only telling part of the story. What's the best reason to move to the cloud? Business transformation.
In "The Benefits of Cloud ERP Software," you'll find out how cloud ERP helps companies like yours achieve faster time to decision, faster cycle times, more on-time shipments, and greater profit margins.
"Organizations with cloud ERP achieved ROI within 24 months as compared to 31 months for on-premise users. However, cost savings are just one of the reasons organizations may consider a cloud ERP solution."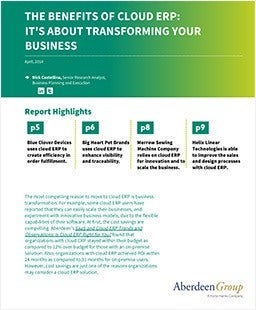 In this report, you'll learn:
The top business drivers that lead companies to implement cloud solutions.
How cloud solutions can increase collaboration across locations.
The top six business functions that can be enhanced in the cloud.
How four growing companies transformed their operations with cloud ERP.
Aberdeen's recommendations for selecting a cloud ERP.
This research can help you make your case for cloud ERP. Enter your information, and this report will be yours in seconds.
This report is provided by Acumatica, a leading provider of cloud business management software that empowers small and mid-size businesses to unlock their potential and drive growth.