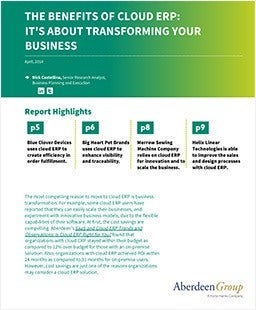 Moving to cloud ERP software (enterprise resource planning) can transform your business. According to this white paper by the Aberdeen Group, flexible cloud ERP software and cloud accounting software allows companies to scale their business, be more innovative, and save money.
The report breaks down why businesses surveyed decided to switch to cloud ERP:
31% needed better collaboration
24% wanted to reduce IT costs
22% needed to replace dated technology
To learn more about how cloud ERP can transform your business, download the white paper. To see an example of Cloud financial accounting software, learn more about the problems it solves and hear from customers using Cloud ERP, request a free on-demand demo of Acumatica.