Top 5 Technology Secrets of Progressive SMBs
Learn how forward-thinking companies are using technology to get ahead in this free SMB Group report.
It's not always easy to justify technology spending when you're trying to run a small or midsized business (SMB) on a tight budget. But in a recent survey, SMB Group found that when growing companies make good technology a priority, they're rewarded with significantly better business outcomes.
You can do the same. Find out how in "The Business-Technology Performance Connection for SMBs," a new report from SMB Group.
Progressive SMBs invest 29% more on technology solutions than other SMBs, and their investment is paying off, as they are 18% more likely to forecast revenue increases."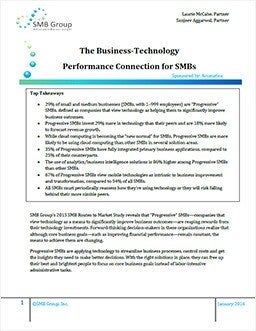 In this report, you'll discover:
Why it's essential to reassess your technology use on a regular basis.
What cloud solutions can offer you beyond cost savings.
Why integration is a key to your business growth.
Where mobile technology should fit into your business improvement.
Why "big data" isn't just a problem for big companies—and how you can tackle this challenge.
Don't miss this valuable guidance. Download the report now.
This resource is provided by Acumatica, a leading provider of cloud business management software that empowers small and mid-size businesses to unlock their potential and drive growth.
Get it now!
We won't share details without your permission