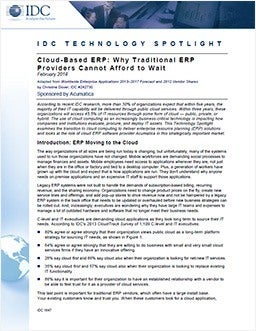 The majority of IT capability will be delivered through public cloud within five years, for an increasing number of organizations. Cloud computing is becoming critical for businesses. Employees want to access applications when they're outside the office, and some systems were not built to keep up with these new demands.
A recent report from IDC Technology examines the transition to cloud computing for enterprise resource planning (ERP) solutions and looks at the role of cloud ERP software provider Acumatica in partnering with legacy ERP vendors who aren't equipped to move their customers to the cloud.
The report highlights the following:
80% of respondents agree or agree strongly that their organization views public cloud as a long-term platform strategy for sourcing IT needs.
64% of respondents agree or agree strongly that they are willing to do business with small and very small cloud services firms if they have an innovative offering.
86% of respondents say it is important for their organization to have an established relationship with a vendor to be able to feel trust for it as a provider of cloud services.
Download this report to learn more about why organizations are contemplating moving their ERP systems to the cloud and how you can keep up with the trend.