Level the playing field with cloud ERP.
Discover how you can outmaneuver your larger competitors in this free report from Forrester Research.
Your growing business struggles with many of the same challenges as larger companies. But while enterprises can usually throw more headcount and money at a problem, you can't.
That's why so many midsized businesses (MBs) are using cloud ERP as a way of getting more "bang" for their technology "buck." Get the full story in "Cloud ERP: An Adaptable, Consumable, And Flexible Option For Medium-Size Businesses."
"Cloud ERP is designed to address many specific issues medium-size businesses are endeavoring to deal with as they struggle to use software that is either insufficient or too overwhelming for their current and future business needs."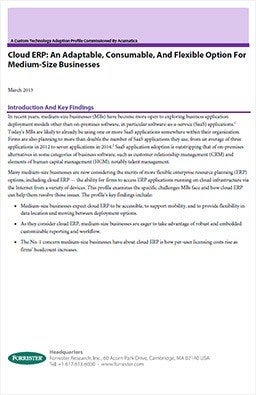 In this report, you'll learn:
The top business reasons that MBs are implementing cloud ERP solutions.
Which cloud ERP features and functionality are most relevant to MBs.
Why reporting and workflow capabilities are so important to your peers.
Which specific business challenges cloud ERP can help MBs solve.
Why cloud ERP is such a flexible, cost-effective option for MBs.
Don't miss these valuable insights. Enter your information, and this report will be yours in seconds.
This report is provided by Acumatica, a leading provider of cloud business management software that empowers small and mid-size businesses to unlock their potential and drive growth.