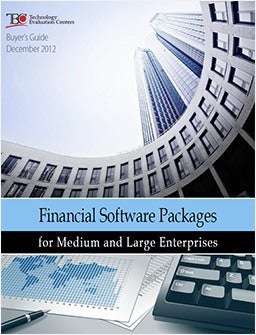 Accounting and financial management software is among the first software applications to have been adopted by organizations of all sizes and in all types of industries. In fact, the software has been around almost as long as computers have been in use. As the general concepts and principles of accounting follow objective, rational rules, it was relatively easy to develop accounting packages and to have them gain quick and widespread acceptance within the business community as a powerful tool for managing the financial activities of a business unit or entire organization.
It's hard to imagine that any company or governmental organization today could function without an accounting package in place—from micro businesses with a few users to national governments and global multinational enterprises with hundreds of users performing accounting and financial management work on a daily basis.
With ample experience in accounting software, today's tech-savvy financial managers and controllers are looking for software that not only is capable of performing accounting transactions and generating a standard set of quarterly and annual reports, but also is flexible enough to absorb and accommodate changes in the economy, business realities, and technological trends; is sufficiently rich and scalable to address a number of daily operations challenges; and is easy to work with.
This buyer's guide examines the major issues that medium and large businesses experience with financial and accounting processes, and looks at what various solutions can offer to mitigate those problems.