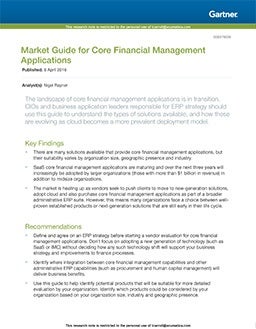 The landscape of core financial management applications is in transition.
CIOs and business application leaders responsible for ERP strategy should use this guide to understand the types of solutions available, and how these are evolving as cloud becomes a more prevalent deployment model.
"Core financial management applications (in particular, GL) are the foundation of any ERP suite because they record the financial impact of any business transaction. These have been sold as part of an ERP suite since the inception of ERP in the early 1990s, and many stand-alone core financial management application vendors have been acquired by larger ERP vendors as part of continuing market consolidation."
Read this Gartner Market Guide to learn more.


Table of Contents
Market Definition
Market Direction
Market Analysis
Representative Vendors

Acumatica
Advanced Computer Software Group
CGI Group, Inc.
Deltek
Epicor
FinancialForce.com
Infor
Intacct
Microsoft
NetSuite
Oracle
Ramco Systems
Sage Group
SAP
Totvs
UNIT4
Workday

Market Recommendations
Gartner Recommended Reading
© 2014 Gartner, Inc. and/or its Affiliates. All Rights Reserved. Reproduction and distribution of this publication in any form without prior written permission is forbidden. The information contained herein has been obtained from sources believed to be reliable. Gartner disclaims all warranties as to the accuracy, completeness or adequacy of such information. Although Gartners research may discuss legal issues related to the information technology business, Gartner does not provide legal advice or services and its research should not be construed or used as such. Gartner shall have no liability for errors, omissions or inadequacies in the information contained herein or for interpretations thereof. The opinions expressed herein are subject to change without notice.