Gartner Magic Quadrant: Cloud Core Financial Management Suites for Midsize, Large and Global Enterprises
Get the full analyst report by Gartner.
CTO's, CIOs, and business owners in charge of their company's ERP future must understand the competitive landscape of today's next-generation offerings, whether they plan to go to a public cloud, private cloud, or remain on-premises. In a crowded market with any number of options, this Gartner Magic Quadrant segments the key financial management suites, and ranks each company on its Ability to Execute and Completeness of Vision.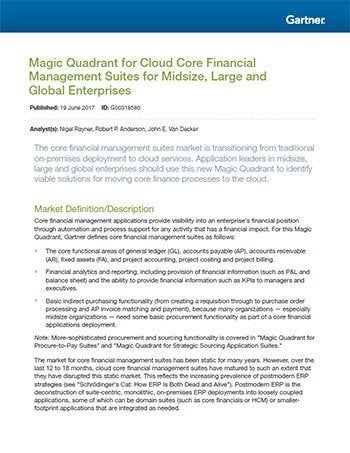 We believe Acumatica was named in the Magic Quadrant because:
of our strong focus on midsize organizations and a partner strategy that is well-suited to that market segment, enabling us to serve multiple industries and geographies
our wide range of APIs available coupled with the flexibility of the xRP platform and range of partner apps means that the Acumatica Financial Management Suite is well-aligned to Gartner's vision of postmodern ERP
Read the full report to learn more about the Midsize, Large and Global Enterprises offering Cloud Core Financial Management Suites today.
Get it now!
We won't share details without your permission