Profitability through cloud control
The latest report from Aberdeen Research shows how Cloud ERP can help you steer your business in the right direction.
As midmarket organizations grow, they reach a point where managing the business becomes too large of a task for business leaders to handle on their own. Whether there are individual operational functions to improve, such as project management or supply chain planning, or a need to manage the business holistically with Enterprise Resource Planning (ERP), top performing midmarket organizations understand how technology can help their organization to grow.
Of course, selecting this software is easier said than done. Not only must midmarket organizations identify which type of software they need, but they must ensure that the software is affordable, easy to use, flexible, and able to support the business as time goes on. One component of this equation is the deployment method of the software itself. Software vendors are now offering solutions delivered in the cloud (over the internet, maintained and managed by the vendor itself) that may have traditionally been delivered solely on-premise (licensed for use and managed by the licensee on their own internal technology environment).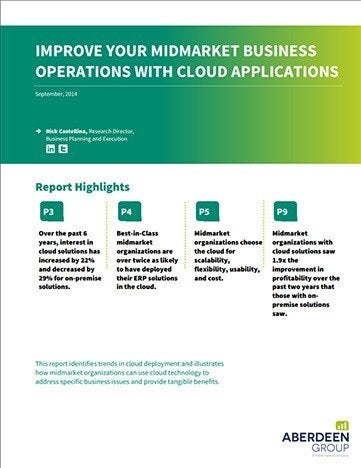 In fact, Aberdeen's 2014 Business Management and ERP Benchmark Survey found that Best-in-Class midmarket organizations are over twice as likely to have implemented ERP in the cloud. While past Aberdeen research has illustrated how these solutions can produce benefits when it comes to cost and scalability, the fact remains that midmarket organizations must choose solutions that can address the challenges they are trying to solve. Therefore, midmarket organizations must identify how they can pair the benefits of cloud solutions with the key software that they need in order to grow. This report, identifies trends in cloud deployment and illustrates how midmarket organizations can use cloud technology to address specific business issues and provide tangible benefits.
There's a reason why best-in-class midmarket organizations are over twice as likely to have a cloud ERP solution — you'll learn this and more in the full report.