Say goodbye to manual processes forever.
Discover how to fully digitize your business in this special report from Mint Jutras.
Everyone knows that today's digital technologies have the power to fundamentally change the way we do business. But how can you choose the right systems to connect your operations, people, and processes?
In "What Acumatica 6 Means to Digital Transformation," you'll find out how you can eliminate spreadsheets and automate some of your most time-consuming business processes by choosing the right ERP platform.
"The Internet levels the playing field in our global economy, allowing companies of any size to establish a presence and compete on a global basis."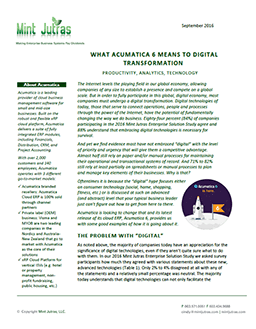 In this special report, you'll learn:
Why the path to digitization is so often fraught with challenges.
Why it's rare to satisfy all your business needs with a single application.
How Acumatica 6 delivers the flexibility and adaptability companies need.
How a continuous release cycle can give you unlimited access to innovation.
What you can expect from the enhancements in Acumatica 6.
Don't wait to get the full benefits of digitization. Enter your information, and this special report will be yours in seconds.
This report is provided by Acumatica, a leading provider of cloud business management software that empowers small and mid-size businesses to unlock their potential and drive growth. 
Get it now!
We won't share details without your permission