Want an ERP that will grow and change with you?
Get Mint Jutras' expert insights on how to find the best-fit system for your business.
It's tough trying to grow a small or midsized business (SMB). If you keep implementing point solutions to address new business needs, you'll leave your IT staff with a tangled web of integrations to maintain and upgrades to perform. Choosing an end-to-end ERP solution could be the way forward for your company.
So, how can you find an ERP platform that not only provides all the features you need today, but will also be flexible and customizable enough to support your new strategic initiatives tomorrow? Find out in a free report from Mint Jutras.
"While many ERP providers today try to be 'one stop shops,' the downside of this is added complexity and cost. Acumatica instead chooses to provide an open platform and take a collaborative approach to accelerate innovation."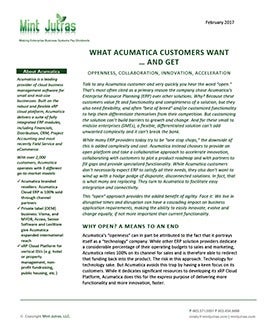 In this report, you'll discover:
Actual survey data on how cloud ERP solutions are delivering on their promises.
Why Acumatica's open environment can give you a clear technical advantage.
The benefits of public cloud versus private cloud
Why it's essential to choose a vendor that collaborates with customers.
Six key recommendations to guide your search for a new ERP solution.
Don't miss this insightful analysis. Just click 'Download' button, and this report will be yours in seconds.
This resource is provided by Acumatica, a leading provider of cloud business management software that empowers small and mid-size businesses to unlock their potential and drive growth.