Kensium Solutions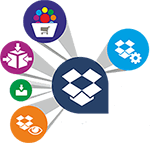 Product Configurator
Product Configurator allows your businesses to configure, bundle, group, and upload downloadable and virtual products in Acumatica. And if you're selling products online, customers can see all products variations, whether its size, color, grouped products, etc. This solution delivers all available options to customers and allows your business to track inventory, so no one misses out on the product they're looking for.
Configurable Product – A Single Item for Many Variations
Product variations – including color, size, and style – can all be created with Product Configurator. The solution eliminates the need for separate SKUs for items with different characteristics. Those who choose to implement the solution make tracking inventory simple for themselves and ordering simple for their customers. When the customer decides to purchase a product, it gets entered as a single item in Acumatica. The product is handled as a single item for the duration of its time in the system.
Bundled – Build Product as Needed
In this type of product, the buyer has the freedom to choose from a series of options to build their own final product. With Product Configurator, the pending options can be nested – meaning, what a customer has to choose from depends on what they chose at previous steps. Examples of products that might be bundled include electronics, assorted gift items, and bicycles.
Grouped Product – Sell as One Item
This product type generally presents several product options as a single option for sale. A common grouped product would be a bedroom set, e.g. bedframe, nightstand, and dresser.
Downloadable Product- "On-the-Spot" Fulfillment
These are digital products that customers can acquire directly after purchase, through downloads. These products include software, e-books, movies, or other types of digital files.
Virtual Product – Nontraditional Items
Virtual products are intangible, where no physical product is exchanged. They can range from subscriptions to extended warranty agreements.
Key features
Configure, group, bundle, or upload intangible products in Acumatica
Modify existing products or create new ones
Analyze data elements to improve efficiency
Improve customer experience and generate repeat purchases
Connect with e-commerce websites
About Kensium Solutions
Kensium Solutions' goal when it creates a product is to make business processes more efficient for customers. A partner of Acumatica's since 2012, we have a team trained specifically for helping Acumatica customers get the most out of their system.
Want to get insights about Extension
Get Contact Details
Get in touch to help accelerate your business

Great opportunities for developers and software companies

Application development framework for developers and software companies