Think it's time for a new ERP? Here's how to prove it.
Step by step, this white paper will help you justify your investment in new technology.
Getting funding for a new ERP system is simple in theory: you just have to convince your decision-makers that your project's benefits will exceed the costs. The tough part is to account for hidden costs on one side of the ledger, and indirect benefits on the other.
How can you perform an ROI analysis that presents your executives with a complete, airtight case for ERP? Find out in "Return on Investment (ROI) Analysis for ERP Replacement."
"The idea behind cost/benefit analysis may be quite simple and straightforward, but the reality is more complicated. Many costs are clear and apparent – just look at the vendor quotes and project budget – but there may be 'hidden' costs that are easily overlooked."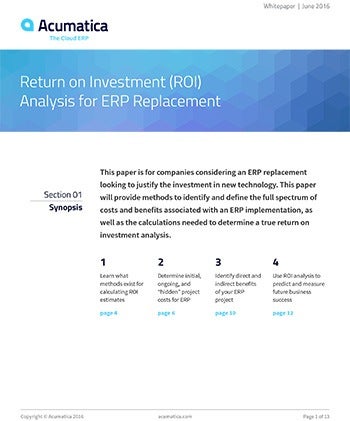 In this white paper, you'll learn how to:
Use two proven methods to calculate your ROI from ERP.
Pinpoint all project costs—even the "hidden" ones.
Identify the direct and indirect benefits of your ERP project.
Predict and measure your future business success.
Maximize your chances of business improvements, savings, and a financial return.
Don't miss this comprehensive, step-by-step guide. Just complete the form, and this white paper will be yours in seconds.
This white paper is provided by Acumatica, a leading provider of cloud business management software that empowers small and mid-size businesses to unlock their potential and drive growth. 
Get it now!
We won't share details without your permission