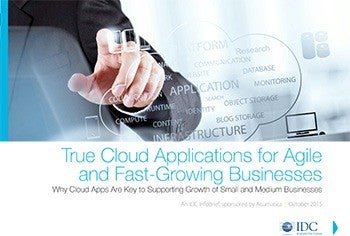 Learn why Cloud Apps Are Key to Supporting Growth of Small and Medium Businesses. According to IDC, SMB innovators had already moved to the Cloud by 2014. After a year, those firms are now better equipped to grow net revenue than their competitors.
Moving to the Cloud Increases the Ability of SMBs to Grow Net Revenue
Actually using SaaS solutions is shown to increase an SMB's opportunity to grow revenue.
Growing small businesses (under 100 employees) are 67% more likely to be using SaaS than the average small business.
Medium businesses (100-999 employees) are 11% more likely than the average medium business to be using SaaS.
Can your business say the same?
IDC's new eBook, True Cloud Applications for Agile and Fast-Growing Businesses, can help you visualize the benefits of Cloud migration. Download the research to learn how Cloud ERP can modernize operations and send your revenue skyward!