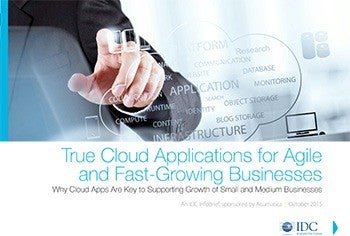 An amazing thing happened when the most innovative small and midsized businesses (SMBs) moved their business processes to the cloud in 2014: just one year later, they were much better equipped to grow net revenue than their competitors.
Your SMB can do the same. Get all the proof you need in "True Cloud Applications for Agile and Fast-Growing Businesses," a new IDC InfoBrief.
"When SMBs consider replacing existing and outdated IT solutions, 32.1% of them consider cloud solutions first."
In this InfoBrief, you'll learn:
How using cloud solutions can help you grow net revenue.
Which five lines of business can benefit most from cloud technology.
Why 7% of SMBs agree that the benefits of the cloud outweigh any potential security risks.
Why the cloud isn't just for early adopters anymore.
Six proven tips for planning your path to the cloud.
Don't miss these valuable insights. Enter your information, and this IDC InfoBrief will be yours in seconds.
This InfoBrief is provided by Acumatica, a leading provider of cloud business management software that empowers small and mid-size businesses to unlock their potential and drive growth.