Acumatica Summit 2020 is knocking on our door, and we can't wait any longer to reveal the winners of the Acumatica 2020 MVP and Developer MVP Program.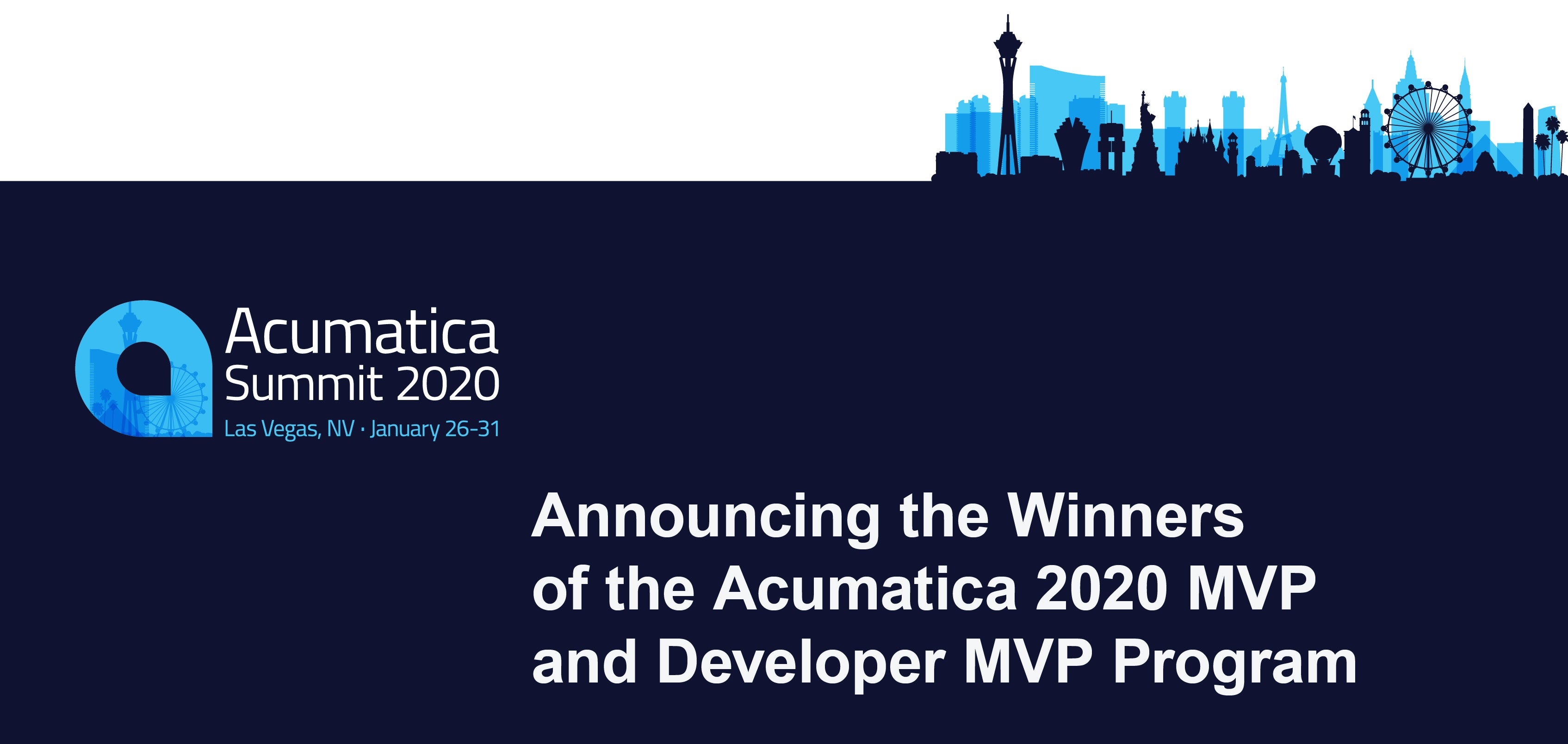 Back in September, I asked you to send me your nominations for Acumatica MVPs, and you didn't disappoint! You flooded us with names of deserving nominees of Acumatica champions and Acumatica developers from our customers and partners. So, as we did in 2018 and 2019, we've happily upped the number of winners. And every one of them will be honored at Acumatica Summit 2020 (January 26-31, 2020) during the Summit's Welcome Reception.
Before I reveal who the winners are, let me quickly tell you about becoming an Acumatica MVP.
How to be an Acumatica Product MVP and Acumatica Developer MVP
There are certain requirements to be an MVP. Though not difficult, they do require effort and commitment.
For example, MVPs know Acumatica's cloud ERP software and cloud xRP platform inside-and-out. Many ISVs, VARs, and Acumatica developer do too, but what sets MVPs apart is the fact that they share their knowledge selflessly with others in the community. They're the ones who consistently participate in our dedicated forums and online repositories such as Stackoverflow, LinkedIn, and GitHub, join webinars, engage with the Acumatica team regularly, and attend our annual Summits.
Gregg Mercede, President of Cloud 9 ERP Solutions LLC and multi-year recipient of the Acumatica MVP award, says it takes "attention to detail" and that "patience is key." He also told Acumatica's Platform Evangelist Mark Franks in a recent post that energy level and enthusiasm are necessary when you're an MVP.
It can be time consuming, but the rewards far outweigh the cost. Not only do MVPs get the satisfaction of growing their own business as well as the Acumatica community, they receive tangible benefits, including:
A recognition ceremony and token of appreciation given by Acumatica CEO, Jon Roskill, and me during the Summit's Welcome Reception
An Acumatica MVP Badge or Acumatica MVP Developer Badge, which can be displayed on profile pages, social media, resumes, and third-party forums
The opportunity for Developer MVPs to write guest blogs for the Acumatica Development Network(ADN), present at developer events, and attend bi-monthly meetings
Participation in our Stack Overflow and LinkedIn forums by answering questions (recognizing Developer MVP contributions in a leader board format with the leaders acknowledged quarterly)
They also receive the heartfelt appreciation of myself and every Acumatica team member. Without their efforts and support, Acumatica would not be the fastest growing cloud ERP solution on the market today.
Who are the 2020 Acumatica MVPs?
It was a difficult task of selecting the MVPs from the overwhelming list of deserving nominees. I am excited to announce the MVPs for 2020 whom have not only shown their knowledge of Acumatica product and platform but also contributed to the community at large.
Product MVPs
Mary Abdian, SWK Technologies
Michael Aichinger, Crestwood Associates
Nikki Alsop, Vaughn Bay Construction
Gregory Archambault, BHE Consulting, Inc.
Alec Baghdasaryan, Information Integration Group, Inc.
Justine Bangert, Bangert, Inc.
Colette Bashir, Alliance Solutions Group
Kurt Bauer, i-Tech Support
Patty Benitez, APS Payments
Patricia Bennett, PC Bennett Solutions LLC
Melissa Blassingame, Crestwood Associates
Ben Bratland, SPS Commerce
Ryan Brown, xByte Technologies
Kelly Burns, M3 Technology Group, Inc.
Matt Butler, Acucode
Francisco Callegari, BDO
Jim Carroll, Advanced Solutions and Consulting Co.
Tadeo Castillo, CLANDBUS
Pat Chappell, Strategies Group
Christopher Cleary, ProServe Solutions
Sharon Conkey, Dynamic Tech Services
Kevin Cox, National Wine and Spirits Corp
Ehren Dimitry, Panova Corp
Yuri Dorovskikh, OFS International
Derrick Ellidge, Power Storage Solutions
Ron Fairchild, Texas Scenic
Thomas Finney, Shoebacca
Brian Fletcher, Eclectic Innovative Solutions
Randy Forkner, Collins Computing
Jeffrey Franklin, TrueCommerce
Rahul Gedupudi, Kensium Solutions LLC
Joni Girardi, DataSelf Corp.
Joel Gress, Dynamic Tech Services
Timothy Grice, Advanced Systems Group, Inc.
John Gwaltney, PoolSource
Michelle Hesketh, Dynamic Tech Services, Inc.
Charles Hutchinson, InSync Healthcare Solution LLC
Gary Jensen, WAC Solution Partners
Jason Leveson, Somerset CPAs and Advisors
Mike Lisi, PostcardMania
Salvador Vilchis Mackay, Santandreu Home Center
Paul MacKenzie, Central Nervous Systems
Will McComb, BHE Consulting, Inc.
Gregg Mercede, Cloud 9 ERP Solutions LLC
Reinaldo Mesquita, Hartzell Construction
Rafael Mijares, Cloud Info & Systems MCM SA de CV
Melanie Miu, NexVue Information Systems
Michael Mullin, Integrated Business Systems, Inc.
Dave Munson, Saddleback Leather Co.
Tim O'Sullivan, PC Bennett Solutions LLC
John Pavain, MaxQ Technologies
Jeremy Potoka, SWK Technologies
Andrew Rashid, Alliance Solutions Group
Eric Ratte, Les Services SIPD Inc.
Tina Renner, Blytheco
Tim Rodman, Aktion Associates
Kevin Ruppert, Blytheco LLC
Chris Sandford, Classical Conversations
Harsha Sarjapur, InfoSourcing Inc.
John Schlemmer, JAAS Systems
Daniel Schwartz, NexVue Information Systems
Shawn Slavin, CS3
Shannon Ward, Aktion Associates
Aloysius Waweru, ODIN EPC, LLC
Glen West, Alliance Solutions Group
Bruce Young, Curran Young
Developer MVPs
Sharif Ahammad, Kensium Solutions LLC
Fernando Amadoz, SkyKnack
Diane Cawley, Savant Software
Rochelle Collins, JAAS Systems
Brendan Hennelly, JAAS Systems
Joe Jacob, Crestwood Associates
Gabriel Michaud, Velixo
Samvel Petrosov, Information Integration Group, Inc.
Keith Richardson, Haun Welding Supply
Terry Sample, AIM Solutions Inc.
Gerhard van den Heever, Astraia Technology
Joshua van Hoesen, Accounting System Integrators
Marco Villaseñor, Interastar
Yuriy Zaletskyy, Kensium Solutions LLC
These MVPs deserve a round of applause for their generous sharing of their expertise and their Acumatica product and platform advice. Their constructive feedback is also greatly appreciated as we work to improve and enhance Acumatica's cloud-based ERP year after year.
Join the Acumatica MVPs at Acumatica Summit 2020
With Acumatica Summit 2020 just days away, we're excited to honor these individuals on stage for their tireless support of the Acumatica community and for their contributions to the growth and success of Acumatica. We're also looking forward to singling out and recognizing this year's Developer of the Year! Please join us in the Developer General Session on Monday, January 27th at Summit for the Developer of the Year announcement.
Join us in Las Vegas for our best Summit yet. We're expecting over 2,000 attendees to fill The Cosmopolitan of Las Vegas with energy and excitement, ready to learn, connect, hack, and grow with Acumatica.
For more information about us, the Acumatica MVP Program, and/or our leading, user-endorsed cloud-based ERP solution, contact the Acumatica team today.