Registration is live for Acumatica Summit 2020. Acumatica's Bob Clancy explains why those who wait may miss out on some amazing benefits.
Why is urging attendees to register early for Acumatica Summit 2020 (happening January 26-January 31, 2020 in Las Vegas, Nevada) so important to the Summit planning team? The answer lies in a burning desire to see customers, partners, and analysts enjoy our premier cloud ERP event to the fullest. Registering sooner than later makes that complete enjoyment possible, and here are the top three reasons why: cost, accommodations, and Summit activities.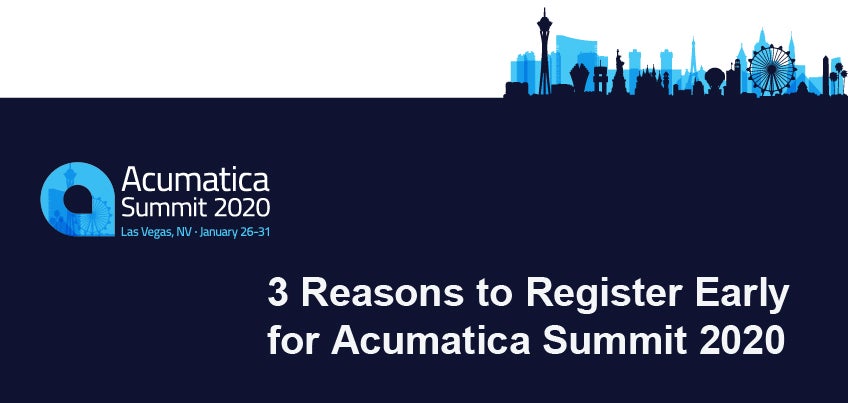 Why pay full price?
Paying full price when you don't have to is never a good idea. What is a good idea is taking advantage of price reductions before they disappear and receiving the same quality product, service, or experience at a discounted rate. This is why we continue to drive home the benefits of our annual Summit early-bird registration special.
Depending on the event package you choose, you can save from $200 to $600 per person:
Summit Only: $795 (full rate: $995)
Summit & Training: $1,895 (full rate: $2,495)
Training Only: $1,595 (full rate: $1,895)
You'll participate in all the cloud-based ERP event has to offer but will pay less to do so. The only difference to you and your team members is the cost. Keep in mind, these rates will expire soon, so it's imperative you grab them before they go.
Why stay anywhere else?
This year's Summit venue is The Cosmopolitan of Las Vegas. The spectacular resort is right on the Las Vegas Strip, offering guests luxurious accommodations steps away from entertainment options galore. The guest rooms are designed for rest and relaxation, many with private terraces overlooking the Strip or with a mountain view. Amenities include a 100,000 square foot casino, a spa and salon along with two 24-hour fitness centers, and a Pool District comprised of three separate pools. And it's located only three miles from the McCarran International Airport (LAS), so getting there is easy.
Additionally, staying at The Cosmopolitan means you're right in the middle of the Acumatica Summit 2020 action. The hotel's 100,000 square feet of conference space will accommodate our growing numbers comfortably and all you'll need to do is walk out your door to attend. And if you haven't been to Las Vegas before, know this: Even though another hotel may be a block or two away, in Vegas that could mean a 15-20 minute (or more) walk! You and your feet will definitely want the convenience of staying at The Cosmopolitan.
However, as with the early-bird rates, there's a catch: there are a limited number of rooms available at our negotiated conference rate. Once they're gone, so is the rate. Registering now versus later can provide a significant savings to you and your team.
Why miss out on a bigger and better Summit?
Finally, registering early means you'll be assured of a spot at our best Summit yet. We're expecting over 2,000 attendees this year, and while we're ready and able to accommodate our growing size, some training courses can fill quickly. Securing your spot in the sessions you want (or need, such as our certification courses) will alleviate any concerns of missing out.
We're also continuing our trend of improving our attendees' experience every year, packing the agenda with exciting events, including executive-led Keynotes, hands-on training sessions, numerous networking opportunities, and face-to-face time with ISVs during the Solution Showcase.
And, as always, we're leaving room for some fun. The Welcome Reception on Sunday evening kicks off the Summit with time to socialize with fellow customers, partners, and members of the Acumatica team; the much anticipated and enjoyed Attendee Celebration Party on Monday night will be at the MGM Grand in their three-leveled nightclub; and the annual (and popular) Tuesday Fun Run and Yoga will be returning again.
Why wait to register for Acumatica Summit 2020?
There aren't too many reasons for waiting to register for Acumatica Summit 2020, if any at all. We hope you won't miss out on the benefits of registering early. And if you'd not only like to attend but become an Acumatica Summit 2020 sponsor—thereby engaging with attendees and actively growing your business—you can email the team at sponsorships@acumatica.com.
We're genuinely looking forward to seeing old friends and making new ones as we gather together to learn more about Acumatica's cloud ERP software. If you have any Summit-related questions, please contact our team today.