Acumatica's new Channel Chief, Geoff Ashley, continues his series on becoming a Modern VAR. He addresses what three things you, an ERP VAR, should focus on every day of the week to make the transition from traditional to modern happen.
In Part III of our series about becoming a Modern VAR, we're going to dive into the three things an ERP VAR must focus on if they want to succeed in the 21st century. Before we do, let's do a quick recap of the first two blogs.
Part I, as published in digonomica, discusses the eight issues a traditional ERP VAR organization must overcome if they want to move from their professional services business model to a 21st century business model. Part II stresses the fact that overcoming these issues by changing the culture and behavior of the business must be initiated by the VAR Principals, Owners, or Executives (POE's). When the POE's take this initiative, it leads to the shift from an on-premise software and service model – which has prevailed for decades – to an annuity-based deferred revenue model.
This shift isn't easy, but it is necessary.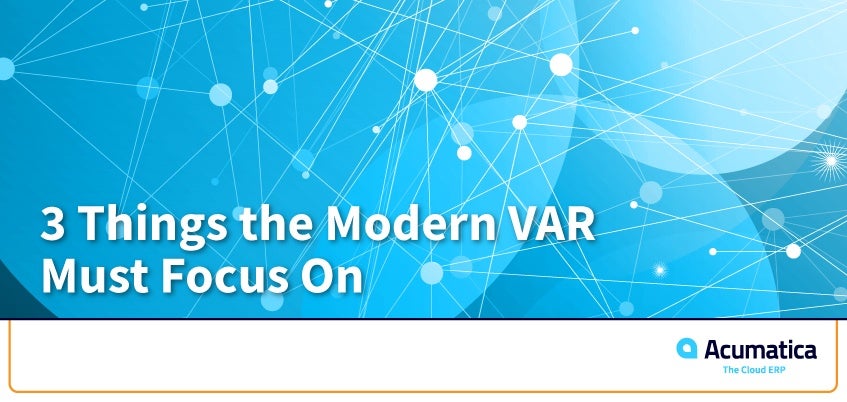 What a modern VAR should focus on
ERP VAR organizations operating from a professional services standpoint tend to focus their attention on a statement of work (SOW), which strictly defines the parameters of a project from beginning to end. They also consider billing services by the hour as their gold standard for measuring profitability. The problem with this particular two-pronged approach is that the client's needs and wants are usurped by the vendor's bottom line. But things have changed.
In the technology-driven world we live in today, customers are researching their buying options via vendors' websites before they even pick up the phone. Or respond to a call to action. Or send an email. No human contact is required until they've found a product they like or one that meets their needs. This is where those wanting to transition into a Modern VAR organization need to sit up and take notice.
The prospective customer has new expectations of service, ones that don't include billable hours, lackluster follow-up after the implementation is live, and being labeled as a 'project' rather than an 'important relationship'.
To meet these expectations, you need to focus on three things:
Pipeline: Even if you don't take our advice in Part I and II of this series, we hope you'll hear this: if you don't have a pipeline sufficient to cover 3X your goals, you're going to miss your goals; everything follows the pipeline.
As a reseller, you know the concept of a pipeline, but do you understand that in a deferred revenue world, you need to close three sales to equal one traditional sale? As we focus on building an annuity-based model, we also need to focus on volume and velocity. These are two concepts missing in the traditional professional services model. So if your goal is six new customers in 2018, you need a minimum of eighteen new customers to provide you the cash flow that your professional services model demands.
Having the pipeline (sufficient to meet your goals) and a marketing funnel (which shows you where you can improve the pipeline) leads into the second focus area.
Prospect/Customer Experience: It's important that a Modern VAR differentiates between prescriptive and complex sales cycles and the teams that manage them. The customer's overall experience will depend on this differentiation.
Simply put, a prescriptive sales cycle means you have created a system of detailed actions, activities, self-service experiences and "mutual to-do's" that each prospect or customer needs to accomplish to move through the pipeline. "You can no longer sell the way they buy, they need to buy the way you sell". This is the definition of a prescriptive sales cycle and it will help you not only shorten the sales cycle (i.e. volume), but it will also confirm your buyer's commitment to your process (the prospect experience). Here is the bottom-line: Anything other than a stellar experience and the prospect will find another option in six seconds or less!
If your prospect requires (or in some cases they just prefer) a complex sales experience, your team must be able to manage a "right touch" approach which is a balance of prescriptive self-service options along with a more personal approach that adds time, complexity and cost to their overall solution. As long as this fits their expectation (their expected experience), you can still achieve sales success and more importantly, a long-term "customer for life".
Whichever sales cycle is in place, you need to focus on creating a portal filled with rich – and free –  content, such as articles, testimonials, blogs, videos, and whitepapers, to provide your prospects with your product's features and benefits. As mentioned earlier, buyers are heavily researching their options. Having it packaged together in one, accessible location on your website means your prospects don't need to go anywhere else to find answers to their questions.
Intellectual Property (IP) and Managed Services: Creating additional value through IP available by subscription is key to becoming a Modern VAR. Forget the idea of selling single projects (i.e. SOW); embrace the incredible value of selling monthly subscriptions over and over again!
 In addition, managed services also bring in a monthly fee. Customers are willing to pay for such services as year-end closing assist, new hire assist, weekly access to a consultant, etc. These services provide real value to the customer and real profit to your business. A Modern VAR understands the benefit of an annuity-based deferred revenue model based on IP and services that they own.
These three things are what the Modern VAR should be prioritizing. The professional services business may find it difficult to change but once they do, they'll benefit immensely.
Become a Modern VAR with our Acumatica Partner Program
Here at Acumatica, we provide our VARs, who are the only route to market for our cloud ERP solution, with the tools and support they need to meet 21st century expectations. If you become an Acumatica VAR, you'll quickly realize that we believe a healthy partner channel, and one that is recognized for their efforts, produces a high rate of customer satisfaction and therefore, success.
Acumatica's ongoing support, training, and training materials are at your disposal 24-hours a day. They're geared towards helping you become a Modern VAR. We've also created a complete marketing program called the Campaign Factory to jumpstart your marketing efforts; you have access to a ready-made but customizable marketing campaign that fosters productivity and helps generate new leads. If you know someone who would be a great fit for our team, you can refer them through our incentivized Partner Recruitment Referral Program.
The topic of becoming a Modern VAR is an important one. If you attend Acumatica Summit 2019, coming January 27-February 1, 2019 in Houston, Texas, we would be able to chat with you in person about it.
Stay tuned for Part IV of this series. In it, we'll share about a networking initiative using tried and true tactics. In the meantime, please feel free to contact our team of experts if you have any questions about our Acumatica Partner Program or our true cloud ERP.