2016 will be here before we know it, which means now is the perfect time to identify emerging technologies which will be critical to your business.
Nucleus Research outlines their Top Ten Predictions for 2016 which will shape "the way organizations leverage technology for maximized value". Trends cited include continued change in customer engagement for both on-line, and brick-and-mortar retailers, as well advances in talent management and content management. IDC also released their Worldwide IT Industry 2016 Predictions, noting that scale is the "critical ingredient in the unfolding battle for digital success." Forbes did a nice overview of IDC's report here.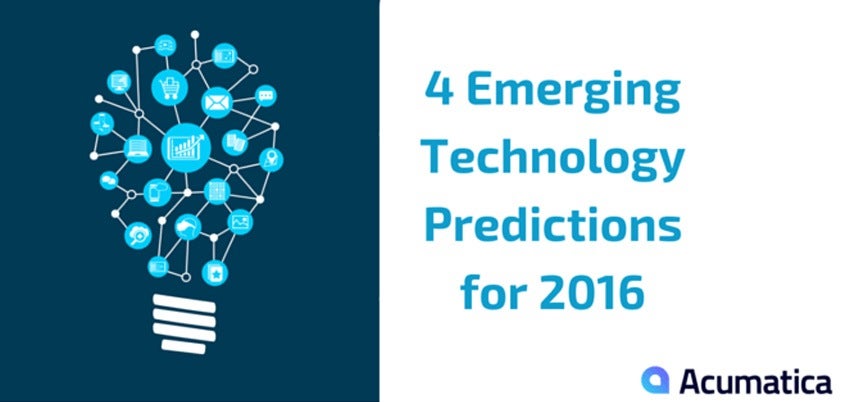 Yet perhaps what is most notable is not what is new, but what stays the same. Taking full advantage of many of the emerging technology trends requires a stable, but flexible platform that enables new execution and analytical capabilities. The authors are clear on what that platform is; "those that see ERP as an opportunity to drastically change existing processes will take a giant leap ahead of those who continue to just go through the motions."
Let's take a closer look at four of these trends and how the right ERP software can help to exploit them in 2016.
The Rising SMB Opportunity
The low entry cost of cloud-based applications such as ecommerce and customer service provides SMB's with the same or similar capabilities as their larger competitors, thus leveling the playing field. However, SMB's need more than simply a presence on the internet to engage customers. They need the ability to execute transactions; they need to plan and manage all their resources; and they need to quickly analyze and report the results of operations to drive future actions. The obvious answer to all of these needs? ERP! Not expensive, costly to implement, on-premise ERP, but, cost effective, flexible, and cloud-based ERP.
The Rise of the Disposable App
These days there's an app for everything. Mobile applications have become the most common method for companies to interact with  customers and collaborate with employees. Given the increase in mobile app development tools, and a corresponding decrease in cost, new mobile apps are continuously coming online. Each new mobile app represents a potential competitive threat as companies battle to have their app become the "app of choice" for customers. As a result, the rapid development, enhancement, and deployment of mobile apps are critical to compete or even survive. Any new mobile apps must be integrated with ERP and CRM application systems to provide fast, error-free transaction execution, and an optimum customer experience.
Excel Meets Its Match with Visualization
While Microsoft Excel has been and continues to be a useful, ad-hoc analytical tool, newer data visualization tools which are easy to use, and more "prescriptive" in nature are rapidly becoming the desktop analytical tools of choice. The ability of application systems to seamlessly interface with tools such as Power BI will largely define an organization's ad-hoc analytical capabilities.
CRM Goes Predictive
It is almost meaningless to discuss "predictive CRM" without discussing the Internet of Thing (IoT). As more information is captured by devices of all types, feedback regarding customer activities and behaviors will be available in real time. However, the volumes and multiple sources of such information present a risk of "information overload" leading to inaccurate insight and ensuing poor decisions. CRM is the natural gateway to receive such data, and thus predict future customer behavior.  CRM software which is tightly integrated with ERP software can provide a more complete picture of a company's ability to respond to future activity. This in turn will drive the appropriate actions through resource planning and transaction execution.
Whether your business is small and just starting, or you are an established company looking to grow, Acumatica ERP and CRM software provides the execution capabilities you need to engage your customers, streamline your internal processes, and effectively monitor all aspects of your operations. Our solutions are built for the cloud from the ground up. Our xRP platform and development tools facilitate the rapid development and deployment of the applications needed to compete in today's mobile-first, ecommerce environment.
So, contact us, and together we will make 2016 a happy and prosperous new year!