You may think one ERP event is the same as the next, but we disagree. Acumatica's Kim Plank shares how Acumatica Summit 2019 blows the competition out of the water.
Here at Acumatica, we consider our annual cloud ERP Summit to be an extremely important event for our customer, partner, and analyst community. In fact, as our own Bob Clancy pointed out in a recent post, we believe it's the cloud ERP event of the year, and we're making every effort to ensure that the benefits of attending this year's event surpass those of the preceding years. Today, I'll share four specific ways Acumatica Summit 2019, taking place January 27-February 1, 2019 in Houston, Texas, dominates the average ERP event.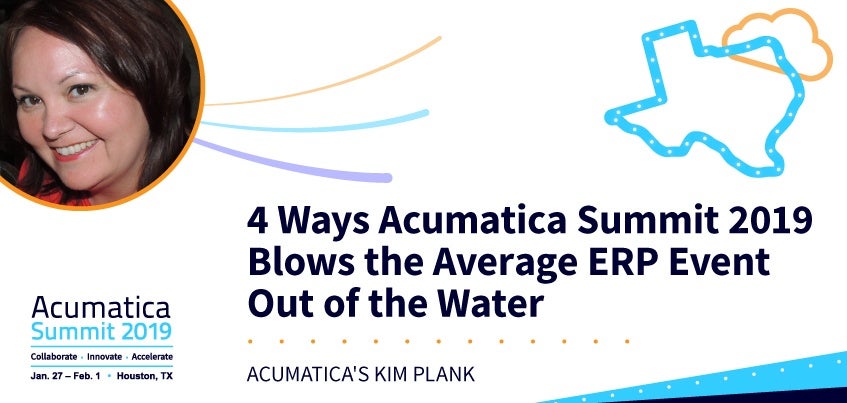 Acumatica Summit 2019: total domination in 4, 3, 2, 1…
This will be my first time attending an Acumatica Summit, but as a member of the Acumatica Summit 2019 planning team, I know this event is special. My insider's view of what goes into putting this event together, and the fact that I've been in the ERP industry for years (which includes working at Microsoft), has me excited for both first-time and veteran attendees to experience what I consider a superlative cloud ERP event.
Here are the four ways I believe Acumatica Summit 2019 dominates the cloud ERP space:
1. Face-to-face connection in a virtual reality
Technology has shrunk our world. There has been no other time in history when we as humans have been able to connect so easily with each other regardless of where we live.
Even so, connecting via emails, texts, apps, and on is not the same thing as connecting in person. It really isn't. That's why I'm jazzed for people to attend Acumatica Summit 2019. Conversing in person and communicating tangibly (even if it's only a five-minute, face-to-face conversation) can make an impact. These conversations help build community. And the Acumatica community is a wonderful example of what all communities should look like.
Read what Christian Lindberg, Acumatica's VP of Partner Solutions, wrote about on this very topic in his recent post, Why We Bring Together the Acumatica User Ecosystem at Acumatica Summit 2019: "Every year, I'm struck with the sense of community and family that pervades our premier cloud ERP event. It's a unique experience for those who have attended other technology conferences. I've attended many myself, ranging from Microsoft to competitor events such as NetSuite, and they do not offer the same personal connection. I look forward to seeing attendees I've gotten to know from previous Summits as well as meeting those attending for the first time. Our conversations cover topics from the personal to the professional, such as Acumatica's focus on increasing the success of our user ecosystem with the use of cutting-edge technology."
I couldn't have said it better myself. I want to add that the Acumatica executive team members, like Christian, make themselves available throughout the week. They use this as an opportunity to spend time with the community and to get feedback on our cloud ERP software, which we then incorporate into every release.
2. Acumatica doesn't believe in one-size-fits-all
Your business is unique. Your business management needs are different than anyone else in your industry (or in other industries, for that matter). As such, you require adaptable and scalable cloud ERP software that can integrate and streamline your business processes. This is where Acumatica cloud ERP comes in.
Built on a modern cloud-based platform, you can access your Financials, CRM, Manufacturing, Distribution, Project Management, and Field Services applications from a single system, which you can customize and extend accordingly. Acumatica cloud ERP provides a real-time version of the truth, offers the mobility you need, and is completely different than other solutions on the market today.
At Acumatica Summit 2019, you'll learn even more about what differentiates Acumatica as a leading cloud ERP solution, including our unique unlimited user licensing model and the fact that we were built for the cloud (unlike businesses that have scrambled to convert their legacy systems to keep up with cloud innovations). We continue to introduce industry specific editions, such as our new Construction Edition, meeting specific needs of businesses in every industry. We also continually improve and build out these applications based on our users' experience and feedback.
Our cloud ERP software is tailor-made for our users, and our Acumatica VAR partners will be with them through the discovery process, the ERP implementation, and beyond—something traditional ERP companies don't do.
3. Comprehensive and interactive trainings
Acumatica puts a huge focus on training. Attendees can attend breakout sessions specifically designed for customers, marketing, partners, developers, and sales as well as experience three days of instructor-led and hands-on certification training sessions taught by Acumatica developers.
Customer Tom Maricle, IT Director at CCS Presentation Systems, has attended our Summits for this in-depth cloud ERP software training, "I did the class…on reports, queries, and dashboards, and it was intense. I was very impressed."
I'm excited to share that we're making exciting updates to our training format this year. You can get the specific details in our post announcing these changes. In a nutshell, partners and customers will now be able to choose up to five half-day classes versus one class over two-and-a-half days. The classes will cover real-world scenarios and range from Basic and Intermediate Financials to Sales Methodology and from Pre-Sales Training and Workshop to Marketing Specialist Certification. You choose the classes most suited to your requirements and expertise.
As you invest your valuable time into our cloud ERP event, you want it to benefit your business. You'll head home having heard customers share their success stories. You'll also leave with new ideas you can immediately implement to increase the efficiency and productivity of your business. We want to make sure you receive the ROI you're looking for in these types of events, and Acumatica Summit 2019 will deliver.
4. Venue, venue, venue (and location)
I can't say enough about this year's venue, the Marriott Marquis Houston, a AAA Four-Diamond hotel in the center of Houston. It boasts 1,000 luxurious guest rooms with amazing views of the bustling city, a new spa, a 7,000-square foot fitness facility, a heated Lazy River (shaped like Texas!) and Infinity Pool, six dining venues, and 153,724 square feet of meeting space.
I've listed the amazing amenities, but the list doesn't express how much I'm looking forward to returning to this hotel. I, along with the planning team, had the opportunity to check it during our Summit reconnaissance missions, and I fell in love with the smell, the look, the size, and the quality of the Marriott Marquis Houston. The view from the rooftop Infinity Pool was spectacular and every single plate we ordered for dinner at Xochi, the hotel's Mexican restaurant, was beautifully detailed and tasted even better than it looked. This may surprise those who view Texas as all about BBQ, but Houston is a very metropolitan city with a wide variety of international cuisine.
As the biggest port in Texas and the largest port city in terms of foreign waterborne tonnage in the U.S., you can expect Houston to provide you with a multicultural experience. This includes the opportunity to enjoy international tax-free shopping at The Galleria, a 2.4 million square foot mall with 400 stores and restaurants, two hotels, three office towers, and so much more (like a skating rink and two pools).
Acumatica Summit 2019: not your average cloud ERP event
Can you see why I'm excited about Acumatica Summit 2019 and why it's going to be a memorable cloud ERP event? Let's face it, attending conferences can sometimes feel like a drag on your time and on your wallet, but I assure you that this one is worth every minute and every dollar. And speaking of cost, you can take advantage of our special early-bird pricing by registering right now.
I can't wait to see you there. For questions about Acumatica Summit 2019 or our cloud ERP software, you're welcome to contact our team at any time.