Acumatica Summit 2019 is set to commence January 27-February 1, 2019, and Acumatica's Nigel LeGresley is ready to go. He's excited for the many benefits attendees can receive from attending our premier cloud ERP event and shares one major benefit with us today.
Several of my colleagues have written posts about why attending Acumatica Summit 2019 in Houston, Texas is worth your time and effort. In them, Christian Lindberg, VP of Partner Solutions, focuses on how Summit brings the user ecosystem together and Ajoy Krishnamoorthy, VP of Platform Strategy, shares how it's like a family reunion on a larger scale.
They touch on how the Summit offers personal connection through the numerous networking opportunities, how the Summit is "Ground Zero" for learning everything you need to know about Acumatica cloud ERP, how the Summit shows the latest in cloud innovation, and more.
Today, I'll share my thoughts on how attending can help increase your business' efficiency.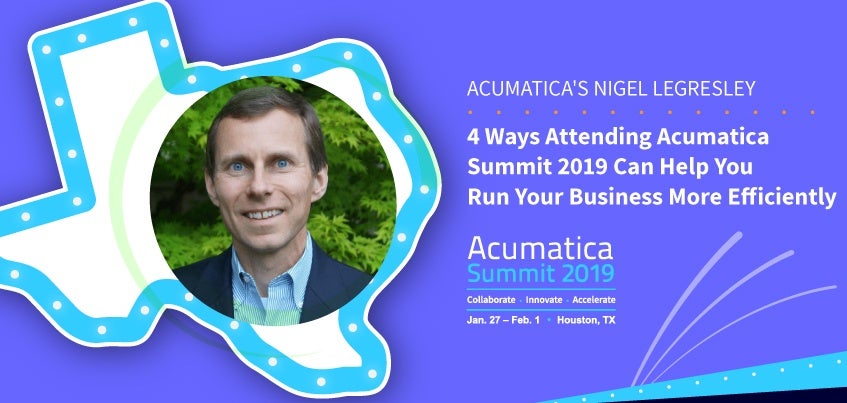 4 ways Acumatica Summit 2019 helps with efficiency
As the year comes to an end, we continue to roll out new feature functionality sets, as seen in our latest release, Acumatica 2018 R2. The new features address three specific areas: customer satisfaction, usability, and compliance.
At Acumatica Summit 2019, attendees will have the opportunity to witness these enhancements firsthand as well as experience hands-on training to learn how to utilize the upgrades for their unique business needs.
They will also see four ways being there will help them increase their efficiency.
1. Learning about the Financial Management and Compliance enhancements
With Financial Management at the very center of Acumatica's cloud ERP platform, we wanted to make sure it received significant enhancements. These include allowing multi-entity companies to close books independently of each other, providing a Tax Calculation Integration Plug-In to support sales tax calculation providers in our ISV ecosystem, and more functionality to support ASC 606 compliance in deferred revenue recognition.
Summit attendees, including Modern CFOs, will get an inside and detailed look at these improvements and at our Reporting, Dashboards, and Data Analysis capabilities, which give users the flexibility to extract and use information in a way that's best for their business. They'll see how they can use Acumatica's cloud ERP software to make critical decisions more rapidly than ever before, ultimately increasing efficiency.
To learn more about these topics before the Summit, our recent Modern CFO series addresses KPIs and reporting and planning for growth using advanced financial management software. The series also addresses communicating financial information to non-financial people, how to achieve a high level of auditability, and how mid-sized companies can handle compliance.
2. Attending the breakout and training sessions
The many breakout and training sessions available at Acumatica Summit 2019 offer attendees both a broad and detailed perspective of what Acumatica stands for as well as what we as a team are looking to do with our product and platform. The breakout sessions are specially designed and include Customer, Construction, Developer, Marketing, Product, and Sales; the training tracks are geared for your specific needs. Each one will focus on how our cloud ERP solution can increase efficiency and profitability.
3. Interacting with others in the Acumatica community
As both Christian and Ajoy point out in their posts, the Summit is the prime place and time to interact and network with customers, partners, Acumatica team members, and analysts. Speaking with other people who use Acumatica during the reception events, in the training sessions, or at the Partner Expo can give you insights into how to use features in our product and platform, features that may be new or just new to you. Rarely does a conversation go by at the event that I don't learn something new about Acumatica and ways it can be used…and I use it every single day.
I often say I don't know what I don't know. Thankfully, attending Summit affords me the opportunity to learn what I may be missing. These conversations increase my efficiency tenfold and can do the same for you.
4. Learn, recharge, and have fun
Finally, Acumatica Summit 2019 will not be all work and no play.
Our venue, the Marriott Marquis Houston, is a beautiful hotel with amazing amenities. We have a Welcome Reception, the Monday night Celebration Party, a fun run, and more planned for your entertainment. And Houston is a vibrant city with plenty of activities and restaurants to explore.
You're at your most efficient when you learn, recharge, and have fun—all of which you can do that at Summit.
Efficiency and energy at Acumatica Summit 2019
The amount of energy you feel at Acumatica Summit 2019, from the Welcome Reception all the way through the training sessions, is fantastic. That's why we're here: to energize people and help them run their businesses more efficiently and effectively. When I speak with Acumatica customers and partners, they say that unlike other providers, Acumatica offers an ERP solution that allows them to consume it the way they want and helps them succeed in a connected cloud world.
Join us at Acumatica Summit 2019 and experience the energy and fun for yourself. If you have any questions about our cloud ERP event or our cloud ERP software, you're welcome to contact our team.