Acumatica Summit 2019 is the place to be if you want to enhance your cloud ERP knowledge while networking with your peers and industry experts. Acumatica's Bob Clancy gives his reasons for why it will be the event of the year.
Have you ever wondered why companies hype their annual conferences so far in advance? It's because they consider the conferences to be incredible learning experiences for their customers, and they want them to save the date. As the Senior Events Manager at Acumatica, I know something about the importance of these events.  I, along with the planning team, am already working hard to make Acumatica Summit 2019 – coming January 27-February 1, 2019 in Houston, Texas – another amazing Summit experience for the Acumatica community.
In today's post, I'll share five reasons why I believe the Summit is the cloud ERP event of the year and why you'll want to register for it right away.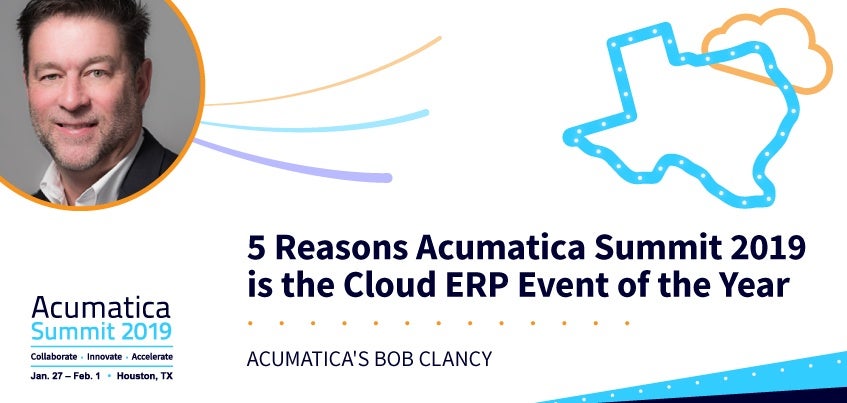 5 Reasons Acumatica Summit 2019 should be on your calendar
I have a whole list of reasons why our global community of customers, partners, and analysts should attend Acumatica Summit 2019, and why it's the top cloud ERP event of the year. Rather than share information overload, I've narrowed my list down to my top 5 reasons. They're based on my years of experience in planning technology conferences, including ones for Microsoft. After almost two years at Acumatica, I believe no other cloud ERP company combines learning and fun in one cloud ERP event better than we do.
Following are my top reasons (in random order) why Acumatica Summit 2019 is the place to be and why it should be on your calendar.
1. Location and venue
If you've checked out our Acumatica Cloud ERP Blog recently, you read about why we chose Houston, Texas as our Summit location and why we chose the Marriott Marquis Houston as our venue. We make these decisions by considering the logistics from every angle. Is the location accessible? Does it have the number of guest rooms and the event space we need? Is the weather in January temperate (yes, please!)? And will the location and venue offer our attendees the quality (and the quantity of) entertainment we expect for our attendees? It took only one visit to Houston for us to realize that this was the place for Acumatica Summit 2019.
The city underwent a rejuvenation about eight-to-ten years ago, and the downtown is now a sought-after conference destination for companies from every industry. Its cultural diversity is felt in its amazing eateries, some of which are found right in our hotel and conference center; there are gorgeous green spaces steps from our door, a museum district, golf courses, and the largest shopping center in Texas.
Additionally, the Marriott Marquis Houston's 150,000 plus square feet conference facility is impressive in size and appearance. Acumatica Summit 2019 requires space that can fit our growing community, our large partner EXPO, and our many cloud ERP software breakout and training sessions, which are broken down into customer, partner, and developer specialties. The fact that our venue accommodates these needs, and looks good doing it, is fantastic.
2. Peer networking and access to our executive and support teams
Acumatica CEO Jon Roskill shared during Acumatica Summit 2018 that we experienced a 144% growth rate in 2017 with over 4,000 customers worldwide, 61 new VARs, and 37 new ISVs. Approximately 1,200 of them joined us at the Summit, and we're expecting to see even more at Acumatica Summit 2019.
Historically, the majority of these attendees have been our partners. They've recognized the benefit of gathering with thousands of their industry peers at one time and in one place to learn even more about our cloud ERP software. We offered new Developer tracks and expanded our Hackathon last year to entice our developer community to benefit from the networking opportunity our Summits provide.
This year, we're encouraging even more of our current and prospective customers to register for our cloud ERP event so they, too, can meet their peers and swap cloud ERP best practices. If that's you, you'll find out what other people in your industry are doing and may also find out about some of Acumatica's capabilities you weren't aware of.
Along with this peer networking, you'll have the chance to meet our executive team members and support team members face-to-face. This type of open communication and easy accessibility is unique in the cloud ERP world, and I hope you'll take advantage of the opportunity presented at our annual event.
3. In-depth training
The insight you gain from networking with your peers and our leadership teams is not just for the future. You can immediately use our training and certification courses at Acumatica Summit 2019 to learn how to implement those best practices.
Acumatica customer Tom Maricle, IT Director at CCS Presentation Systems, has attended our Summits for this in-depth cloud ERP software training, "I did the class last year [Acumatica Summit 2017] on reports, queries, and dashboards and it was intense. I was very impressed."
Our training sessions are designed so that every customer's level of expertise with Acumatica's cloud ERP software is taken into consideration. This will also be our fourth year where customers will have their own training tracks (broken down into two session types: Education and Roundtables) led by experts from a variety of industries. With real-life scenarios, you'll learn about other customers' challenges and how Acumatica's cloud ERP platform and products meet their needs; you'll then be able to apply this knowledge directly to your own business.
We feel the intense cloud ERP training at our Summits sets us apart from our competitors. Tom says, "We used to go to all the Sage conferences and they were really extremely different. It was really light kind of classes."
4. Summit rates
If you, like Tom, have had a chance to attend other cloud ERP events, you've probably had a bit of sticker shock when you paid for your passes, fees to be a sponsor, and more. I'm pleased to share that we offer an early-bird special every year for attendees who register early.
This special is going on right now, and the difference in price is significant.
Early-bird rates:
Early Bird Summit Only: $699.00
Early Bird Summit & Training (Full Week): $1,499.00
Early Bird Training Only: $1,199.00
Regular Summit rates:
Summit Only: $899.00
Summit & Training (Full Week): $2,199.00
Training Only: $1,699.00
Even without the early-bird pricing, we're one of the least expensive conferences and hope you'll take advantage by attending Acumatica Summit 2019.
5. Enjoyment factor
Our focus is on ensuring that our customers, partners, and developers walk away from our Summits knowing how to utilize Acumatica's platform and cloud ERP software to the fullest while enjoying every moment. Part of that enjoyment is in experiencing our host city, and Houston's attractions are unique and plentiful.
The planning team is also responsible for the fun events we host internally, such as our eagerly anticipated Celebration Party. We plan to bring back the Tuesday morning Fun Run and Yoga Class, as well.
I'm always looking for more things to do. The planning team and I have some other entertainment ideas brewing and will keep you posted.
Need more reasons as to why Acumatica Summit 2019 is the cloud ERP event of the year?
There are plenty of reasons Acumatica Summit 2019 is the place to be next year. I've given you my top five and want to mention one more: we'll once again be streaming our two Keynote Sessions live. Keep in mind, however, that listening to the Keynotes from somewhere else means you're missing out on the rich content of our many breakout and technical training sessions as well as the chance to network with your peers and our leadership teams.
Don't wait; secure your spot at the best rates for the cloud ERP event of the year. Acumatica Summit 2019 has the cloud ERP software training (and fun) your business needs. Please feel free to contact our experts at Acumatica at any time if you would like if you have any questions about the event or our cloud ERP platform and products.