Acumatica VARs attending Acumatica Summit 2019 can expect a busy week and a full agenda. Geoff Ashley, Acumatica's Channel Chief and head of the Acumatica Partner Program, offers his advice on how to fit everything in to get an impressive ROI.
If you're one of our Acumatica VARs, you may be wondering how to best utilize your time at Acumatica Summit 2019 (coming January 27-February 1, 2019 in Houston, Texas). The bad (and good) news is that there's so much going on, it will be tough to know which breakout, meeting or workshop to choose from. But there are some things you can do to maximize your experience.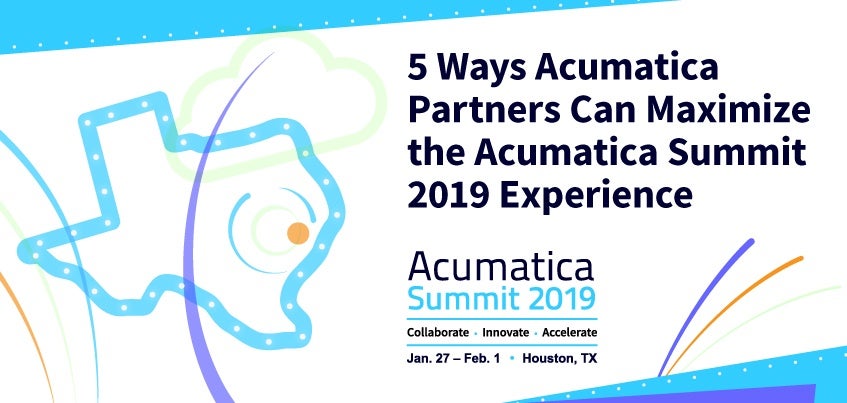 Make the most of Acumatica Summit 2019
Here are my top five tips for Acumatica VARs to get the most out of their time at our cloud ERP event of the year.
1. Look at the agenda BEFORE you arrive: In fact, look at it now! There are more than 55 different breakout sessions covering 6 different tracks. This does not include the opportunities for networking and the social activities planned. In short, you would need more hours than are available in a day to obtain all the content being provided during the Summit. Obviously, one person can't do that. So, if you do the math, then you know a plan is essential.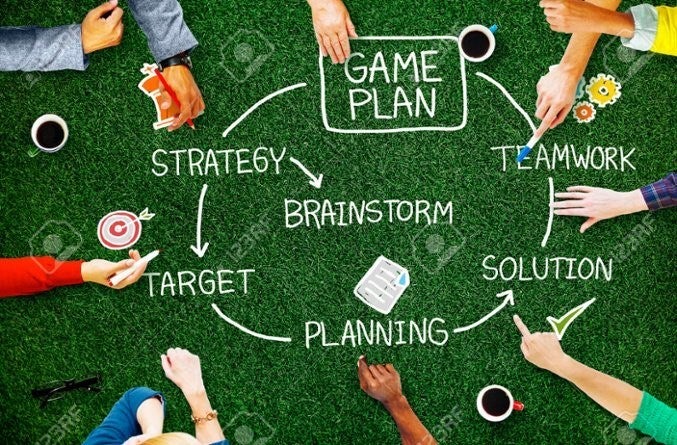 What is your objective for the meeting? While this may sound obvious, I can assure you it is not. After Summit is over, I get dozens of e-mails from partners letting me know they tried to meet with me but couldn't. If one of your objectives is to meet with a specific Acumatica resource, obtain a badge, or explore additional ISV solutions, arrange for them all now! The point is, with thousands of people on-site, it is highly likely that spur-of-the-moment requests will go unresolved. Stack the deck in your favor by planning ahead. As of today, my calendar is already starting to fill up.
2. More than one person is a must: As mentioned above, it would be impossible for a single person to attend breakout sessions and training tracks. The sessions have been created with a specific role in mind. Whether you are the Principal/Owner/Executive, Marketing, Sales, Pre-sales, Consultant or Developer, there is content created specifically for you. If you come alone, you'll miss out on mission-critical information that could (seriously) help you transform your business. 
When I attend meetings with a team, I have them create a calendar of their proposed meetings, tracks or educational priorities.  We then meet and review the calendars prior to the show to ensure that we make the most of our time. Make your success deliberate by bringing enough people and ensuring that those people are scheduled ahead of the event. There is so much happening, so make sure your team gets the most out of this once-a-year event.
3. Placing an appropriate value on time: In more than six studies of more than 4,600 participants, it was found that people who value money over time tend to be less productive, less successful, less satisfied in their roles, and less respected by their employees, peers or families. They also tend to be less happy in their lives. Yes, it's important to prioritize how you spend your time and money, but at what "cost"? The "Law of 100" states that: "The goal of a good meeting is to create value that lasts greater than 100 times its duration." Summit 2019 will most certainly exceed this goal!
Acumatica has taken significant steps to ensure that this happens. This cloud ERP event is loaded with very real value that can bring 100 times the investment you make in time and money. Also, according to many experts—both business and psychology—the only way for most organizations to obtain this type of result is to delegate value. In other words, have sales people attend sales tracks, technical people attend technical tracks, and principals should attend executive or leadership tracts. Saving a few bucks by sending one person and having that person attend tracks that they don't understand or that they don't have an interest in, is completely missing the point (and the value). Also, attending by yourself means that there will be dozens of breakouts you don't attend at all (again totally missing the point). 
4. What is an "actionable idea" worth? According to Hank Williams, a tech marketplace visionary and entrepreneur, "I would say getting an actionable idea (emphasis added) could be worth 50%, and perhaps more than 50% of the value of your enterprise." The issue is that most people don't act on the ideas. Acumatica Summit 2019 is loaded with sessions that will not only explore new ideas, but you will leave with next steps, current and relevant data, and real-world examples of how you can use these ideas to improve your business today. 
Perhaps the most important part of creating actionable ideas is in the area of marketing. This is where you can find out the where, how and what. Where are partners finding leads? How are they finding them? What method or activity is driving leads? The answers to these questions could be the difference between a good year and a great year in 2019! With the new Marketing Badge, your marketing professional will not only gain exceptional ideas, but they will also meet other marketing professionals with whom they can continue the discussion even after Summit.
5. Get outside your comfort zone: A survey of VAR owners was conducted to determine how they spend their time, where they spend their time, and how much of their time outside the office impacts their day-to-day decisions. While the answers to this question is an entire workshop of its own, the most important take away was this: owners tend to spend time where they are most comfortable. But this could be the wrong strategy.
You learn significantly less by spending time where you are comfortable rather than spending that time where you are less comfortable, and, therefore more likely to learn something new! If you're technical, go to non-technical tracks. If you're social, stop socializing and attend the breakout sessions. If you tend to spend time in a group, split up and go to more sessions. If you're quiet, create a list of three key questions and bring them with you to breakfast, lunch and dinner and present them to everyone at the table.
Use your time at Acumatica Summit 2019 wisely
Acumatica Summit 2019 is almost here. We're confident that this cloud ERP software event is not only a bargain for Acumatica VARs (register now for our special early bird pricing), it has the potential to be a money maker for you and your entire organization, especially if you plan beforehand to look at the agenda, bring multiple team members, value your time, act on what you learn, and get out of your comfort zone. And if, during your free hours, you don't forget to enjoy the many attractions and dining options Houston has to offer.
For anyone interested in becoming an Acumatica VAR, or if you know a reseller partner who you'd like to refer as a possible partner, contact our team today. They'll fill you in on the benefits of joining our team, which includes the details of our stellar Acumatica Partner Program. We're committed to helping our Acumatica VARs transform into modern VARs, giving their customers an exceptional experience and growing their businesses because of it.
We hope to see you at the conference!