Acumatica Summit 2019 is the yearly opportunity for the Acumatica community to gather in one place at the same time to learn about all things cloud ERP. There are significant benefits for partners and customers choosing to attend together.
Every year, we invite our full Acumatica ecosystem to attend our annual cloud ERP event. Customers, partners, developers, analysts—we want you all there. This year, we're encouraging partners and customers to attend Acumatica Summit 2019 together. Why? Because those who make this a joint venture will experience some amazing benefits.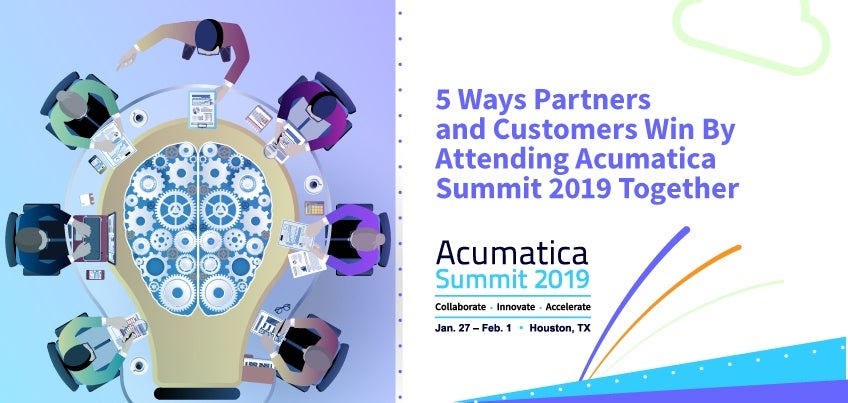 Five benefits partners and customers can expect when they attend Acumatica Summit 2019 together
Before we get into the benefits of attending Acumatica Summit 2019 (coming January 27-February 1, 2019 in Houston, Texas) with your partner or customer, let's take a brief look at what the event entails.
It's a week filled with learning about Acumatica's cloud ERP software and how it helps you accelerate your business. We offer a look into what's happening with our products and solutions, product certifications, and insightful, customizable training sessions. In fact, we're excited that our recently announced new training format for Acumatica Summit 2019 allows you to choose five half-day courses (vs. the previous one class for two-and-a-half days) based on your specific business needs and level of expertise. And the week isn't complete without making sure you have fun things to do after all the hard work.
Simply attending this comprehensive cloud ERP event is a great idea but partners and customers attending together is an even better one. Here's why:
1. Grow your relationship
As an Acumatica VAR, you know superior service is not just about sharing your technical knowledge. It involves connecting personally with your customers. When you do, they're comfortable communicating their cloud ERP needs with you, knowing that you will hear and respond accordingly. This connection comes with spending time with them—and time is something we don't have a lot of. At Acumatica Summit 2019, you will. Partners and customers have the perfect opportunity to get out of the office and focus exclusively on how Acumatica cloud ERP can meet their business management needs.
And as an Acumatica customer, you rely on your Acumatica partner to be the expert and must be able to trust him or her. The time spent at Acumatica Summit 2019 will help solidify that trust and that relationship, setting you both up for easier, more open communication in the future.
2. Get referrals and experience the power of word of mouth (WOM)
Whether you're a partner or a customer, getting yourself and your business out there is never easy. There's the normal marketing efforts we all make to attract new clients. And while utilizing advertising and social media modalities is very effective, one of the best methods to generate positive referrals is to network with the very people you want to work with and for. Networking directly with people lets you demonstrate who you are and what you can do for the other person or for their business.
In addition, you should never underestimate the power of WOM. The in-person opportunities to spread the word about your business at Acumatica Summit 2019 are endless. Attending our premier cloud ERP event puts you in the same place with over a thousand (and growing) attendees and new prospects who could speak on your behalf to thousands more. And doing it in conjunction with either your partner or current customers is even more powerful because they'll vouch for your abilities and vice versa.
3. Opportunity to do the "Summit Huddle"
No, the Summit Huddle isn't a new dance craze. It's an opportunity for partners and customers to "huddle" together by planning an onsite mini-event within the context of the larger Summit event. For example, you could plan a full-fledged party at a local restaurant or enjoy a Cocktail Hour at one of the hotel bars. On the lighter planning side, you could setup a "huddle" at a specific table during lunch or have a coffee meet-and-greet at the hotel espresso bar. If a more relaxed setting is preferred, consider setting up a visit to an offsite tourist attraction together, or going mini golfing. Cater the "huddle" you do to your customers and your own style.
Regardless of how your Summit Huddle looks, we think you'll find it to be an efficient and enjoyable way to get together while you're already at the same place at the same time. And, as often is the case, these opportunities generate the benefits of growing your relationship (see benefit #1) and allowing for undisturbed conversation about everything you've been learning about Acumatica's cloud ERP software.
4. Collaboration with the Acumatica team
We're all about collaboration here at Acumatica. We work with both our customers and partners (those who are 100% responsible for selling and implementing Acumatica cloud ERP and who know something about becoming a modern VAR) to encourage their success. Some of the ways we do this is by offering a full-service Acumatica Partner Program (which provides ongoing training and support along with generous margins and terms), a Partner Recruitment Referral Program, and acknowledging our partners' efforts on our behalf through our annual Acumatica Partner Awards. If you attend Acumatica Summit 2019, you'll learn the winners of the Acumatica 2018 Partner Awards.
The goal, then, is for our Acumatica VAR partners to take this support and knowledge and pass it on to their customers. They're experts at ERP implementations, the ERP implementation process, and the ERP implementation life cycle. Your satisfaction with both our partners' service and with our cloud ERP software is of the utmost importance.
At Acumatica Summit 2019, you'll not only have dedicated time with your partners, but you'll have the chance to meet other members of the Acumatica team, including executive team members, developers, and ISV partners, who provide third-party integrations. They're available to answer any questions or to hear your feedback and are intent on helping make your ERP implementations even better.
Acumatica customer Matt Stoner, CFO of Dakota Red Corporation, says, "When our IT Manager attended Summit 2016, I remember him coming back and talking about how our VAR introduced him to Jon Roskill [CEO of Acumatica] along with some other executives. The opportunity to talk with them one-on-one adds great value to attending the Summits."
5. Glean tips and tricks from other partners and customers
Finally, having the chance to converse with other Acumatica partners and customers who are facing the same complex business challenges as you is incredibly beneficial. The Acumatica community is close-knit and known for its willingness to not only openly share the business problems they face but also for its willingness to work together in solving them.
As I've worked with hundreds of customers over the years who have served as references for future customers, I am often told this scenario: the current customer graciously agrees to do a reference call because they remember being in the prospective customers' shoes – doing all the research for a new ERP platform and spending countless hours making sure they picked the right solution for their business. To their surprise, the current customer ends up learning new things alongside the prospective customer during the reference call, creating a win-win, symbiotic relationship of problem solving business decisions together. These stories make my day, and are a huge reason why I love the Acumatica ecosystem and ethos.
It all starts with a conversation. Learning how each partner and customer utilize Acumatica's cloud ERP software may work for you. And what works for you may work for them. Sharing and receiving tips and tricks will enhance your cloud ERP knowledge even more with the result being a more streamlined and productive business.
"Networking with Acumatica customers is a huge benefit, especially in getting their perspective on real-life issues," Matt says.
You can find out what else Matt has to say about attending Acumatica Summit 2019 in a recent post, Dakota Red Corporation Shares 3 Reasons to Attend Acumatica Summit 2019.
Register for Acumatica Summit 2019
Vineet Bhatnagar, another Acumatica customer and Product Manager at InSync Healthcare Solutions®, attended our cloud ERP event last year and says it was a great experience. He also says in a recent post about attending the Summit, "To be honest, [Acumatica Summit 2018] left me thinking about the ever-growing opportunities of Acumatica as a cloud-based ERP solution and the kind of potential it has to drive growth and empower growing companies like ours."
Because of his experience, Vineet will be joining us again at this year's Summit. It truly is the best place to learn everything you need to know about Acumatica's platform and cloud ERP software. Partners and customers attending together will only enhance that experience and help you make your ERP implementation a smoother and less stressful procedure. And if you register right now, you'll benefit from our special early-bird pricing.
Have questions about our cloud ERP solution? Contact our team. We here to navigate this cloud ERP world with you.