Equipment rental management is more efficient than ever with Rental360's mobile framework, which is built on the Acumatica's modern cloud ERP platform. This cloud solution offers companies a new way to track all of their assets in the rental space.
The rental industry is quickly falling in love with the idea of having a modern cloud ERP system. Whether your company is a rental business with limited staff or a large corporation where rentals are just a piece of your operation, Rental360 from NexVue enables better decision making. This means you can have more control of your assets, maximizing rentals and most importantly, profits.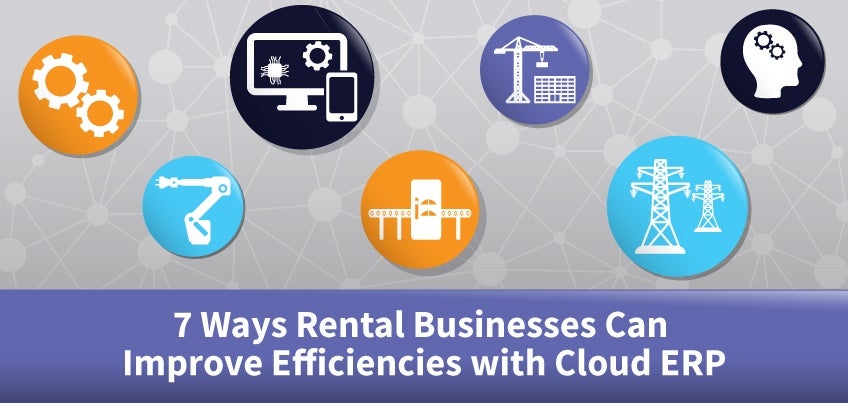 Seamless integration with Rental360 and Acumatica's cloud ERP
For companies that rent industrial equipment or consumer goods as their primary business, they can now taking advantage of the benefits of a cloud-based solution, including managing the entire rental process from check out and delivery to check-in and inspection. Rental360, with Acumatica, manages inventory, tracks depreciation, ties rental activity to financials and other back office systems, provides built-in mobile ability to attach files and photos, customer portals, activity management, dashboard viewing, and more.
Retail stores that also rent inventory as a portion of their business see that they can add Rental360 to their Acumatica's cloud ERP solution. They can now seamlessly integrate their rentals into day-to-day business management processes instead of managing this part of the business separately – something we discuss in more detail in our recent post covering the benefits of modern cloud ERPs.
Improve business efficiency with NexVue's Rental360 and cloud ERP
For future growth, the customizable modular nature of Acumatica's modern cloud ERP systems lets small business owners choose exactly what they need today and still add more functionality later.
Here are seven ways you can improve the efficiency along with the productivity and flexibility of your rental business with Rental360 and Acumatica's cloud ERP:
"Cockpit rental control" from a single screen – From one screen, gain easy access to all the information you need to complete rental quickly. Have a complete picture of any customer transaction, equipment history, and availability, with the ability to attach any type of files including photographs, contracts, product spec sheets, orders or expense receipts.
Increased customer satisfaction – In the rental industry, customers want the best deal, so the competitive advantage goes to companies who have the best pricing and the best customer experience. Extending the right discount and price levels to your best customers can be a difficult process to manage manually and get it right every time. By using the Rental360 proprietary price levels integrated throughout the Acumatica system, store managers can provide each customer with the lowest-cost pricing model. Customers are happy, staff burden is relieved, and your company has an edge over the competition.
Avoid delivery hiccups – Rental customers expect their equipment to be there when they need it. With real-time tracking of assets, deliveries and pickups are always on time. And when it's been delivered, your driver can snap a picture with his phone and add it to the record so the customer has confirmation.
Cater to every unique customer – Understand and anticipate customer needs with accurate CRM functionality displaying customer quotes, order and payment histories, and more.
Easy asset management – Is that item in the warehouse en route to/from a client, or on a client site? When is it due back? What is the turnaround time? Modern asset management provides answers to these questions and more to maximize rentals.
Don't lose rentals because of maintenance issues – No customer wants to receive broken, dirty, or incomplete equipment. Real-time tracking of asset condition tells you whether maintenance, repair or replacement is needed, ensuring your rentals are ready to meet demand.
Access the ROI of each piece of equipment – With this knowledge, you can refine and grow the most profitable areas of your business. The same is true with customers; identify and strengthen relationships with the high-value clients who provide opportunity for growth and expansion.
Don't lose another rental: utilize Rental360 and Acumatica's cloud ERP
Companies with rental needs – we hear you! Don't lose another rental, another hour, or another dollar because your software was too rigid to adapt.
Your company requires a modern cloud ERP system. Rental360 takes your business to the cloud, giving you all the functionality you need for a complete view of your operations. Learn more about how our solution, built on the Acumatica platform, enables you to efficiently manage the entire rental process.
Contact us today to learn more about how Rental360 can benefit your business. You can call us at (203) 327-0800, or visit NexVue for more information. Let's get started!