Why Having a Fully Integrated ERP is Key
Say your business has different departments using different software. It quickly can feel like everyone is speaking a different language—numbers may not add up, you run into clunky error-prone integrations that result in duplicate data or lost information, and everyone is grumpy and has a lot of headaches. If your system (or lack thereof) is time consuming and makes employees lives more difficult, they may come up with workarounds to the system that can't be properly tracked and paper trails that aren't being maintained. And, the more difficult these processes are in each department, the more people feel like they can't trust the information in the system, which makes it more difficult and time consuming to support your customers.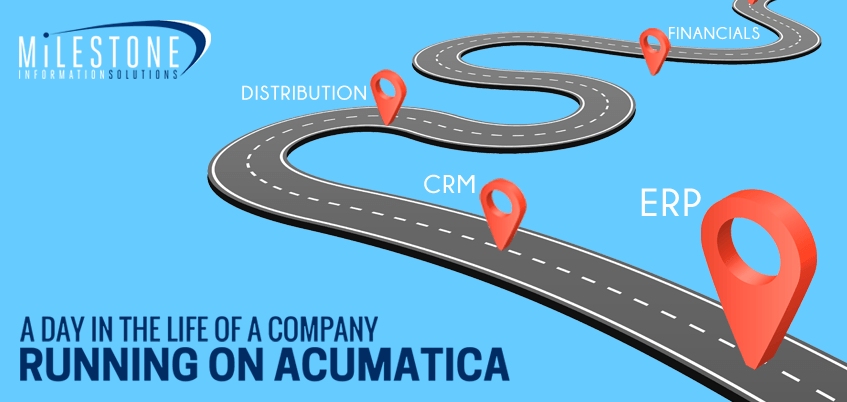 A fully integrated ERP gets everyone back on the same page.
I have a news flash for you: you can work a lot of errors out of your system by simply working from one system with defined, easy-to-use processes. Yes, it's true! But what does that look like? Let's start from the beginning. I'll use the example of a company on the Acumatica platform.

Help marketing and sales work together for better results
Give marketing the tools to create and track campaigns, and the prospects it generates. From there, segment your list to more effectively target specific interest groups. 
Maintain a complete history of communication for every prospect, then score leads based on their engagement with your marketing and brand.
Sales
With Acumatica Cloud ERP, sales and marketing are truly a team.  Sales will find greater success with scored leads, communication history and lists segmented based on prospect interest. When it's time to make a call or send an email, your sales people will have a huge advantage by knowing the last time someone contacted them, and the last piece of content their lead interacted with. 
Order Entry
When sales closes the deal, the order can be created directly from an opportunity file in Acumatica.  That means no duplicating data entry, and more accurate invoicing. If this is a returning customer, they could call in and say '5 more of what I ordered last time'. Your people will be able to quickly access that from their customer file, along with when it was last ordered… no digging around.  Finally, don't forget to maximize your revenue opportunity by cross-selling! Offer customers complimentary items, or items they haven't ordered recently based on your notes.
Fulfillment
It's time to get your order out the door. With Acumatica, the processes fit your business. Order entry can send pick lists directly to the warehouse printer, via email, or sent to a warehouse dashboard using tasks.
We have a client that was excited to show us an elaborate pulley system that order entry would use to send pick-lists to the warehouse after printing.  It was clever and fun, and better than running downstairs to the floor. However, it wasn't efficient. 
Their warehouse now retrieves pick-lists directly from a dashboard that sorts them automatically by 'required date' and importance. This has resulted in both major time savings and happier customers who get their orders more quickly.
Customer Experience… from the warehouse
Instead of delivering or pulling a report with tracking information to be sent to clients, or waiting to enter that information into the system later on, Acumatica integrates all of this. An email is automatically generated and sent to your customer letting them know their order
has been shipped with their invoice and tracking information. 
We recently implemented this automation for one of our customers, and their inbound calls were reduced immediately by 40%. That's 40% fewer calls the day right after this implementation went live because they now work off a system that automatically sends the tracking number after shipment. This was a huge win for their customer experience, while simultaneously freeing up sales and order entry to get more of their core, revenue-generating work done.
Purchasing
Let's say the shipment and invoice that we just sent out reduced inventory on an item that triggered Acumatica to automatically create a requisition based on inventory levels and replenishment algorithms.  Then one of your purchasers can approve it and create a PO from it, or aggregate it with another open PO to take advantage of volume discounts.
All of the above items directly impact customers. Now let me delve into some things that will indirectly improve customer experience:
Improving Operations in the Background
Web Portal
Give your customers a web portal, available 24 hours a day, 7 days a week, where they can check account balances, due, find tracking information for orders, check the status of backorders or even create support tickets whenever they want, without any of your sales or customer service people having to pick up the phone.
B2B Sales Portal
As millennials get older, they are filling more and more of your customers' purchasing positions.  Millennials are accustomed to the comfort of researching and purchasing from the comfort of their own office without having to pick up the phone. Give this to them!  Allow authorized customers access to browse inventory and place orders that reflect only the products you want them to see, and with up to the minute inventory and pricing.
Customer Service
For those requests that require a personal touch, allow your service team to respond quickly to customer requests at any point in the sales cycle, with up to the minute information about status and support requests.
Customization
We've been doing this for a long time, and I rarely see an implementation that doesn't need to be customized in some shape or form. Acumatica is designed to be customized to fit your business perfectly.
Give people the tools they need, and nothing more. You can eliminate a lot of confusion by removing unnecessary screens, fields, and processes. Then, as you work to enhance your business, add back custom fields, reports, screens and dashboards… and that's just the short list of things you can customize yourself!
Security
Acumatica was built for cloud security. You access it through a secure SSL connection in your web browser. Sensitive information stored in the system has an extra layer of encryption. You can also reduce human error by restricting access to sensitive information.
The Results
Increased profit margins, reduced operating costs, happier customers and happier employees!
When you're working in an integrated and easy to use system like Acumatica, your processes fit together, from beginning with marketing as a prospect, to the warehouse, and all the way out the door. Your people will be able to improve their communication and collaboration between business units. They'll be able to pull the reports they need to make better decisions, and easily share that information with other team members who could benefit. I could keep pointing out benefits, but the list is long. Get in touch with our team today and see what the Acumatica platform can do for you and a day in the life of your business.
If you want to learn more about how you can leverage a fully integrated cloud ERP like Acumatica, contact us today for more information. Milestone Information Solutions has been helping small and medium size businesses improve their operations with software and technology for over 20 years.  We are proud to be an Acumatica VAR partner and would be happy to help you.