Mobile credit card processing, such as with Acumatica and American Payment Solutions, means freedom from the restrictive storefront mentality. The ability to do business from any location provides you and your business with many benefits including increased customer satisfaction.
Acumatica is the fastest growing cloud ERP on the market and American Payment Solutions (APS) is a leading integrated Acumatica credit card processing provider. Together, the two companies are dedicated to helping businesses accept payments anywhere, anytime through mobile credit card processing and to do so with the lowest fees possible.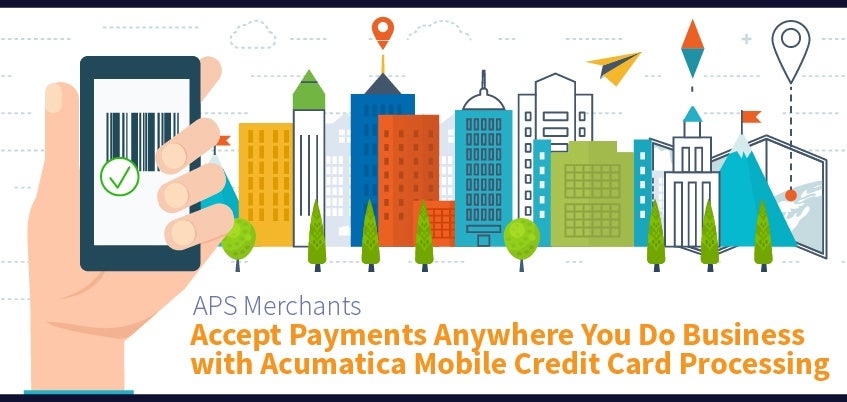 Mobile credit card processing through Acumatica and APS
On September 13, 2017, Acumatica announced Acumatica 2017 R2, their newest release. It includes a major redesign of high-productivity User Interface.  Users have greater control of personalized dashboards with the ability to create role-defined views from preconfigured templates. The REST API's have been enhanced with Open API 2.0 specification for Acumatica Contract Based APIs, speeding up both integration and data exchange with external applications, including Adobe Sign for eSignature.
Along with these upgrades, other advances in  Acumatica 2017 R2 include GPS location framework for mobile implementation. Acumatica customers selling product at tradeshows, in the field, or on the web can collect signatures via Adobe Sign and payment via Acumatica mobile credit card processing using APS.  Payments can be collected through the mobile device and processed via level 3 payment processing affording the lowest possible rates.
And because companies who store, process or transmit cardholder data must be PCI compliant, APS offers Acumatica customers a 100% PCI compliant integrated credit card processing solution.
How to lower rates with Acumatica level 3 mobile credit card processing
Merchants who process Level 3 credit card processing transactions within Acumatica save money with lower interchange rates from the card brands.  Level 3 differs from Level 1 and 2 processing because it gathers more information from the merchants, including item description, shipping data, quantity, and more.  Level 3 processing rates can be 0.50% – 1.50% lower than standard B2B credit card processing fees.
APS has integrated their Level 3 gateway, APSPAYS, into Acumatica.  APS offers an integrated Acumatica credit card processing solution that uses tokenization, eliminating card data typically stored on a local server.  APS is also able to extract the information necessary from the Acumatica order and apply that information to qualify for Level 3 Credit Card Processing.
To learn more, watch this recorded presentation.
Mobile credit card processing: so many benefits
Flexibility and adaptability are two major benefits of using mobile credit card processing through Acumatica and APS. Check out the additional benefits you and your business receive if you choose Acumatica's streamlined cloud ERP accounting system and mobile credit card processing capabilities:
Convenient 24-hour access to payment processing and reporting
Automated recurring billing
Improved cash flow
Fraud detection and prevention (volume thresholds, risk parameters)
Reduce invoicing costs
No additional licensing fees
Virtual Terminals (no integration needed, no software to install, simply use your web browser to securely log in to process transactions)
Credit card tokenizationfor secure access to future customer transactions
Real-time Payment Gateway
Level 3 supported gateway for US accounts, (significant savings for business to government or business to business transactions)
Batch processingwhen real time approvals are not required
100% PCI-DSS compliant at no additional cost
Some of the lowest American Express fees in the entire industry
Next Day Funding including American Express making reconciliation process easier
The Acumatica credit card processing experts at APS are here to be your advocate and to provide expert advice. Our knowledge and relationships are key to helping you get the lowest rate possible. If we cannot meet or beat your current credit card processing rate we will offer $500 for the trouble to look into it, no questions asked.
Contact APS or email myself, Patty Benitez, to learn how to cut costs and benefit from the APS and Acumatica partnership.