Congratulations 2016 Award Winners
During our record-breaking Acumatica Summit 2017, we announced the 2016 Acumatica Partner Award winners in a ballroom packed with their peers and colleagues. Everybody in the Acumatica community can be proud of our 83% year-over-year revenue growth – but these partners and individuals stood out and received special recognition.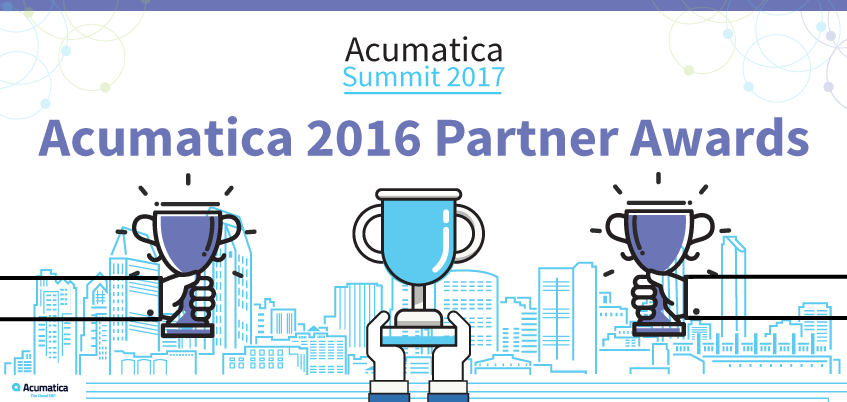 VAR Partner Awards
Crestwood and Associates won top honors as the Acumatica Partner of the Year in 2016. We also recognized AIM Solutions as the Top Subscription Partner, DimeSoft Business Solutions as the Fast Start of the Year, ASC Partners for Service Excellence, ProServe Solutions for the Largest Deal, and Sunfix Consulting as International Partner of the Year.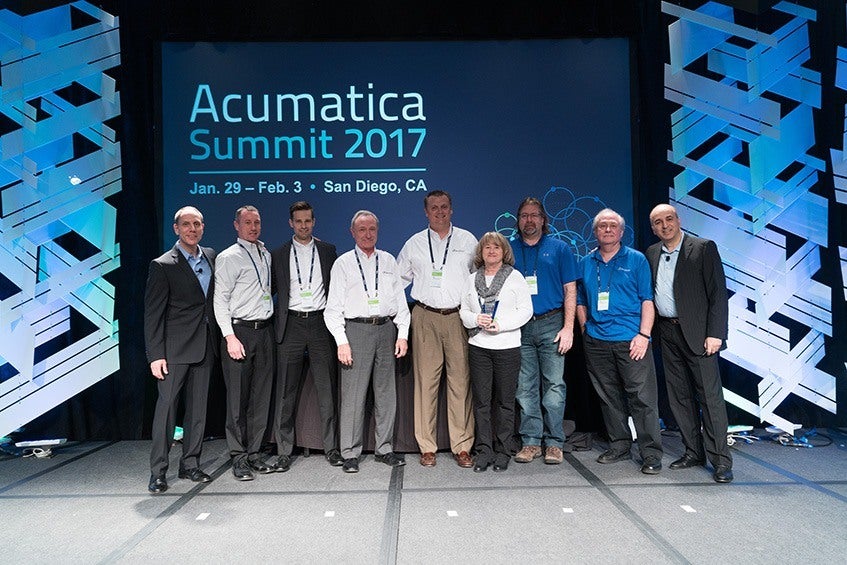 Pictured: Partner of the Year 2016, Crestwood Associates
Productivity Partner
Partner who is most productive in building our an Acumatica practice
| | | |
| --- | --- | --- |
| Award | Winner | Criteria |
| Partner of the Year | Crestwood Associates | Highest combined deal count and sales revenue in 2016 |
| Intl Partner of the Year | Sunfix Consulting | Highest combined deal count and sales revenue outside North America 2016 |
| Top Subscription Partner | AIM Solutions | Highest number of subscription sales and renewals in 2016 |
| Largest Deal | ProServe Solutions | Largest combined software and services revenue to Acumatica in 2016 |
| Fast Start | DimeSoft Business Solutions | Most deals sold in the first six months by a new Acumatica partner |
| Service Excellence | ASC Partners | Partner who achieves the highest overall customer satisfaction |
ISV Partner Awards
The Acumatica Developer Network (ADN) enables ISVs to tailor the Acumatica solution for specific markets and verticals. This year JAAS Systems won ISV Partner of the Year honors. We also recognized Kensium Solutions as the Innovation Partner and JAMIS Software as the Cloud xRP Platform Partner.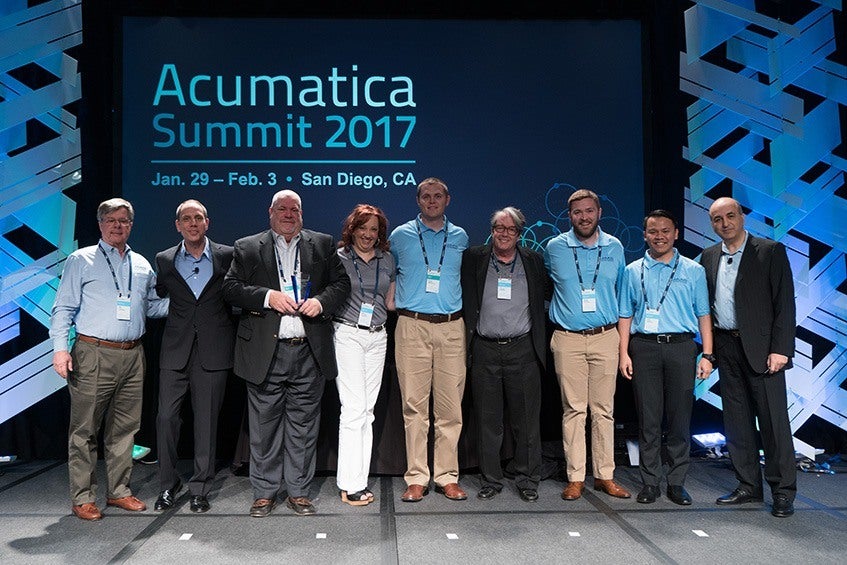 Pictured: ISV Partner of the Year, JAAS Systems
| | | |
| --- | --- | --- |
| Award | Winner | Criteria |
| ISV Partner of the Year | JAAS Systems | ISV Partner whose solution(s) helped drive the most Acumatica revenue in 2016 |
| Innovation Partner | Kensium Solutions | Partner who developed applications which helped fill gaps in the Acumatica offering |
| Cloud xRP Platform Partner | JAMIS Software | Top platform partner utilizing the ADN to develop a vertical solution |
Individual Awards
The strength of Acumatica comes from the strong community of partners, customers, and advocates who evangelize the benefits of cloud ERP software. This year we are proud to recognize 20 Most Valuable Professionals (MVPs). In addition, we gave special recognition to Gregg Mercede from Cloud9ERP as the Customer Advocate and Sonia Ferrera from Southeast Computers as the Partner Community Advocate.
Brendan Hennelly
JAAS Systems
Jim Carroll
ASC
Mary Abdian
SWK Tech
Charlie Hutchinson
ICE
Joel Gress
Dynamic Tech Services
Mike Aichinger
Crestwood Associates
Francisco Callegari
SealTech
Joe Satlin
JAMIS
Patricia Bennett
PC Bennett
Gregg Mercede
Cloud9ERP
John Gwaltney
PoolSource
Rahul Gedupudi
Kensium
Harsha Sarjapur
InfoSourcing
John Schlemmer
JAAS Systems
Richard Grossi
Kensium
Jeff Roth
Southeast Computers
Kevin Cox
National Wine and Spirits
Steve Collins
Collins Computing
Jeff Williams
Crestwood Associates
Mark Solberg
Landfall Solutions
Congrats to all the winners! We are very proud of our Partners, ISV's, and the MVP's, and feel honored to be part of such a fantastic Acumatica community.