Acumatica is more than its platform and products…it's a community. The efforts of many contribute to the singular goal of mutual success in the Cloud. Because words are sometimes not enough to show appreciation for our community members, we asked ourselves what else we could do to demonstrate our gratitude. The answer in 2016 was the creation of our MVP (Most Valuable Professional) Program. We're excited to continue it this year.
The program honors those in the Acumatica community who passionately exhibit their expertise, knowledge, and dedication to our platform and products. Their enthusiasm deserves recognition as their actions contribute to the continued success and growth of our community. In conjunction with winning the MVP title, each nominee has earned the respect of their peers as indicated by the nomination they received.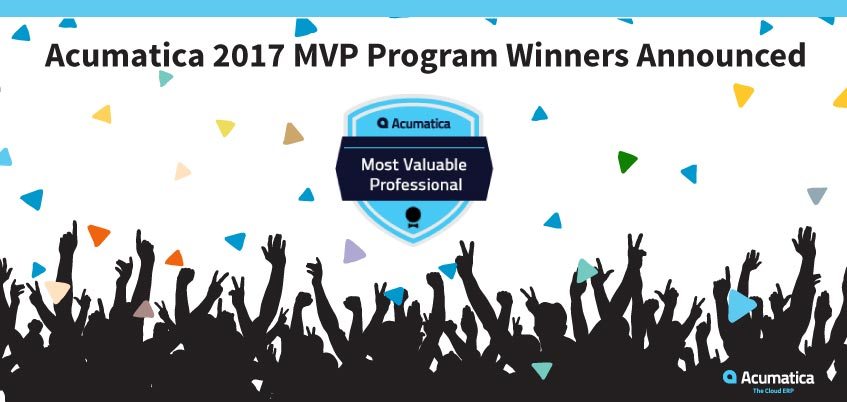 MVP Winners
Once the nomination period closed, a cross-team and multi-faceted Acumatica group carefully reviewed the submissions. We're excited to announce the 2017 MVP Program Winners below!
Congratulations to the winners! We are sincerely grateful for these community leaders who have been major Acumatica supporters. Here are just a few of the actions they took that made them noteworthy: participating in reference calls, providing support in our forums (Stackoverflow, LinkedIn, and GitHub), and consistently making themselves available to answer questions other customers/partners may have about Acumatica's offerings. They also provide exceptional feedback on what does and does not work in our platform and products; we use this helpful information to prioritize any capabilities we need to add into the system for future users.
The invaluable sharing of their experience and knowledge has made them stand out in their efforts to accelerate the Acumatica platform. They also stand out in their efforts to assist the acceleration of other businesses in the Acumatica ecosystem.
MVP Benefits
MVPs have the opportunity to write guest blog posts for the Acumatica Development Network (ADN). The winners will also receive an Acumatica MVP Badge, which may be displayed on profile pages, social media, résumés, etc. We encourage sharing the badge on third-party forum pages, as well (e.g., LinkedIn, Stackoverflow). Any of our partner organizations who have an MVP on staff can use the badge on their websites and social media outlets.
MVP Expectations
The MVPs have met and exceeded our expectations. They deserve our recognition for what they have already contributed as well as for being a source of inspiration to all of our partners and customers.
We feel certain that you will continue to be exceptional leaders in the Acumatica community. Working together in an effort to grow, learn, and the challenge will always result in our shared success.