Users of Acumatica's true cloud ERP solution will find that the technology and xRP platform updates provided by Acumatica 2018 R2 make their daily business management processes easier than ever. This enhanced usability adds even more value to their ERP investment.
 With Acumatica 2018 R2 now available, we're excited for our users to experience the upgrades delivered by this latest release. A cross-section of the Acumatica team has been making its way across the U.S., unveiling the significant enhancements during our Acumatica Launch Event Series. The series kicked off in Boston on September 12th and continued throughout October.
Today, we'll look at some specific Acumatica 2018 R2 enhancements made to Acumatica's xRP platform and technology.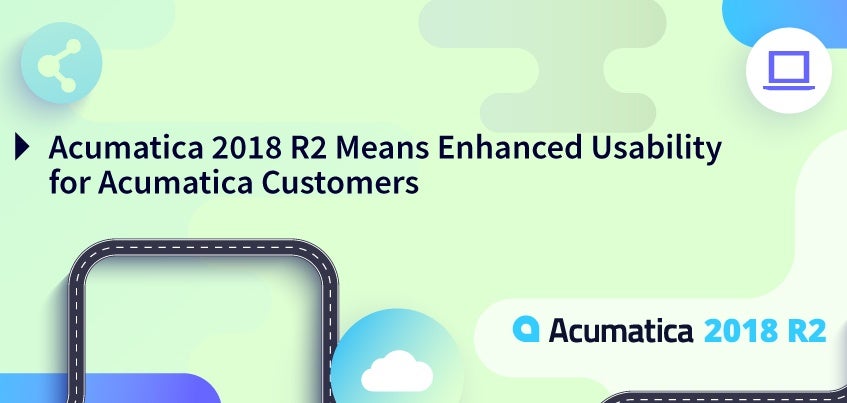 Acumatica 2018 R2 delivers powerful benefits
With every new release, Acumatica's role as a leader in usability and customer satisfaction in the cloud ERP space is further established. To illustrate, Nucleus Research ranked Acumatica cloud ERP highest in Usability in their 2018 ERP Technology Value Matrix report, and Gartner scored Acumatica highest in Customer Satisfaction in their most recent Magic Quadrant for Cloud Core Financial Management Suites. Both reports, which we're offering as free downloads (click on links above), underscore R2's focus on increasing Customer Satisfaction, Usability, and Compliance.
"We have stepped in to fill a void that is not being met by larger, less nimble competitors," Acumatica CEO Jon Roskill said in the Acumatica 2018 R2 press release.
Acumatica 2018 R2 enhances push notifications, navigation, and customization capabilities. Here are the specific enhancements to our xRP platform and technology:
The push notification upgrade was demonstrated during the launch events. The demonstration highlighted how the push to mobile notification is based on a "business event". For example, a sales' representative would be notified if an opportunity in CRM has been assigned to him or her. The representative can then swipe the notification and see the details.
New pop up notes further increase your productivity and usability in working with documents, customers, vendors, and items. For example, a Purchasing Manager who sees that a vendor's contract is up for renewal can put a note on the vendor's record. The note will pop up when a user is about to purchase from that vendor.
Improved navigation between companies and branches will increase usability and productivity for customers with multiple entities.
Reporting now allows the use of pivot tables for Generic Inquiries.
You can also add a side panel to Generic Inquiries to show the details of specific records in an inquiry using the same screen. This means the user can elect to display other screens or dashboards in a new window on the right side of the transaction screen; the panel can display the customer record, the sales rep's record, and even a customer dashboard. The user can select any one of them and update the information without leaving the original transaction screen.
And for those who create and distribute regular "reporting packages," the new release allows you to string reports together by creating multiple reports and merging them into a single package before sending them as an HTML or PDF file.
Finally, user-defined creation enhancements allow the addition of attributes, such as prospect's industry or mailing date of an invoice. This occurs in real-time on a screen.
In a recent post, Mark Franks, Acumatica's Platform Evangelist, shared more of the Acumatica 2018 R2 enhancements with his Acumatica Developer Network community. He noted the general platform enhancements, such as access restriction for editing the business date, export of Generic Inquiry parameters to a separate Excel sheet, Generic Inquiry row insertion, and much more. He then dove into the details that impact the developers most, including the use of Acumatica's new Mobile Site Map Definition Language (MSDL), Contract-based API improvements, reusable business objects, and new endpoints. You can read the specifics in the post, "Acumatica 2018 R2 Developer Focused Enhancements."
Register for Acumatica Summit 2019 to learn more
To learn more about this release and Acumatica 2019 R1, plan to attend Acumatica Summit 2019 (January 27-February 1, 2019 in Houston, Texas—our early bird pricing is still available). You'll have the opportunity to speak directly to our leadership, product, and engineering teams about the release as well as experience the updates in person through hands-on training tracks and informative breakout sessions.
For further information, contact our experts right now. They'll be happy to answer any questions you may have about Acumatica's award-winning cloud ERP solution.