Manufacturers using Advanced Planning and Scheduling (APS) software have benefitted from better scheduling. Now, with Acumatica 2019 R1, these same manufacturers can look forward to improved APS capabilities.
 Many Advanced Planning and Scheduling (APS) users get more than they expect in our latest release, Acumatica 2019 R1—something Acumatica Summit 2019 attendees witnessed for themselves. Today, we'll look at what our new release, with its Acumatica Manufacturing Edition and Advanced Planning and Scheduling improvements, bring to the table.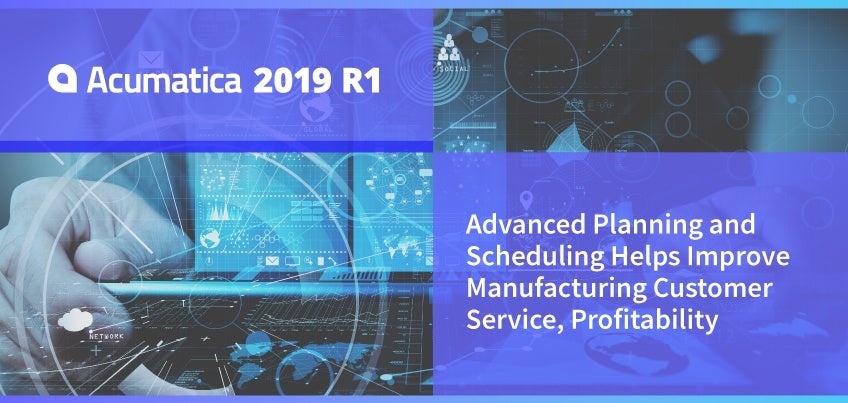 Advanced Planning and Scheduling: scheduling magic, plus more
Companies that have capacity constraints and implement APS software may be surprised at how much better APS is at scheduling the plant when compared to traditional Material Requirements Planning (MRP)-based systems. Plus, the capabilities keep improving with 2019 R1, including Capable-to-Promise (CTP) and Machine and Tool Scheduling.
APS plans material and capacity simultaneously using finite capacity methods. And the way it plans capacity is where the magic happens for scheduling. Each manufacturing job is laid into the schedule in such a way that each work center is optimized—not overloaded—and schedules are based on the reality of actual load and capacity rather than standard lead times.
Planning this way eliminates the need for the endless re-planning required by MRP alone: plan material, check capacity, adjust material, check capacity, and repeat. This is especially true for companies with complex processes and routings, volatile demand with many changes inside of normal lead times, or capacity issues (lots of overtime). APS can also recognize individual machines and tooling availability.
Moving scheduling from MRP to APS: improve efficiency, customer service, and profitability
So, what does this mean in a practical sense?
It means that APS schedules and plans are more realistic and much more likely to come to fruition than MRP schedules based on materials alone. For many companies, MRP is simply not good enough. And now it's possible to do better.
Moving your production scheduling from MRP to APS helps these companies greatly improve on-time completions, through-put, efficiency and utilization while reducing or eliminating overtime. They can quote accurate ship dates to customers and more effectively schedule maintenance, vacation days, and those short turn-around special requests from important customers (with Capable-To-Promise).
APS may not be for every manufacturer, but it offers tremendous potential for those who are struggling with MRP's limitations and a want to improve customer service and profitability.
If you're interested in learning more about Acumatica cloud ERP, our true-cloud manufacturing ERP software, or the improvements in Acumatica 2019 R1, please contact our team at any time.