Drowning in data has become a well known phrase (and problem!). It's not just IT or Finance, but most departments in a company have access to a wide range of data points. However, as I've said before, data is important, but information is what actually moves your business — and analytics turns data into actionable information. This is why Acumatica 6 is such a game-changer in the data department. The new updates provide a wealth of analytics capabilities that turns data into actionable insights for your company.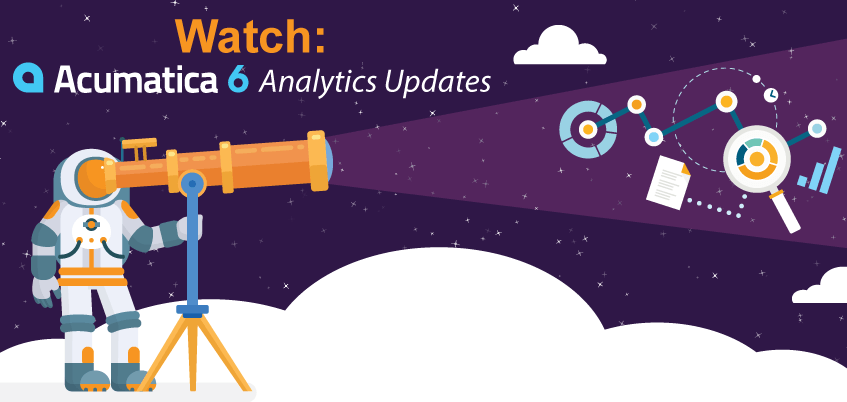 Information Drill Down using General Inquiry
A brand new spectrum of functionality allows you to drill down and get a unique combination of data to provide you with the information that you need, when you need it. The generic inquiry drill down tool is included with the Acumatica ERP system, and the flexibility of the tool allows you to take information from any database and publish it to any other Acumatica screen, or an external entity.
Take a sales rep, for example. With the enhanced drill down capabilities, you can not only examine the detail of a particular rep's performance, but can dig into individual months, to each invoice from that month, even down to the actual sales order that drove each individual invoice. You now have ultimate control on how to use all the data at your fingertips through the Acumatica ERP system.
Here's a short, 5-minute video that showcases this new feature:
Dashboards and KPIs
In addition to the Generic Inquire Drill Down, our self-service BI has customized dashboards and personalized KPIs to provide you visibility across your entire operation. The heart of the dashboard is the custom visualization of the information that is vital to you with the ability to instantly drill into the details to aid in decision making. There are a number of options on how to set up the dashboard, with personalized widgets that you can use to best make sense of your data. Here are some of the types of Widgets:
Chart Widget: The chart widget allows you to display your data in a visually appealing chart. Use lines, columns, graphs, or whatever works best for you and the data you're displaying.
Data Table Widget: With complete flexibility to customize the information in your table, you can take a simple inquiry like "what bills do we have to pay?" and display and sort them all into an easy-to-read table.
Embedded Page Widget: You can embed a webpage into your dashboard. Maybe there's a certain report on your site that you want to see, or a business website you want to follow. Keep it there on your homepage dashboard.
Scorecard KPI Widget: Say you want to track customer churn. You can set normal levels, caution levels, and alert levels to show you what your churn score is. You can also display custom colors, showing when you should be concerned.
Trend Card KPI Widget: Want to know how you're doing with customer churn compared to this time last year? Setup a trend card to see the year over year comparison.
Wiki Page Widget: This widget allows you to display any wiki page that has been created within Acumatica so that you and your team can collaborate effectively and stay up to speed.
The best part about the widgets is the customization. Dashboards can be intuitively customized by each person in your organization to match their specific roles based on their unique job requirements. No other ERP platform has this type of functionality.
Below is an in-depth video that goes through the new dashboard capabilities in Acumatica 6. Check it out:
For further insights into Acumatica 6, check out the Productivity updates here. We are also happy to give you a customized demo. You can request one here.