I really like my job. I know that sounds cliché, but hear me out. As a developer, you always want to be working on technology at the forefront of its field that has an impact on the world. Here at Acumatica Labs in Montreal, I get to do just that. Being both a developer and the GM means I materially contribute to the most innovative and advanced Cloud ERP system in the world. Our work at Acumatica Labs directly impacts customer businesses all over the world, helping them increase productivity and cash flow, streamline operations, and accelerate their businesses — useful, pragmatic things that directly impact the bottom line.
One of the things my team has been focusing on this past year has been developing Acumatica 6. I'd like to specifically call out the work of our CTO, Mike Chtchelkonogov, and our development team at our Moscow office. They spearheaded these efforts and did an absolutely fantastic job.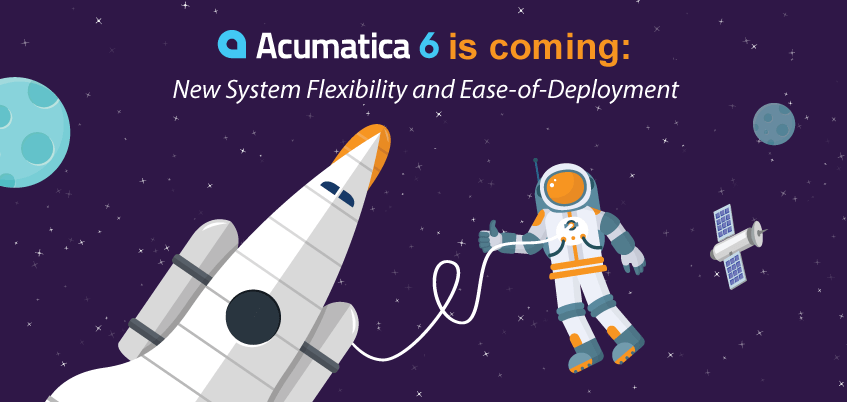 One of the exciting things about our upcoming launch of Acumatica 6 (which should impress partners, customers, and developers) is that Acumatica is adding a continuous release cycle option for our customers. This will be offered in addition to the long-term support option we currently offer, giving our customers a choice as to which upgrade process best fits their business needs. This will get rolled out after the official launch and more details will be provided once it's fully released.
Acumatica 6 will also do three more things to keep our system flexible and easy to deploy:
Acumatica 6 plays well with others
We're making these technology updates to better meet the needs of our partners and customers, the people who rely on cloud computing technology to run and grow their businesses. We take the feedback of our customers very seriously, and have worked hard to incorporate top-requested items into Acumatica 6.
In short, we've made Acumatica 6 the most flexible Cloud ERP product out there by supporting REST (representational state transfer) API (application programming interface) with web services. REST interfaces continue to ensure our platform is the most adaptable and customizable in the industry.
A great foundation makes Acumatica 6 a great product.
Focusing our development efforts on the platform is so important. We firmly believe that making it easy for our users to adapt our product to their specific requirements is mission-critical.
Acumatica 6 is even easier to integrate
The advances in Acumatica 6 are important due to the rise in popularity of new and innovative programming languages and technologies. Simply put, REST API makes it easier to integrate with these newer languages, which in turn makes it easier to integrate with other programming demands.
Other notable points of flexibility and integration that Acumatica 6 will showcase are that the mechanics of the software are more user-friendly, the system is able to process and generate massive amounts of data, and everything can remain streamlined and flexible in the face of changing user needs.
Acumatica 6 handles more languages
Acumatica 6 will also facilitate localization and the use of Cloud ERP in multinational environments. For example, if you have multilingual employees, you will be able to easily store data in a language-specific manner.
We've added this feature for people who do business in more than one language. It's essential business practice in places like Montréal, where you often need to generate an invoice in both French and English.
We are very proud of Acumatica 6 and all the work the engineering team has done. Its new architecture will extend the possibilities of what cloud computing can do.
We can't wait for it to be released!
Meanwhile, due to the rapid growth of Acumatica ERP and our Acumatica cloud platform, we are looking to double our development team at Acumatica Labs in Montréal by the end of this calendar year. Please check out our Careers page and apply for a position, or share this with top-notch developers in your network.