Last week, we released the latest version of our ERP/CRM software, Acumatica 6, available on-premises or in the Cloud. This release includes enhancements that further our goal of providing a solution that boosts your productivity, delivers easy-to-use insights into your business, is easy to implement, and connects to other cloud applications to provide an overall increase in productivity.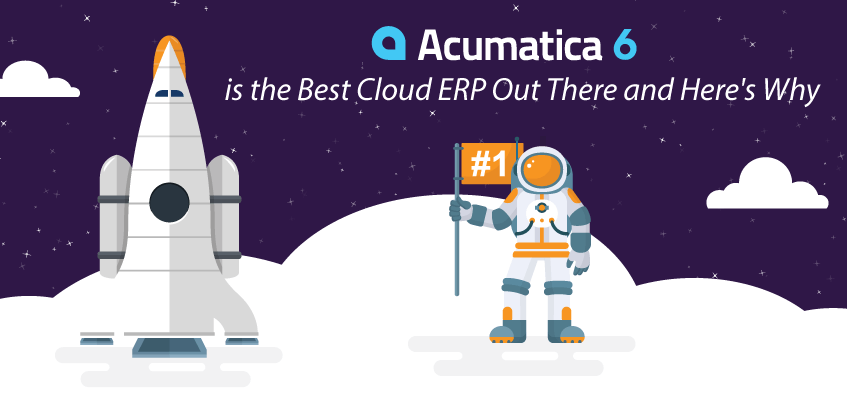 Acumatica is a true modern cloud solution
In today's rapidly changing environment, in order for businesses to get the edge on the competition, they need visibility to control their business and flexibility to adapt as the market and products change. Some legacy ERP vendors spend their funds on lavish conferences with expensive entertainment. Others use their customer's maintenance fees to buy unrelated products to expand their customer base. We at Acumatica have been building a true Cloud and mobile product that gives you flexibility and choice.
Everything Acumatica does is about giving our clients choices:
ApplicationsYou have your choice of applications that you license and you're not forced to implement everything at once. You tailor your applications for a user experience to best fit each user's needs.  With Acumatica, your team can access the applications you license anywhere, anytime, and on any device with a browser.
Access to the systemIn todays connected world, collaboration with suppliers and customers is key to agility. With Acumatica, there's no longer a need to print out reports and email them to those collaborators. All you have to do is allow them role-based access to the system. With Acumatica, there's no per user license fee.
Deployment optionsSome of our clients decide to host our software on their own hardware and install their own updates, while others completely outsource administration and let the software updates happen automatically. Unlike so many other SaaS ERP suppliers, Acumatica supports both types of deployment. Once again, we give our customers choices and let them choose what works best for their business.
Acumatica 6 delivers improvements across the board
With Acumatica 6 we continue to deliver enhancements in Productivity, Analytics and Technology, including:
Streamlining applications for increased productivity: See how the Outlook Add-In will increase productivity and enable true mobility here.
Real-time insights with improved dashboards and drill down: See how the analytic capabilities in Acumatica 6 bring high value and business agility here.
Technology for the future to provide collaboration with other Cloud applications: Acumatica 6 enables new system flexibility and ease-of-deployment, which you can read about here.
All of the features and options that Acumatica provides are in sharp contrast to other ERP providers, who find it difficult or impossible to give the same offerings because of their architecture. With the launch of Acumatica 6, we continue toward our goal of increasing productivity by streamlining processes, providing more visibility for better decision making and delivering technology for the future.
Don't get left behind. Take a look under the hood and take a tour of Acumatica here.