If time is money, then saving time is saving money. With Acumatica 6's productivity updates, accounts payable has never been faster.
No one loves entering in a bunch of data by hand or going through a long list of steps to issue checks one at a time. Accountants often bear the brunt of these burdens, so they are going to appreciate the updates in Acumatica 6 that much more. Now, the tedium of spending all your time in Excel or going through a long process just to cut a check is a thing of the past.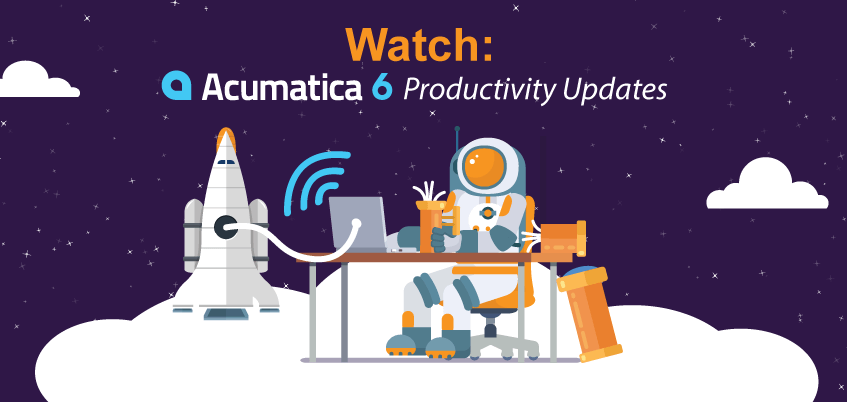 Have a look at this 3-minute video to see exactly how accounts payable works in Acumatica 6.
And be sure to keep these three things in mind…
1. You Don't Have to Do It All Yourself
Good news! With Acumatica 6, an authorized group of people in your company can enter invoices, approve bills, and make payments. This flexibility allows for business agility and can support the growth of your team as your business grows. Appoint specific people to do certain tasks, perhaps according to vendor or size of the invoice, and you can also require administrator approval for certain actions you select, such as actually issuing payments or grouping multiple invoices into a single payment. Distribution of accounts payable tasks cuts down on everyone's workload by authorizing the relevant people to perform the relevant portions of a workflow.
2. Acumatica Is Working for You
Don't you hate it when there are a lot of little boxes to fill in with the same information over and over? Couldn't those steps be automated? The answer is yes, they can! With Acumatica 6's new accountant payable features, automation is a top priority. Fields are populated based on available data and works alongside you to streamline your process for issuing a check or ACH. With all the info already available at your fingertips, reviewing invoices, making a payment, and updating the vendor ledger and the general ledger is a matter of literally a few clicks. The thing is, work in Acumatica 6 can be satisfyingly efficient when you realize you've got a platform that can produce the data you need exactly when you need it.
3. Saving Time Is Saving Money
The accounting department at a business isn't often the focal area to save a bunch of time (and, in turn, save a bunch of money). However, there are a few outstanding features of Acumatica 6's accounts payable that will streamline the invoicing process to be super smooth and seamless, saving you time (and money!):
Manage payments entirely on the web
Attach supporting documents or materials to a payment
Prepare payments in batches according to payment method
Approve payments and update balances in accounts payable simultaneously
Set up a recurring payment schedule to handle frequent or regular invoices
Don't let yourself get bogged down in individual accounts payable tasks that feel disconnected or unimportant. Instead, use the improved productivity updates of Acumatica 6 to really understand the process as a whole—and how working efficiently at accounts payable can save you money.
Want to know more about Acumatica 6? We'd love to show off all the amazing things it can do by giving you a product tour. Get in touch with us today!