Kensium and Acumatica's partnership continues to grow and produce retail ERP solutions for the eCommerce industry. Because IRCE 2017 brings in thousands of those in the eCommerce community, Kensium is excited to highlight how the right retail accounting software can meet retailers' needs to operate efficiently and profitably while serving their customers without interruption.
The eCommerce industry gathers in Chicago once per year for the Internet Retailer Conference & Exhibition (IRCE). Executives, technologists, marketers, and more gather to deliver retail ERP insights and growth-driving strategies to merchants spanning from mom-and-pop shops to multi-million dollar companies.
Acumatica allows merchants to operate at a higher level by acting as a single platform and retail management program for eCommerce planning, fulfillment, reporting, and management. Tools that utilize the open framework of the retail ERP deliver a two-way synchronization of data between Acumatica and other eCommerce systems, providing a retail accounting software platform with improved throughput, efficiency, and scalability.
Those attending IRCE will find our booth displays – "Build to grow, not collapse" – coupled with an activity of giant, wooden stacking blocks. The tower represents the disconnected systems many merchants are attempting to piece together and use on a daily basis. These solutions can drain resources from the company and cause inefficient operations. In some cases, ill-compatible applications – instead of the proper retail management program – can cause a website and back-end systems to collapse, leading to costly repairs and lost revenues during downtime.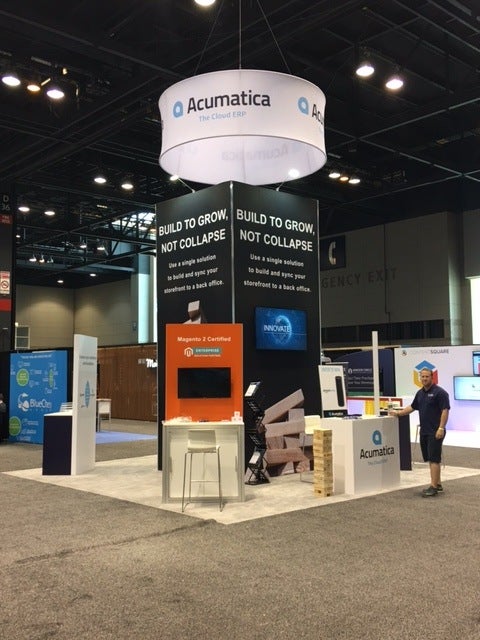 The Acumatica and Kensium teams just after setting up the booth on Monday of this week.
Acumatica's retail ERP allows merchants to create the solution they need, with retail accounting software, financials, inventory management, warehousing, CRM, and more. They can integrate other essential components, including a Magento storefront via Kensium.
Acumatica also just announced a new Magento Technology Partnership that combines Acumatica's expertise in ERP with commerce expertise from Magento Commerce. "Our progress has been strong since launching Commerce Edition at the annual Acumatica Summit four short months ago," said Jon Roskill, CEO, Acumatica. "Our partners Magento Commerce and Kensium were both there on stage there with me, and since then customers across a variety of industries have been rapidly adopting this affordable solution for integrated management across their businesses, turning challenges into opportunities for efficiency, insight and growth."
The flexible framework of the retail management program resolves many issues associated with integrating applications that are incompatible with other ERPs. Endless extension possibilities and established synchronizations to the most popular eCommerce platforms allow merchants to build their systems to their requirements, without risking collapse. Instead of a precariously stacked tower of blocks, Acumatica is a solid structure on which systems can efficiently run and grow.
Booth 229's stations
We're taking IRCE attendees through our entire retail ERP solution, step by step. From website development to shipment tracking, those who visit booth 229 will be able to interactively walk through the fulfillment process. We've divided our display into four stations.
1. Magento's transformative potential
 This station represents the first line of engagement between a retailer and a potential customer: the storefront.
Magento, the most powerful eCommerce platform, allows merchants to completely customize their website, build and integrate applications, and manage multiple stores from a single admin dashboard. Kensium will highlight their thought leadership on the Magento 2 platform and how they've built their eCommerce practice around end-to-end Magento services.
2. A system to unlock endless scalability
Last year, Acumatica named us their official eCommerce partner, and this year, they named Magento their official eCommerce platform. With the release of Commerce Edition, Acumatica is looking to make their mark in the eCommerce industry – and they have the retail ERP platform to improve back-office efficiency for merchants around the world.
Tight integrations with the most popular eCommerce platforms allow stakeholders to seamlessly view and manage inventory, fulfillment, customers, financials, business intelligence, and more.
3. We'll do it live: real-time scanning demo
 A key component of Acumatica Commerce Edition is seamless warehousing and fulfillment. At the booth, we'll show how simple it is to scan products through Acumatica with a live scanning demo. Anyone in a merchant's value chain – from product vendors to warehouse employees – can use Acumatica on a single license. This allows merchants to communicate effectively and increase the efficiency of their operations across supply chains and workplaces.
4. Bridging the gap between platforms
The connection between an eCommerce store and the back office is essential for a business to reach peak productivity levels. Our Magento Connector allows merchants to create a two-way sync between the Magento storefront and Acumatica ERP, increasing overall efficiency and eliminating the need for duplicate – and sometimes inaccurate – data entries.
We have also built connectors for merchants using other popular eCommerce platforms, such as BigCommerce and Shopify.
Kensium, Acumatica, and eCommerce
We at Kensium have refined our development and integration processes over our 10 years of designing, developing, and integrating eCommerce systems. We are a Magento Enterprise Partner and Acumatica's official eCommerce partner. Our Acumatica-certified developers and extensions played a key role in the creation and launch of Acumatica Commerce Edition, which includes a custom Magento website, Acumatica ERP, eCommerce back-office essentials, and integration.
As a Magento Enterprise Partner, we have become an innovator on Magento 2, Magento's latest version. Our close relationship with Magento allows our team of 60+ Magento 2 certified professionals to consistently deliver quality front-end and back-end eCommerce retail management program solutions to clients.
Learn more about Kensium's Magento capabilities and find out how the perfect retail ERP can benefit your eCommerce business.
Learn about Magento Capabilities Request Acumatica Commerce Edition Demo