The strategic collaboration between Acumatica and BDO will help us deliver our true cloud ERP solution to mid-size enterprises around the globe, and disrupt the industry.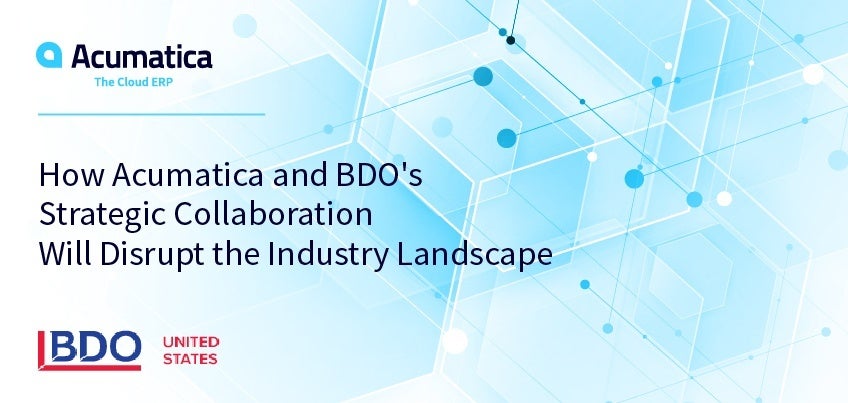 Acumatica is once again shaking up the ERP establishment, this time with our new strategic BDO USA collaboration. By combining the fastest-growing cloud ERP company with one of the nation's leading accounting and advisory firms, we're providing our Acumatica Value Added Resellers (VARs) and our customers with more global ERP service and integration opportunities.
Acumatica and BDO collaboration expectations
"Together with BDO's consistent delivery of best-in-class service, this collaboration will drive customer satisfaction at scale," says Acumatica CEO Jon Roskill in our press release. "As a customer-centric company, we recognize businesses of all sizes are grappling with digital transformation. This initiative expands our ability to provide more enterprises with a sophisticated cloud ERP solution to ease that transition while ultimately improving the experience for the customer as well as the efficiency of business processes."
The strategic partnership will, according to the press release, "meet the needs of an underserved segment of the mid-size enterprise marketplace: customers with exceptionally complex needs, large national or international requirements, and companies that value independence in their ERP selection or implementation process."
BDO provides assurance, tax, and financial advisory services to clients throughout the country and around the globe, with a network that extends across 167 countries. Adding Acumatica's cloud-based ERP solution to their portfolio, BDO's customers can access Acumatica's VARs, who, with the training and resources provided by our award-winning Acumatica Partner Program, are experts at cloud ERP implementations.
An Accounting Today article on the partnership notes that BDO will "help clients identify and evaluate the right business management solutions and provide end-to-end support for particularly complex or international implementations, including systems, processes and people integration."
BDO and Acumatica are self-described customer-centric companies. Both companies are excited about the collaboration that has been in the works for almost a year.
Eskander Yavar, National Practice Leader of Management Advisory Services and Manufacturing & Development Industry Group Leader of BDO says, "As middle market organizations embark on their digital transformation journeys, having a strong business process management solution is imperative. Organizations can realize an even greater ROI by coupling Acumatica's cloud-based ERP solution with the deep industry, digital and change management knowledge throughout BDO's 60+ offices and 350 alliance partners in the U.S. This represents a strong growth opportunity for current and future Acumatica clients."
Extending Acumatica's cloud ERP coverage
As Acumatica continues to scale up, we have been aware that our coverage in Western Europe and Southeast Asia is excellent but that we are lacking coverage in other countries. This collaboration will extend our international capabilities, with BDO acting as a hub for the international deployment of Acumatica technologies.
If you're in the middle of researching your ERP options and debating your cloud ERP selection, we recommend you check out Acumatica's transformative business management solution based on our open, flexible Acumatica Cloud xRP Platform. Built to seamlessly integrate with our business management applications, including Financials, Project Accounting, Inventory Management, and CRM, as well as with specialized industry solutions, such as Construction Edition, Manufacturing Edition, Commerce Edition, Field Service Edition, and Distribution Edition, you and your business can thrive in this digital economy.
The collaboration with BDO and our recent partnership with IFS highlight Acumatica's commitment to expanding our cloud ERP solution's capabilities, benefiting every customer, partner, and developer while disrupting the industry landscape.
Please contact our team with any questions about our newest collaboration and/or our cloud ERP software.