Every year, Nucleus Research assesses cloud ERP vendors, rating their ability to deliver product Usability and Functionality. We're excited to share Acumatica's 2019 status.
In their ERP Technology Value Matrix 2019, Nucleus Research discusses the value cloud ERP vendors have delivered to their customers since the last Value Matrix was released. Current and prospective Acumatica customers will be pleased to learn that Acumatica's position as Leader and as the vendor with the highest Usability holds firm for the fourth year in a row.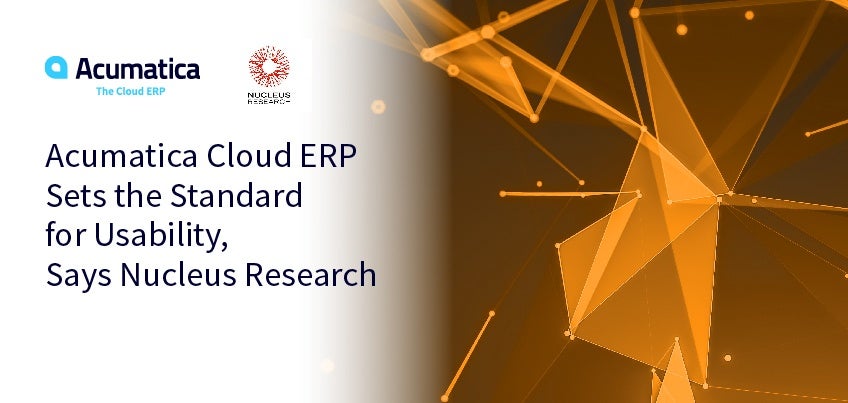 Acumatica cloud ERP continues to deliver out-of-the-box value
In the free report, analysts Seth Lippincott and Andrew MacMillen write that Acumatica is "setting the standard for usability in the market." This is especially gratifying considering the established cloud ERP vendors with whom we compete, including Oracle NetSuite, SAP, and Microsoft.
Nucleus' Value Matrix highlights the differences between 22 leading vendors, placing each one within four quadrants (Core Provider, Expert, Facilitator, or Leader) based on the Usability and Functionality of their respective products. For this report, Functionality is represented by the number—and expansion of—the verticals an ERP vendor provides as well as the depth of their current verticals, and Usability is represented by mobility, flexibility, and user adoption.
The analysts note that vendors who are "natively built for the cloud and delivered as software-as-a-service (SaaS)" are the ones who are coming out ahead. Even so, they say that customers aren't yet able to take advantage of the many cloud services and advanced capabilities due to the challenge of digitizing their data/processes and extricating themselves from their legacy ERP systems, resulting in less value gleaned. Additionally, many vendors have "made large promises to their customers but have, thus far, failed to deliver."
Acumatica isn't one of them. We offer our customers flexible, modern cloud ERP software that is constantly being enhanced. Acumatica's two most recent releases, Acumatica 2019 R1 and Acumatica 2019 R2, have improved upon our versatile and open cloud xRP platform, general business and industry-specific applications, and application workflows with customer and partner feedback as our guide. Our investment in—and embedding of—modern technologies within our platform for our ISV partners and our extensive support of our VARs through the Acumatica Partner Program continues unabated, providing our customers with a fully functional cloud-based ERP.
Charles Hutchinson, CFO of InSync Healthcare Solutions®, IntraCoastal Environmental (ICE), and Alegra Motorsports, supports our claim. "If you can do the accounting for a race team, an environmental cleanup company, and a software company all in the same solution—everything from contract management to project tracking—it's easy to know that Acumatica is the right choice."
With the benefits of an easy implementation, flexible access, a more complete out-of-the-box feature set for multi-entity businesses, unlimited user licensing, and more, Charles' says he plans to use Acumatica to "its fullest capabilities."
His belief in our cloud ERP software, which you can read more about in the ICE customer success story, is reflected in what other Acumatica customers told the Nucleus Research analysts: "Customers point to the flexibility and usability of the product as a central value-driver, likening the software to a box of Legos that can be configured to meet workflow needs of nearly any organization."
The report also notes, "As it continues to aggressively expand its install-base, Acumatica is focused on ensuring that any technologies it deploys can deliver value to customers out of the box."
Acumatica: Leader in market usability
Download Nucleus Research's free ERP Technology Value Matrix 2019 today to learn:
The six other ERP vendors joining Acumatica as a Leader
The success (or lack thereof) of vendors delivering Internet of Things (IoT), natural language process (NLP), and machine learning (ML) technologies
The importance of choosing a vendor with an extensive partner network
The further reasons Nucleus Research "expects Acumatica to continue to lead the way in market usability"
Choosing the right cloud ERP solution is essential to the success of your business. As Nucleus Research says, "ERP software is the backbone of many organizations and continues to be a market to which vendors are bringing technologies designed to automate processes and increase efficiency."
We're happy to demonstrate how Acumatica can help you by inviting you to join us at Acumatica Summit 2020 in Las Vegas, Nevada January 26-31, 2020 at The Cosmopolitan. Our annual week-long event is dedicated to teaching and networking around our cloud-based ERP solution and the many benefits it can bring to you and your business.
Questions you'd like answered now? Please contact our team today.
Download the Nucleus Research ERP Technology Value Matrix 2019