Enterprise Resource Planning (ERP) is business management software that allows you to automate your business processes and run your organization in an integrated, cohesive manner. Acumatica's ERP has just earned PCMag Editors' Choice Award for Best ERP Software – something to consider as you seek to simplify your complex cloud ERP business requirements.
If you caught the first post in our new series about Acumatica's award-winning year, you read about our receiving PCMag 2017 Editors' Choice for Best ERP Software, Best Inventory Management Software, Best Enterprise-Class General Ledger Accounting Software, and the Best Business Mobile Apps Awards. These acknowledgements of our cloud ERP offering is an honor and one not to be taken lightly.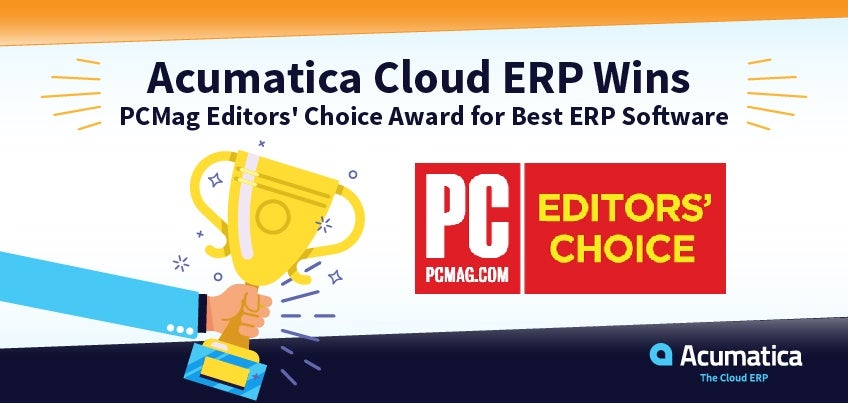 Today's post features our Best ERP Software win, focusing on why PCMag rated Acumatica's ERP applications "excellent" and why it's important for CIOs and application leaders to have this information as they face the daunting but important task of picking the best cloud ERP system for their business.
Why PCMag rates Acumatica's Enterprise Resource Planning (ERP) software as the best
PCMag's Best ERP Software of 2017 review – which you can read in full here – notes that Acumatica is a "solid choice for enterprise-scale accounting, ERP, and inventory management."
As the true cloud ERP system, we provide small to mid-sized businesses (SMBs) the most effective solution to manage their entire business through a full suite of integrated business management applications: Customer Management, Project Accounting, and Distribution Management to Manufacturing Management, Field Service, and Commerce Edition. We promise an adaptable, mobile, and complete, real-time view of your business utilizing a unique user-licensing model.
PCMag's in-depth look at the differing software suites began with the financial side, focusing on the general ledger and "overall usability, navigation, and workflow." This garnered another excellent rating for our general ledger accounting software, which we'll cover in an upcoming post.
The editors then reviewed the overall ERP functionality and the breadth of modules available to support financial management needs. Here's a look at some of the categories they used to rate the vendors and to choose the best ERP software:
Multicurrency
Document Management
Expense Reporting/Management
LIFO (Last in First Out)
FIFO (First in First Out)
Fixed Assets
Sales & Use Taxes
Customer Relationship Management (CRM)
Project Management (PM)
Supply Chain Management (SCM)
Kitting
Distribution Vertical
Warehousing Vertical
Acumatica provides all of these features and more natively in our suite of products. We offer a full-service approach and recognize that every business has unique and complex requirements. You, along with the Value Added Reseller (VAR) of your choice, select the suites you need – nothing more, nothing less – knowing that you can add or delete as needed in the future. You can customize our platform to fit your specific needs.
Earning the excellent rating and Editors' Choice Award from PCMag – along with earning one last year – increases our desire to give our customers the most effective way to manage their resources across all aspects of their business.
The best ERP software is steps away
If you're looking to implement the perfect ERP software for your business, the PCMag review suggests understanding exactly how your business operates from the perspective of the managers in the trenches as the first step. These managers know how your key business processes function and can provide insight into the ERP application capabilities they desire along with their ideas about how ERP implementations should proceed. From there, we recommend comparing your cloud ERP software choices using PCMag's review as your next step.
Once these steps are completed, there's no better time than now to automate and streamline your business processes with the best ERP software. Connect with our team at Acumatica and harness the power and benefits of superior cloud ERP software. Avoid upfront hardware and data server costs, reduce IT support services, enjoy faster ERP implementations, take care of business from anywhere, anytime and let your company reach its full potential.
And don't forget! Put the dates for our upcoming Acumatica 2017 R2 Launch Day – which you can register for now – and Acumatica Summit 2018 on your calendar; these are two events you won't want to miss!