How does a business know if it is meeting – and exceeding – the goals it has set? One way is through recognition by experts in the industry, such as the cloud ERP industry. Once received, the affirmation should be used to set new and higher expectations that generate continuing growth and customer satisfaction.
It has been an exceptional year for Acumatica, not only because we are looking at enormous growth, but because we have been honored with multiple awards recognizing our team's hard work to make Acumatica the best cloud ERP on the market – see our recent CODiE Award for Best Cloud ERP Solution and being named a Visionary in Gartner's Magic Quadrant for Cloud Core Financial Suites. All of this recognition means a great deal to us and we couldn't be more delighted to have our efforts pay off in such a gratifying way.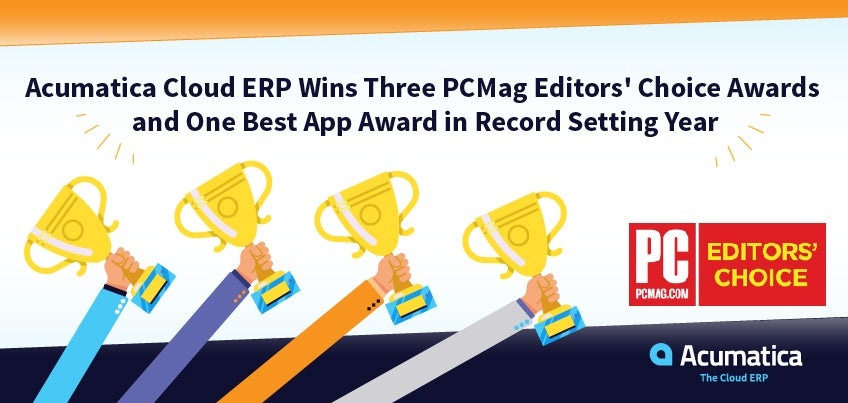 This post is the first in a series highlighting why PCMag considers our cloud ERP one of the best options available today. Validation by industry experts, as well as by our peers, encourages us to continue our quest to improve our cloud ERP applications for our valued customers through their feedback and through spearheading technological innovations.
Acumatica's award-winning year
PCMagazine, referred to as PCMag, provides reviews and previews of the latest hardware and software for the information technology industry. PCMag's editors have the expertise and insight CIOs and application leaders need to make informed decisions regarding the best cloud ERP for their businesses.
This year, we're excited to announce that PCMag presented three Editors' Choice awards and a Best App award to Acumatica: Best ERP Software, Best Inventory Management Software, Best Enterprise-Class General Ledger Accounting Software, and Best Business Mobile Apps!
In PCMag's review of Acumatica (read the full review here), the editor wrote, "Acumatica was developed as a Software-as-a-Service (SaaS) application intended to be accessed strictly through a web browser. The result is a well-balanced app with a modular architecture targeting general ledger accounting, enterprise resource planning (ERP) for midsize enterprises, and also inventory management. It's browser-based user experience (UX) is excellent, with a feature-rich environment delivered through an intuitive user interface (UI)."
PCMag compared the different features of various ERP systems and we're in good company. NetSuite and Syspro are also Editors' Choice winners for Best ERP Software, Intacct appears along with us for General Ledger, and Syspro is listed again for Inventory Management. Acumatica, however, is the only ERP that spans all three categories and Best Business Mobile Apps.
Why is receiving these awards significant?
Perhaps it doesn't need to be said, but these awards – along with being honored with a PCMag Editors' Choice award in 2016 – is something the team at Acumatica takes seriously. Are we fulfilling our promise to ourselves and to our customers to offer superior ERP applications and smooth ERP implementations resulting in streamlined operations? It's important that we are and these awards tell us we're accomplishing our goals.
The excellent rating by PCMag also extends to our Financial Accounting with, according to the editor, an easily understood account structure. And, as mentioned earlier, we were awarded an Editors' Choice for both our Enterprise Accounting along with our Inventory Management! We will be going into more detail about these awards in future posts coming soon.
Other notable Acumatica ERP features pointed out by PCMag in their review include:
Time and Expense Management are part of our Financial Accounting core along with a comprehensive Customer Management Suite embedded in the system
Our Purchase and Sales Order features integrate with our Supply Chain Management, which allows you to follow the process from order through inventory to payment.
We have a Product Accounting (PA) application that allows you to keep an eye on every project within your business
Our users have access to our app's source code, which is written under well-known Microsoft.Net
We believe our dedication to offering the complete business management solution for every business has led to our acknowledgment by PCMag. Our hope is that it will encourage businesses desiring to accelerate growth to check out our full suite of integrated ERP applications.
Where does Acumatica go from here?
We plan to continue improving our cloud ERP and our customer service as well as continue to be a leader in innovation. We also plan to make our upcoming Acumatica 2017 R2 Launch Day – which you can register for right now – and Acumatica Summit 2018 to be information-laden events that help you take full advantage of our customizable, easy-to-use, and mobile cloud ERP.
If you need an award-winning ERP system to integrate disparate systems, desire a real-time view of your business, and want to work anywhere at any time, we hope you'll contact us. We'd love to partner with you as you seek to accelerate your business!