We believe being an active member of the Acumatica developer community is important to your success as well as to the success of Acumatica. One way to be involved is by remotely attending our annual Acumatica Cloud xRP Summit, and this year's event was even better than the last.
We just wrapped up our third-annual Acumatica Cloud xRP Summit, and if the feedback from the attendees is any indication, it was a great success. The positive feedback explains the year over year growth – increasing registration and attendance by 450%! It's exciting to witness the explosive growth of our developer community.
Here's a recap of the Acumatica Virtual Developer Conference for those of you who missed it. You're welcome to download the conference on-demand, as well.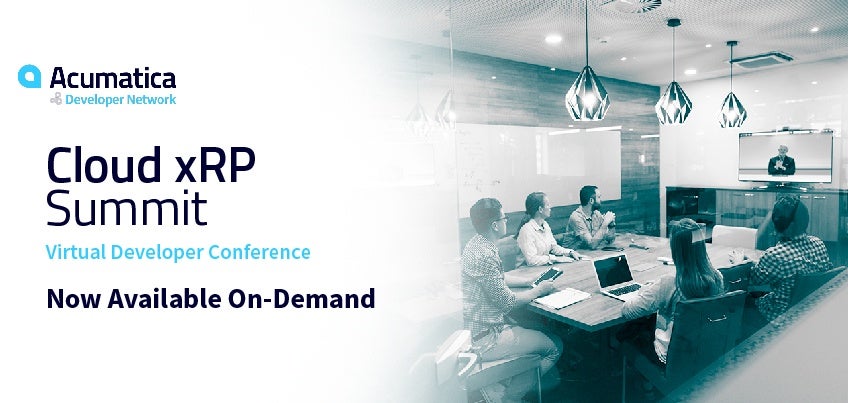 Virtual conference offers fundamentals and advanced Acumatica cloud xRP info
Acumatica Cloud xRP Summit is a two half-day virtual developer conference that provides our developer community with the deep knowledge they need to fully utilize Acumatica's cloud xRP platform. The 30 or 60-minute sessions range from fundamental to advanced content.
This year's event included Sergey Marenich's popular session that focused on the Acumatica cloud xRP framework with a fresh take that inspired both experienced and new Acumatica developers. Brand-new sessions on Day 1 ranged from walking developers through the application design process to an overview on Acumatica Reporting and Acumatica's multi-currency functionality. Day 2 covered Acumatica's database schema, application certification, modern developer practices, updating your codebase with FBQL, and more.
The "more" included a look at Acumatica's developer roadmap, which may be one of our most popular sessions. Attendees got to hear what's changed since our last Summit and what updates are on the horizon.
And in addition to up-to-date and unique content, we provide a variety of speakers, including Acumatica developer engineers and other subject matter experts. Their expertise and ability to present the information in a way that developers can use both today and in the future is something we consider when planning the Acumatica Virtual Developer Conference. Speakers also included a few Acumatica Developer MVPs from JAAS, Kensium, ASI, and Crestwood, who provide an unbiased view of Acumatica's cloud xRP platform.
Acumatica developer community involvement
Free training, outstanding resources, and excellent support are not the only benefits of attending our annual Acumatica Cloud xRP Summit. Attendees automatically enter a drawing to win three great prizes. They also vie for the title of Top Tweeter. This year's title went to Tim Rodman, with Jerry Kurtz and Yuriy Zaetskyy claiming the second and third-place positions and prizes. They contributed to our over 800 #CloudxRPSummit tweets. Way to go!
But there's another benefit to attending the virtual conference: Acumatica developer community involvement.
Acumatica is successful because of our team's collective heart for community. Helping each other succeed—whether you're a customer, a partner, or a developer—using Acumatica's cloud ERP solution is our trademark. As such, we encourage involvement by going to Stackoverflow, answering questions, writing guest blogs, and sharing sample code, something I hope people will commit to doing.
Another way we encourage our developers to be involved is by attending our annual Summit and Hackathon Acumatica Summit 2020 (happening January 25 -January 31, 2020 in Las Vegas, Nevada), the Acumatica Hackathon 2020 and the Developer Track are all being planned as we speak. In fact, registration is already live. So take advantage of the early-bird discount and register today. These are exciting events that provide developers with the opportunity to gather with other developers, learning tips & best practices – accessing experience otherwise hard to come by in the day-to-day grind.
Thank you to all the wonderful developers who have committed to being actively involved in the our developer community. Your attendance at the Acumatica Cloud xRP Summit and our other cloud ERP events is much appreciated, and we hope you have enjoyed the interactions and learning as much as we have.
As a reminder, if you couldn't attend the Acumatica Virtual Developer Conference, you can view the recorded sessions, presentation slides, and some sample codes available on-demand right now. If you're a new Acumatica developer, you may also want to check out my post, Onboarding New Acumatica Developers, for a simple roadmap to building great solutions and other helpful guides in the Acumatica Cloud ERP Developer Blog.
Feel free to contact me directly at any time with any questions or feedback. I always look forward to hearing from our community of developers.