Which construction and accounting software is best for your construction firm? We say Acumatica Construction Edition, a complete, native, and flexible solution.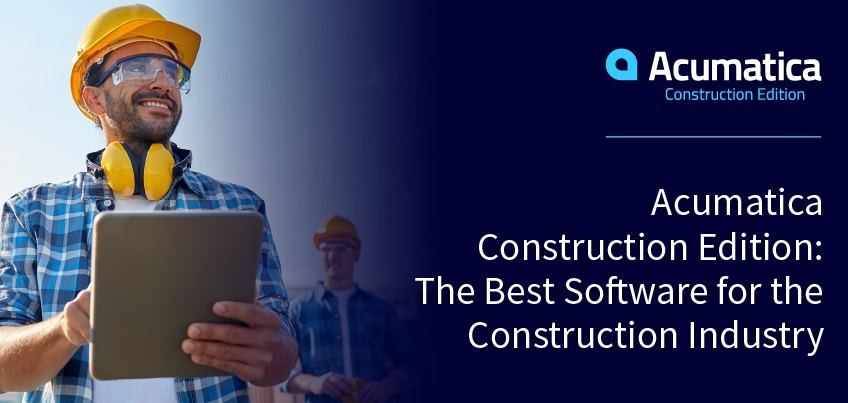 There are two types of construction and accounting software solutions to choose from today. They're light years apart in design and capabilities, and it's imperative that you know the difference. Why? Because if you choose the wrong one, your business will pay the price.
Types of construction and accounting software solutions
The first is software that was developed in the 90's called legacy systems. These systems are hard for new employees to learn. They're designed for desktop computers, which means your mobile teams must log onto multiple apps just to complete routine tasks. They don't connect well with other software you may use like Procore, Adobe Sign and Smartsheet. And more and more legacy vendors are being acquired, which could leave you without the support you need. When you think of legacy software, a few providers come to mind such as Viewpoint Vista, Sage, ComputerEase, Foundation, Jonas and many more.
The second is true cloud construction accounting software. Construction professionals of all generations can benefit from these modern solutions, which were born in the cloud, allowing for seamless integration of their front-office, back-office, and field processes as well as their specialty applications. Imagine syncing everyone across your organization with the same information, no longer having to log onto several apps just to do your job, being able to easily connect to applications, and not having to buy separate licenses for each team member.
Pretty incredible, right? There is, however, a catch.
Not all cloud construction and accounting software systems are created equal
You would think all companies providing cloud-based construction software would ensure that it is comprehensive. You would think they would include powerful financials and job cost accounting while also giving you capabilities for project management, payroll, inventory, service management, CRM, and much more.
But they don't, including the new Sage Intacct Construction.
The good news is Acumatica does. Acumatica Construction Edition is the complete, native, and cloud-based construction and accounting software solution. It is the only software that offers true SaaS multi-tenant technology and a Private Cloud option for firms that require flexible and unique delivery options. It's built on the world's best cloud and mobile technology with a unique all- inclusive user licensing model and gives you what you need to run your construction business.
Let's take a closer look.
With Acumatica Construction Edition, contractors have complete construction and accounting software born in the cloud that includes accounting with job costing, project management, payroll, inventory, service management, customer relationship management and more. Contractors have a complete native solution with a seamless user experience across their business.
Every team member has access to a "single source of the truth" with real-time data. They can utilize intuitive dashboards on a phone or tablet, accessing revenue, costs, and commitments while also managing contracts and change orders—in one, complete software system. Everyone from management and field operations to the back office is connected and has visibility into their business and customers.
Even though it has everything you need to succeed, we're not resting on our laurels. We continue to listen to customers and innovate by:
1. Expanding capabilities with new, native payroll
We heard from customers that they especially want their payroll system to be in-house. Our payroll is designed for construction businesses with payroll requirements ranging from simple to sophisticated with support for certified, unionized or non-unionized payroll.
With Acumatica Payroll, contractors can eliminate the cost of maintaining an interface to an external payroll system and benefit from time flowing seamlessly across Acumatica financials, project accounting, costing, business intelligence, distribution, manufacturing, construction and field service.
"As our business has grown, we've chosen cloud technology with Acumatica Construction Edition, to more effectively and easily capture and track all activities, including employee time and expenses from one central area," says Sam Fisher, CFO, Fisher Brothers Exteriors. "With Acumatica Payroll, processing is streamlined from start to finish and we have access to real-time labor costs as part of job costing to make smart, strategic decisions."
2. Unlimited users equal unlimited growth
Acumatica is different than other software providers because we charge based on the resources you use, not the number of users. The resource tier you pay for is sized to support the volume of key transactions for your business.
What does this mean?
This means you are charged based on the resources your company requires for the transactions you anticipate. This gives you peace of mind knowing that rather than paying for each user you add, you'll pay only for the computing resources you actually use. And you can always increase or decrease these resources when necessary. Unlike other software providers, now you can scale your business without worrying about per-user license costs.
3. Offering more flexibility and more choices
While Acumatica Construction Edition is complete cloud construction and accounting software, it also offers more flexibility and choices to seamlessly integrate with third-party applications, like Procore, Smartsheet, ProEst, and many more.
With secure application programming interfaces (APIs) designed to share data between systems, skilled users can build agile, nimble interfaces that connect to trusted sources. APIs also let users read and use data across systems as part of real-time business workflows.
Why do we do all of this?
It's important to offer this flexibility to contractors who have their own specific business management needs and require software that can flex with those needs. That is the reason we put a lot of emphasis on having a full set of APIs right from the start and then continue to invest in them in every single release.
4. Extending mobility for connected teams
As with every Acumatica application, mobility is a huge benefit. Your team, whether in the office, out in the field, or traveling on business, has real-time visibility into every aspect of your ongoing projects. It's also important that the data captured out in the field flows to your back-office software, giving your teams complete visibility. This is possible through Acumatica's mobile capabilities.
"For me, the biggest benefit is to be anywhere in the world and see what's happening in my business—our overall finances and each job," Anderson Pinto, Owner and CEO, Hartzell Construction, says. "I can understand what's happening inside my company without having to be in the office looking at paper."
Consider the advantages of Acumatica Construction Edition native mobile:
Construction firms with several locations can communicate and collaborate using real-time data
Remote workers or employees in the field can stay connected to the most up-to-date insights
Field employees can update RFIs, change orders, and project issues, which helps reduce project delays and increase customer satisfaction.
When employees have access to complete, current information, their productivity increases, communication improves, and the entire construction cycle runs more smoothly.
Choose the right solution
Now that you have the facts, you shouldn't settle for legacy construction and accounting software that may have gotten you this far. If your company is ready for a new level of profitable growth, it's time to transition to a cloud software solution that can support you all the way. And don't settle for a solution that will only give you accounting and job costing but lacks key functionality in areas such as project management, payroll, retainage and compliance, service management and inventory— all essential for contractors to run a successful and connected business.
Is Acumatica Construction Edition the right solution for you? Nowhere else can you find construction and accounting software that incorporates the latest technology while providing native job costing, project management, contract, budget, commitment, subcontract, workflow, compliance, billing, payroll, field service capabilities from one solution.
We invite you to check out Acumatica Construction Edition as your complete construction ERP and contact our team today with any questions or to schedule a demonstration.
Are you curious about why Construction companies need to use Cloud ERP? Learn more about how Cloud ERP systems help fulfill the unique needs and challenges of the construction industry.