We're gratified that Acumatica Construction Edition – modern construction accounting software that provides a streamlined and integrated cloud solution producing deeper insights and increased efficiency – has started strong. Construction firms would do well to consider saying good-bye to their legacy systems and hello to our new construction ERP.
We just announced the General Availability of Acumatica 2018 R1 with its exciting improvements and new editions including  Acumatica Construction Edition. It has been getting a lot of attention since we introduced and demoed the construction accounting software at the International Business Show (IBS) and World of Concrete (WOC) in January. It's been well-received by the industry at large and wholeheartedly embraced by key partners with extensive industry experience who were waiting for a modern business solution. Customers, too, have been fast to adopt our construction ERP with several immediate sales and implementations now underway – less than 90 days after its debut!
"We had been using a legacy construction accounting software package when we found Acumatica Construction Edition, and it is a perfect fit," says Ron Fairchild, Chief Financial Officer, Texas Scenic Company, Inc. "It's a modern cloud solution that handles our manufacturing, service, distribution and construction business in one cohesive integrated solution allowing a seamless flow of data.  We expect this to provide significantly better business insights and improve overall efficiency."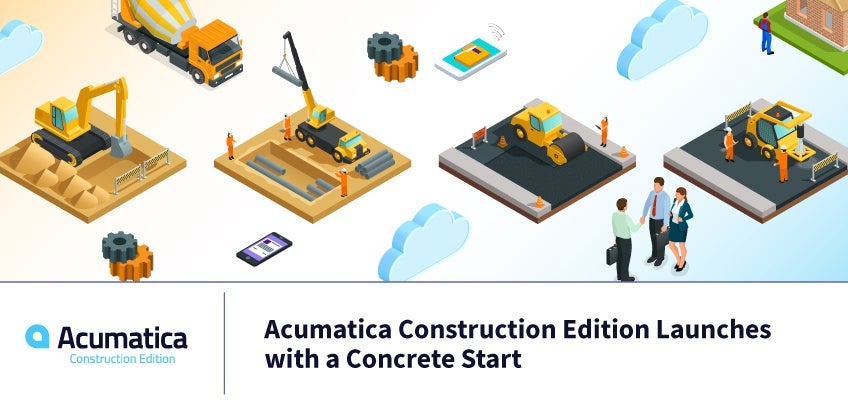 Acumatica Construction Edition based on true cloud, real-time, and high value
Acumatica's existing application partners, Smartsheet, Procore, Hyphen Solutions, Criterion, Microsoft Office 365, DocuSign and Adobe Sign, are being joined by new ISVs as they build their integrations to Acumatica Construction Edition.
We firmly believe the reasons for this early engagement are clear:
True Cloud: Acumatica was built in the cloud for the cloud from the very beginning. We have not retrofitted our modules like so many competitors. Your construction management needs seamlessly integrate with our other suites, including Order Management, Inventory Management, CRM, and more.
Real-Time: A single and current version of the truth from one, complete business system. The Acumatica Construction Edition uses our latest release, 2018 R1, and construction API's to simplify and streamline interfaces; it also supports multi-cloud integrations such as visual scheduling and sales tax.
High Value: Receive broad functionality, easy implementation, and specific customization, all at "Consumption Pricing." This is based on the resources required and not on a per user basis, which means you can grant access to your subcontractors to see their specific role-bases jobs, invoices, etc. Along with these benefits, Acumatica Construction Edition comes with expert advice from our VARs, a global customer base, and customization without programming (based on a Microsoft development platform).
You may have a back-office accounting solution, general contractor software, or Enterprise Resource Planning (ERP) system in place now, but is it really meeting your business needs? Cloud computing brings with it mobile capabilities and the integration of multiple applications that were previously siloed. Our cloud-based construction ERP means you no longer need to rely on outdated software and time-consuming, disconnected, and delayed systems.
What Acumatica Construction Edition can do for you
Acumatica Construction Edition provides a "single source of truth" for homebuilders, general contractors, subcontractors and land developers as you manage multiple projects from start to finish. You can find information on all your contracts, suppliers, schedules, budgets, changes, compliance needs, and more in one central location.
Whether you're in residential or commercial construction, our construction accounting software is not only fully mobile (you can access your business documents anytime, anywhere), but it's also fully integrated with Acumatica's core application suites offering project accounting that include job costing, compliance management, retainage, change orders, and document management. With embedded Microsoft Excel and Power BI, you can readily analyze your data for better, faster, more critical business insights.
If you choose to implement our modern construction ERP, you'll expect to receive a great return on your investment. We believe you'll get that with Acumatica Construction Edition; our construction accounting software was built specifically for your industry and your specific needs.
Check out our construction ERP project video to learn more. Please also contact us with any questions or to request a demo of our Acumatica Construction Edition – it's time to move your business management needs to a modern and comprehensive construction ERP solution!