Nucleus Research's CRM Technology Value Matrix report for 2019 positions CRM SaaS vendors within four quadrants: Core Provider, Facilitator, Expert, and Leader. Where did Acumatica CRM land and why are we excited? Acumatica's Ray Rebello explains.
It's that time again: Nucleus Research has released the latest edition of their CRM Technology Value Matrix report, dated April 2019. Each report does much more than simply plot the leading CRM SaaS vendors and on-premise vendors on a matrix based on the strength of their offerings. It also provides an accompanying analysis that can help current and future Acumatica cloud ERP customers make the right decisions about the technology they're considering for their companies.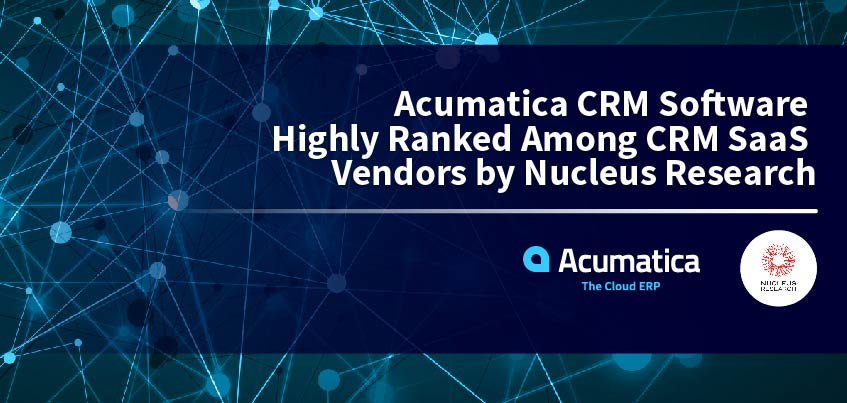 How Nucleus Research assesses CRM SaaS vendors
The research firm takes an in-depth look at the products from leading vendors and then assesses them along two axes: one for Usability and one for Functionality. For the CRM Value Matrix, Usability and Functionality are measured across sales, marketing, and service.
If a vendor offers a solution that's loaded with features, but you must have an engineering degree to understand them, they'll rank well on one axis but poorly on another, leaving them in an unimpressive position overall. The same will be true of a vendor that offers an "eye candy" solution while delivering very little actual functionality.
Understanding Acumatica's position among CRM SaaS Vendors
According to the Nucleus analysts, "Leading customer relationship management (CRM) providers are doubling down on data integration, orchestration, and mapping capabilities to link data among and beyond CRM applications and provide a complete real-time view of the customer."
They also point out some important trends affecting vendors positions in the Matrix, including increased AI and machine learning capabilities, vertical and microvertical investments at the application and analytics level, data lake and data model initiatives, and a renewed focus on solutions. How have these trends impacted Acumatica's position within the Matrix?
We're excited that Acumatica CRM once again landed in the Facilitator quadrant of the Value Matrix. It's good news that gets even better when you put it in context. Staying within the Facilitator quadrant means Acumatica is holding its own at a time when the market is becoming ever more competitive—as Nucleus Research says, "Although Acumatica is primarily an enterprise resource planning (ERP) vendor, it is covered in the CRM Value Matrix because of its integration and breadth of features that make it a competitive CRM product."
Acumatica held the same position for Greater Usability when compared to the last matrix that was released in February 2018. However, over that same period, several notable CRM SaaS vendors saw their Usability ratings plummet. We're happy that the Nucleus Research analysts still rate our solution as highly usable.
As we look to the other axis, you'll see why we're seriously amped about this report.
Where Acumatica is gaining ground 
Along the Better Functionality axis, Acumatica made a huge move to the right—that's the direction we want to head. If you compare our performance to other CRM SaaS vendors, you'll see that some also improved in Functionality but went downhill in Usability. Others lost ground in Functionality. For us to add significant Functionality without hindering the Usability of our solution tells us we're doing all the right things with product development.
So, how has Acumatica's ERP software improved since the last Value Matrix? Nucleus Research calls out:
Enhancements in marketing automation
The ability to create and revise quotes within opportunities
Enhanced support for cross-module workflows
Nucleus analysts also cited the expanded capabilities in our Field Service module, including improvements to our scheduling, route optimization, inventory tracking, and warranty tracking. And Nucleus Research appreciates several other attributes of the Acumatica platform:
We use the same interface across all modules, making it easier for our customers to train their end users
We offer a consolidated view of customer records—something Nucleus Research calls a "key strength" of our product.
Our CRM development team is part of our overall platform group, which means that platform enhancements always show up in our CRM product
Real-world CRM success story
We appreciate getting such a glowing review from a major industry analyst firm. We also love success stories about how our customers are using Acumatica CRM and our cloud software to improve their results in real-world situations.
For example, when Ray Allen Manufacturing realized its legacy AS400 system was holding it back, the manufacturer of canine equipment for military and police departments implemented Acumatica cloud ERP. One of the company's priorities was to implement a strong CRM system. They found that in Acumatica.
"Acumatica gave us the flexibility to work with platforms and the different tools we wanted to use to expand the eCommerce presence," says John Oakley, VP of Operations, Ray Allen Manufacturing. "We use it for purchasing, customer service—our inbound customer service agents are using it. It's been a really solid back end [solution]. It essentially runs all aspects of our company."
Find out more about how Acumatica CRM is helping Ray Allen Manufacturing to thrive. You can also download the CRM Technology Value Matrix 2019 and read what the Nucleus analysts have to say about the CRM SaaS vendors included in the report.
Questions about Acumatica's cloud ERP software and CRM software can be answered by our experts, who are standing by.