At Acumatica, we embrace the fact that we live in a multicloud world. This means multiple business applications and services in the cloud must effortlessly interact in a way that best serves our customers. To that end, I'm eager to share news with you about the multicloud integration we unveiled at Acumatica Summit 2017 between Acumatica and DocuSign, the leading eSignature and Digital Transaction Management solution.
DocuSign, with over 100 million global users and over 200 million transactions annually, has transformed the way businesses send, sign and manage agreements and collect payments. Businesses today need to stay abreast of technological advances; becoming 100% digital and mobile is vital for running an efficient and cost-savings operation. With DocuSign, you no longer have to print, fax, scan, or overnight paper documents. Instead, You complete online business transactions quickly and securely on any mobile device.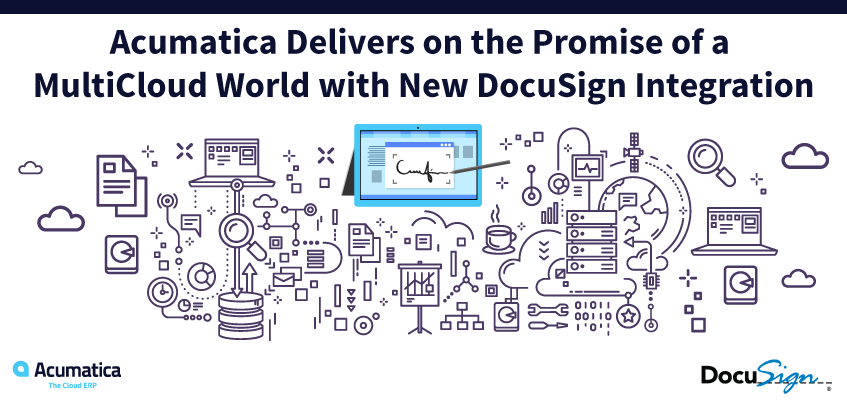 With the new integration, our customers and partners are set up to successfully manage their various documents – from a sales order to a bill to a contract –within Acumatica Cloud ERP.  Additionally, information that you would previously have had to input manually is now done automatically, providing a time-and-cost saving benefit for every individual and business.
Some of the key features include:
Create envelopes and prepare documents for signing
Send documents for signing and track the status
Manage documents using DocuSign Central
Send documents from CRM, Financials, Distribution and other modules
This partnership with DocuSign allows for every type of business to benefit – from HR to Sales to Manufacturing – and is available across all Acumatica modules. For a more in-depth look, DocuSign highlights the integration and provides a demonstration here.
Watch as Derek Nowak, Director of Business Development at DocuSign, and I discuss the integration as well as demonstrate the ease in which we complete an eSignature transaction within minutes.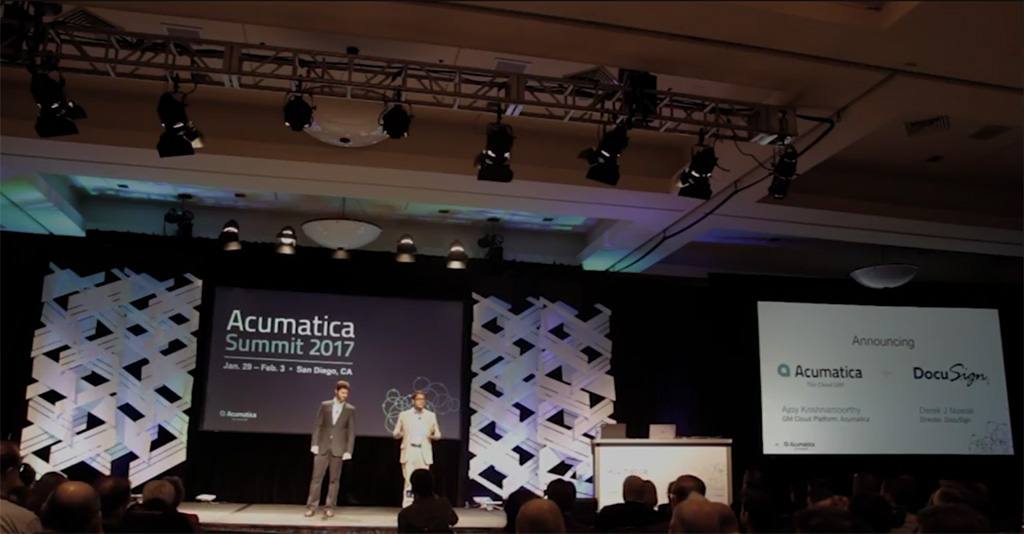 This has been a successful year for DocuSign, as Derek Nowak said in the video. "We continue to see great growth." They truly have grown and it is apparent in the fact that they have their product in 188 countries in 43 native languages. We're excited to collaborate with DocuSign and to be a part of their development. Together, our goal is to get businesses worldwide to become fully digital and fully mobile.
In an Accounting Today article highlighting the DocuSign integration, Jon Roskill had this to say, "It's no longer realistic to think of today's on-demand services as existing in one big cloud. Let's face it: to get all the functionality your business needs, you have to tap into multiple separate clouds, each with its own capabilities and requirements. Businesses that fail to recognize this reality doom themselves to a future of standalone business processes and data silos — and they limit their potential for success."
As Acumatica CEO Jon Roskill noted at Acumatica Summit 2017, we are a community and Acumatica is "fully focused" on the customer's experience. Because of this, we are making our code for this integration available to the public through GitHub, the largest open source community in the world. And as a part of our ecosystem, DocuSign for Acumatica is immediately available for you to download. This is something a cloud ERP, or any other ERP company, has never done before, and we're proud to pave the way in making our code available to the public for free.
We would be happy to chat with you about how to get all of the functionality your business needs through this multicloud integration. Don't limit your business' success – download DocuSign for Acumatica Cloud ERP today.