Acumatica Summit 2019 is still months away, and our Vice President of Platform Strategy is already eager to attend. For him, our annual cloud ERP event is more than a business conference; it's the time and place where those in the Acumatica ecosystem can reconnect and rekindle friendships while accelerating their success in the cloud.
Once again, the team at Acumatica is working on the many details for our annual cloud ERP event. This comprehensive event is something I look forward to every year for many reasons. Before I share them, here's the information you need to know: Acumatica Summit 2019 is coming January 27 through February 1, 2019 to the Marriott Marquis Houston. Our early bird special pricing is still available, and I recommend you register before it ends.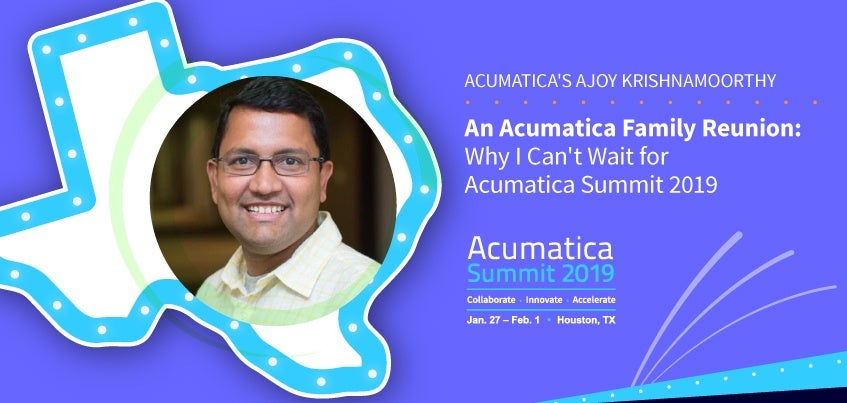 Acumatica Summit 2019: gathering our cloud ERP family together
The Summit is created essentially so the Acumatica ecosystem can get together at one time and in one place. It's a type of family reunion but on a much larger scale. While we talk to a lot of people throughout the year, we don't always get to meet in person. The Summit is the opportunity for speaking face-to-face. My colleague, Christian Lindberg, VP of Partner Solutions, says it best in his recent Acumatica Summit 2019 post, "Every year, I'm struck with the sense of community and family that pervades our premier cloud ERP event. It's a unique experience for those who have attended other technology conferences."
He goes on to say, "I look forward to seeing attendees I've gotten to know from previous Summits as well as meeting those attending for the first time. Our conversations cover topics from the personal to the professional, such as Acumatica's focus on increasing the success of our user ecosystem with the use of cutting-edge technology."
In this age of technology, telecommuting, and conference calls, Acumatica Summit 2019 will give you the sense of personal connection. I strongly believe that once you meet somebody face-to-face, the conversation quality goes up the next time you speak. It's true in a personal setting, and it's true in a business setting.
In addition, I can't overstate the importance and value of networking with your peers—other customers and partners either within your industry or a different one with similar practices or attributes to your organization—and sharing best practices with each other. Exchanging what does (and does not) work with Acumatica's cloud ERP software and platform can only strengthen your business. It also allows you to build relationships you can leverage as you go into new projects and initiatives in the future.
Acumatica Summit 2019: Ground Zero for cloud ERP knowledge
Some of our team members refer to our cloud ERP Summit as "Ground Zero." If you have questions about Acumatica's cloud ERP software and platform, Acumatica Summit 2019 is the place to be.
On Days One and Two of the Summit, our Keynote Sessions provide you with a transparent and inside view into how Acumatica as a company is doing. You'll also learn what we're working on with our Product Roadmap and see our newest release enhancements firsthand with live demonstrations by the executive and technical team members. For example, at last year's Summit, Doug Johnson, Vice President, Product Management, provided a live demonstration of our Field Service Edition's real-time GPS capability. And I demonstrated new technologies we're working on, including Machine Learning/Artificial Intelligence, Internet of Things (IoT), RFID, and Voice Recognition with Alexa.
Ultimately, these sessions will give you insight into how we're using our cloud ERP applications today and in how we apply them to specific use cases within ERP. You can then use this information to find new ways to take full advantage of Acumatica's cloud ERP software capabilities, changing and improving the business processes you have in place now.
Acumatica Summit 2019: Breakout sessions and training tracks
While the Keynote Sessions provide a mass amount of information on Acumatica and the new technology we're working on, the nitty gritty cloud ERP details come in the form of our numerous breakout sessions and training tracks. Each one is geared to meet the specific needs of our customers, partners, and developers. You get a view of our product from a functionality standpoint as well as from a development standpoint.
We dive deep into our different modules such as Financials, Distribution, Manufacturing, and Construction (our newest edition). In fact, we're going to have a specific Construction track with a lot of content customers and partners will benefit from. Many of the construction ISVs will participate, whether from project management, payroll, estimating, homebuilder solutions, and on. We'll also have three days of construction training where you'll learn how the edition works and about the different features; you'll also participate in the dialogue.
For our developer community, we've worked hard to give them incentives for engaging in our Summit. We are an ERP company and ERP product, but we have a platform that gives the flexibility to the product in terms of customizations our customers need to work and align with the core elements of their particular organization. We also have many ISV and OEM partners that take our product and change or add to it for a specific vertical. We spend a lot of time talking about the core platform investments we're making and ask our developers the type of content they want to see in the development tracks; in many cases, we have community developers leading various sessions.
At Acumatica Summit 2019, we'll offer our developers:
The second year of our specific Developer track
Our third-annual and immensely popular Hackathon
A new Developer keynote/general session, where we will announce our inaugural "Developer of the Year" winner
The return of our 15-minute lightening sessions based on a Ted Talk model where developers speak on a very specific topic (with a quick example, do a code, most done on Visual Studio—very hands on)
Customers, partners, and developers alike will feast on enough cloud ERP information to last them to the next Summit.
Acumatica Summit 2019: register now
If you're already a member of the Acumatica ecosystem, or interested in becoming one, Acumatica Summit 2019 is the event for you. This is the place where you'll find the cross-section of Acumatica team members, from engineering to product management and from sales to marketing and operations—you'll see and interact with them all.
Acumatica is growing. We have team members across the globe, and I look forward to this opportunity to connect and spend dedicated time together. We also have the chance to spend one-on-one time with industry analysts, sharing our vision and getting their feedback. Finally, we have created partner advisory boards—including a new one for our Construction Edition along with plans to create a customer advisory board—which tell us what's working, what's not working, and provide feedback on features. There's no replacement for meeting with them at the Summit.
Join those of us who are already registered. I guarantee that your time at Acumatica Summit 2019 will be well spent. Your cloud ERP software knowledge will expand exponentially, and it will help shape the future of your business.
For any questions about the Summit or Acumatica's cloud ERP, please contact us at any time.