We hosted our first Hackathon during the Acumatica Summit 2017 in La Jolla. The Acumatica Hackathon was kicked off in the evening with the iconic start of a boxing match…" Let's get ready to Rummmmmmmmmmble!" and ended in uncontrollable, gut-wrenching laughter at 12:20am! We had over 60 members participate from across partners, customers and Acumatica team  – developers and non-developers alike. We even had people "crash" the event, if not for the beer and additional food, for the "buzz" that was created.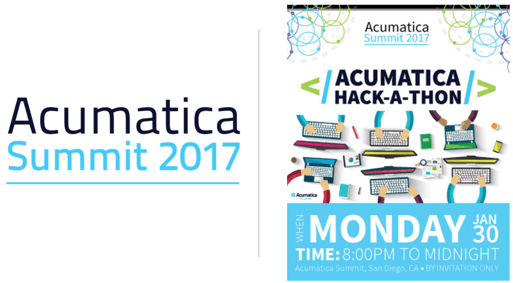 We had teams formed a week prior to the hackathon including one subject matter expert (SME) from Acumatica supporting them. Teams chose their ideas prior to the event and came prepared to win. The teams wrote spec, code and even user doc… in that process they consumed several pizzas – I'm guessing 6-7; 4-5 trays of sandwiches; a large plate of roasted vegetables, a case of soda, and a tub of cold beers on ice – as well as a healthy amount of coffee to sustain them.
At the end of the event, we picked two outstanding teams, after they presented their projects for judging. Teams Epsilon & Delta came away with bragging rights, each being highlighted in Tuesday's Keynote, and Amazon Echo DOTs – for their winning solutions: Sending SMS & Call Notifications with Twilio integration & Dynamic Customer Price Class Changes (which is published in GitHub already), respectively.
Team Epsilon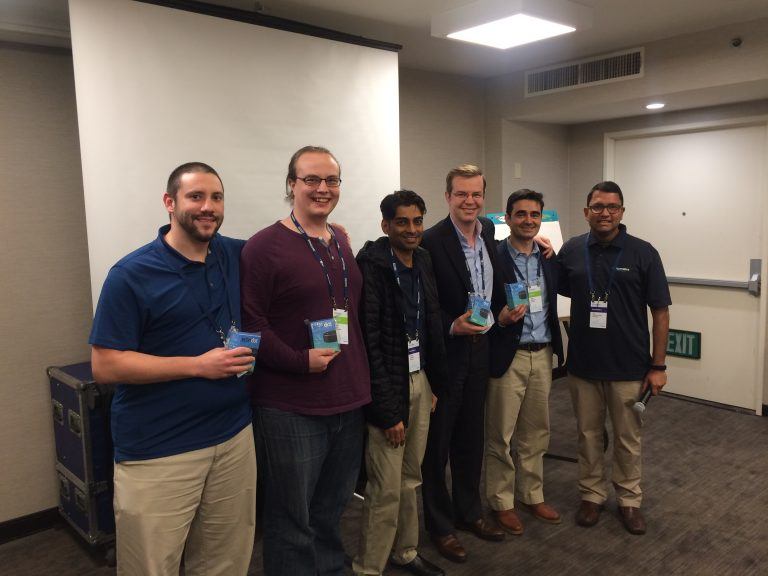 Jacob Hofer – IntuitiveTEK
Stacey Poll – CAL Business Solutions
Miguel Quintana – Syntegh
Joseph Saffo – CAL Business Solutions
Marco Villaseñor – Syntegh
Dhiren Chhapgar – Acumatica SME
Team Delta
Karen Donohoe – CBIZ MHM, LLC
Brendan Hennelly – JAAS
Phil Marotta – CBIZ MHM, LLC
James Rollins – Hemasource
Mike Schmidt – Railhead Corp
Kirill Bestemyanov – Acumatica SME
The energy & buzz of the event carried over into the feedback we received; many asking us to expand the event next year to a full-day and telling us how much they enjoyed working on their projects and connecting with a diverse group of developers and non-developers.
We had so much fun in La Jolla at the Hackathon – the camaraderie and new relationships we forged from this event were priceless. In essence, the hackathon is really about community building. We have made focused effort in this area with the Acumatica User Group on Linkedin and with more specificity in supporting Developer-Partners on Stackoverflow, sharing code on Github as well as recognizing the contributions of community members in helping and mentoring fellow community members along the way with our MVP Program. As we all know, building strong and healthy developer ecosystems drives the success of software companies – and community is a big part of the equation for success!  As we continue and increase drive in engagement with one another, you can be confident in seeing more activity with our developer community outreach in the months ahead.