The COVID-19 crisis caused a PPE shortage, leaving many business leaders wondering where they would procure these critical supplies to maintain their business operations. Thankfully, an Acumatica ERP implementation helped save the day.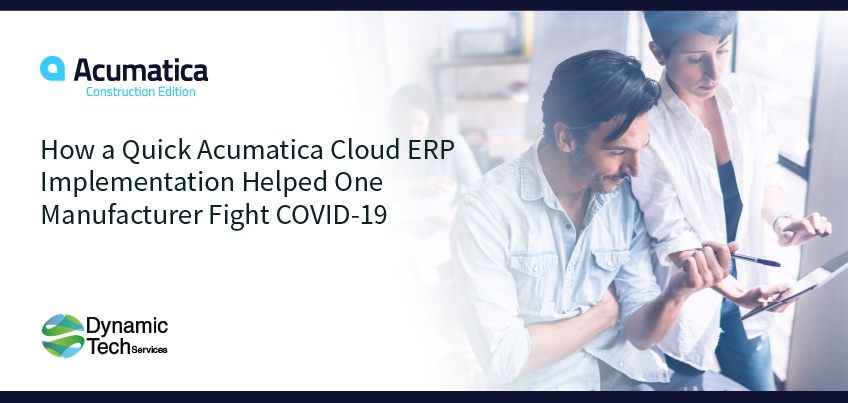 We all know the story: The sudden eruption of COVID-19 strained national and global resources for the Personal Protective Equipment (PPE) required to ensure safety in the workplace. Though we read about the disastrous shortage of PPE, we did not read about what happened behind the scenes as leaders frantically focused their efforts on rapidly procuring these necessary supplies nor how an ERP implementation (an Acumatica implementation, to be exact) was highly instrumental to the success of PPE deployment in the American workplace.
This is that story.
Non-standard procurement channels and a complex spreadsheet compound an already disastrous situation
When one company found themselves in need of significantly increased PPE to supply each of their manufacturing plants, they knew a quick surge was needed in their ordering capacity. To order large amounts of PPE on very short timelines, the manufacturer upended their typical supply chain operations, giving employees credit cards and instructing them to buy any protective equipment they could get their hands on.
This approach worked in terms of quick procurement, and the manufacturer was able to acquire and stockpile their receivables in record time. However, the non-standard channels for purchasing, combined with startlingly fast distribution requirements to each plant, forced the manufacturer to turn to non-standard inventory management tactics as well.
To speed order entry and tracking, the manufacturer decided to use spreadsheets. They assumed the spreadsheets would not be too complicated since the types of PPE needed were minimal (mostly masks and gloves). Unfortunately, because the millions of units arrived on an unpredictable schedule, each with unknown sizes, quantities, manufacturers, grades, and timelines due to the atypical procurement process, the spreadsheets soon became overwhelmingly large, complex, and hard to manage.
Timely Acumatica implementation comes to the rescue
The manufacturer requested manufacturing ERP software suggestions from their supply chain experts, and SETECH Supply Chain Solutions, LLC answered the call with a solution that would improve the PPE receiving, tracking, and shipping process. SETECH recommended MySupplyHub powered by Acumatica, the 100% flexible, fully customizable solution that SETECH developed in-house for their clients' business management processes.
SETECH, being Acumatica cloud ERP experts and the developers of MySupplyHub, decided to set up a free instance of the software, to show the manufacturer how easy Acumatica and MySupplyHub is to implement and use.
In total, from first contact to full go-live, the ERP implementation—including a barcoding solution for fast, error-free data entry—took only 1 week.
Immediately, the ERP deployment helped the manufacturer easily and quickly keep track of their total PPE inventory, second-by-second. The solution is easy to learn given the intuitive interface, and the manufacturer's representatives were able to enter in their own current stock of PPE by hand to get the ERP fully up to date in record time and gain comprehensive insight into their total PPE stock.
Utilizing MySupplyHub powered by Acumatica, they are now able to receive each unexpected unit of PPE as a Purchase Order immediately when it arrives (the PPE has already been paid for with the atypical procurement process), place it in inventory with a barcoded label, create a Sales Order, and ship it as soon as it is needed in one of their plants. In this way, the manufacturer has already handled more than 47 million units of PPE.
This is an unprecedented amount of equipment flowing through their warehouse, which is supplying critical workers with the personal protective equipment they need to stay safe in the workplace.
Why Acumatica for PPE tracking?
Experienced ERP users may wonder, was Acumatica necessary to handle this increase? They may (mistakenly) think that any manufacturing software, ERP, or SCM solution could have delivered similar benefits to the time-strapped manufacturer.
The truth is, only Acumatica cloud ERP has the flexibility to handle this type of situation. And only an Acumatica implementation could deliver this level of custom functionality this quickly.
Here's why:
Acumatica provides every business with a free demo version of the solution with full, local functionality for a limited number of users. This unique option gave the manufacturer the ability to instantly try out Acumatica as a possible solution.
The manufacturer actually started configuring Acumatica to manage all their PPE before they had obtained a full license key that enabled them to add more users to the system, which means they were able to fast-track their software implementation to an extreme degree.
Training is fast, easy, and free for anyone wanting to learn everything about Acumatica. This includes training from the Acumatica Open University and the Help Portal and even includes full developer training.
Acumatica delivers the 100% customizable Acumatica Cloud xRP platform, which empowers users to do ANYTHING with their Acumatica ERP, including build their own custom solution. No other ERP provides the fully flexible, top-of-the-line xRP platform for their solution, which means no other ERP delivers the freedom for users to create an entirely unique setup, on the fly, that meets their exact needs.
In this specific situation, a lot of the implementation speed resulted from the fact that SETECH was able to set up the solution on behalf of the manufacturer. This is because the Acumatica platform and Acumatica licensing terms provide more flexibility and usability than other ERPs.
In fact, the flexibility of cloud ERP made all of this a possibility, due to SETECH's creation of MySupplyHub prior to COVID-19. With the support of Dynamic Tech Services, SETECH spent significant effort creating the indirect materials solution MySupplyHub powered by Acumatica, which enabled creating the PPE solution to support the client's program in only a few days.
How does Dynamic Tech Services fit?
Attentive readers may wonder, how do the Acumatica experts at Dynamic Tech Services fit into this story? To answer that question, we will have to go back a few years in time—long before the world would hear of COVID-19 or clamor for PPE.
At that point in time, SETECH was looking for a new ERP to replace their aging legacy solution. SETECH had suffered through long and frustrating trials with Oracle and SAP, and they needed an ERP that worked well for their precise business requirements. After considering a few other cloud ERPs on the market, SETECH discovered that Acumatica delivered the licensing flexibility they required for their model of Business Process Outsourcing (BPO). They met with me and the rest of the Dynamic Tech Services team so they could learn more about the cloud-based ERP solution.
Brian Stevens, Lead Developer at SETECH and Acumatica Developer MVP, says, "We found the built-in features and robust customization capability to make Acumatica the best choice."
Dynamic Tech Services guided SETECH through their Acumatica implementation, helping them get up and running quickly. With Dynamic Tech's encouragement, guidance, and resources, SETECH connected with the Acumatica developer community, participating in the Acumatica User Group Community, the Stackoverflow developer community, the in-house Acumatica development team, and the Acumatica Hackathons to learn as much as they could about Acumatica cloud ERP.
Due to their learning, SETECH has been honored as an Acumatica Developer MVP. They have also created their own custom supply chain software (MySupplyHub) built on the flexible Acumatica Cloud xRP platform.
As Brett Nothan, the Director of IT at SETECH puts it, "We [initially] got only a SENSE of what the product [Acumatica] was, because we never could have imagined… how robust and capable the system is."
That extreme flexibility is what gave the SETECH team the freedom to implement MySupplyHub powered by Acumatica on behalf of the manufacturer that needed to supply their workers with PPE.
Get the most out of your Acumatica implementation with Dynamic Tech Services
It is often impossible to predict the full benefit that an organization can experience after an Acumatica implementation. Choosing the right partner to help guide the experience is key. Dynamic Tech Services provides the technical expertise with three (3) Acumatica MVP's along with the partnership that encourages growth. As founding members of the Acumatica User Group Southeast, we understand the power of community and help our customers realize the benefits of the Acumatica Community.
What might your company accomplish with your Acumatica implementation? Start discussing the possibilities when you contact Dynamic Tech Services.
We would like to extend our deepest thanks to the SETECH Supply Chain Solutions, LLC team for their permission to share this story. We would also like to extend our heartfelt thanks and a HUGE round of applause to all the workers who show up to work every day to produce the critical supplies that keep our nation running.
About SETECH Supply Chain Solutions, LLC
Throughout its over 30-year history, the SETECH legacy has been delivering direct and indirect supply chain (MRO) solutions for its customers, resulting in increased predictability, reliability, efficiency, and unparalleled year-over-year return on investment.
SETECH Supply Chain Solutions, LLC is committed to playing their part in ensuring a competitive domestic supply chain presence. From advisory (consulting) services to Software-as-a-Service (SaaS) to fully managed (outsourced) services, SETECH provides the answers to all of your supply chain management challenges.