American Payment Solutions (APS) delivers integrated payment solutions for every size business. They understand that you can turn your customer demand into actionable manufacturing production schedules with secure credit card automation and payments. Level 3 Processing for Acumatica through Acumatica Manufacturing Edition helps manufacturers retain more profit.
Order-to-production-to-cash has a nice ring to it, doesn't it? The Acumatica Manufacturing Edition automates credit card processing and enables manufacturers to meet customer demand better, cheaper, and faster than the competition.
In order to maintain profitability, manufacturers must secure credit card automation automation and payments as efficiently as possible with the lowest rate available. To keep manufacturing productive, manufacturers need to utilize manufacturing ERP software, such as Acumatica Manufacturing Edition, which aids in estimating production accurately: ordering the right materials at the right time, all while monitoring job status. Identifying and addressing material shortages is essential to identify scheduling bottlenecks. Delivering a finished product, on time, and at the least cost helps to ensure a competitive advantage.
And being paid for all that work is the most important component of the process.
The Acumatica Manufacturing Edition also enables businesses to accurately quote, turn the quote into an order, and secure payment automatically with integrated Acumatica credit card processing. Companies accepting electronic credit card processing payments are wise to partner with American Payment Solutions to find an integrated Acumatica level 3 processing solution.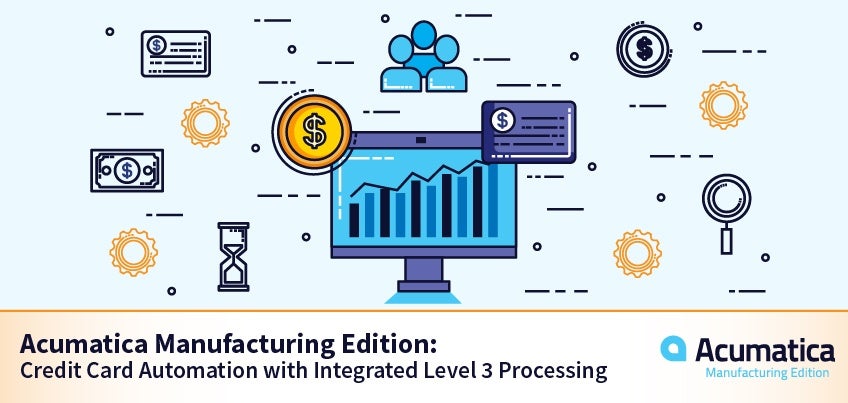 Benefits of Level 3 credit card processing
Merchants who process Level 3 transactions experience a variety of benefits including:
Saving money with lower interchange rates than are available for Level 1 or Level 2 purchases
Receiving detailed reporting that allows them to track transactions from beginning to settlement
Tailoring reporting with up to 60 different data points
In addition, Level 3 credit card processing allows merchants to pay the least fees; Level 3 transactions typically cost a merchant 0.50-1.50% less than a standard Level 1 transaction. This amounts to huge savings for B2B companies.
Qualifying for Level 3 processing
To qualify for Level 3 processing, organizations must integrate their payment platform with their ERP system. APS is natively built with Acumatica.
Level 3 processing also requires the capture of specific line item data in credit card transactions. These additional data fields include merchant name and address, invoice number and tax amount, plus line item details such as item description, quantity and unit of measure, freight amount, and commodity and product codes.
The extra reporting makes it easier for corporate and government customers to monitor and track internal spending.
Level 1 vs. Level 3
Level 1
"Level 1" card data is typically associated with consumer transactions (B2C) and provides limited purchase data back to the cardholder.
Level 3 
"Level 3" (also known as Level III) line item detail is equivalent to the information found on an itemized invoice.
Comparative Example: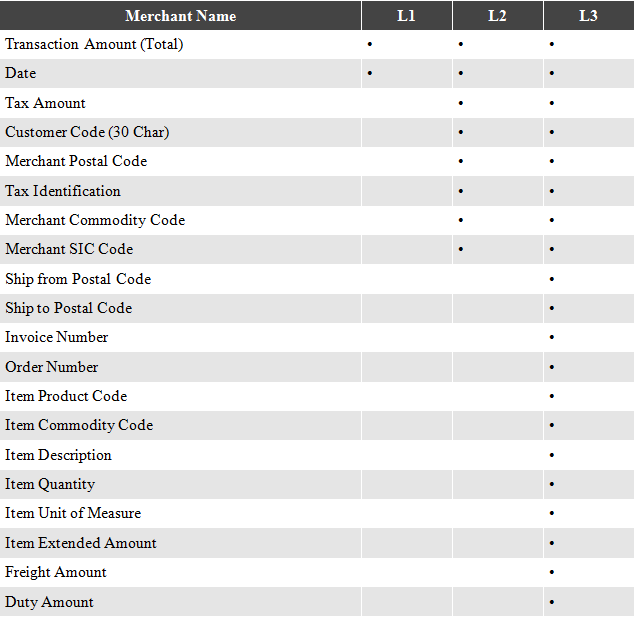 American Payment Solutions (APS) offers an integrated and secure Acumatica PCI-compliant Level 3 credit card processing solution featuring point-to-point encryption (P2PE), tokenization, and our APSPAYS Vault, which eliminates card data that typically would be stored on a local server.
We also walk our merchants using Acumatica through the PCI Compliance Self-Assessment Questionnaire (SAQ), eliminating the Non-PCI Compliance Fee most merchants pay every month.
Acumatica Manufacturing Edition and APS
Acumatica Manufacturing Edition and APS work seamlessly together to ensure customers can qualify for Level 3 processing capabilities and accept payments anywhere, any time. Customers can also utilize the amazing benefits of streamlined credit card processing. These benefits include:
Convenient 24-hour access to payment processing and reporting
Automated recurring billing
Improved cash flow
Fraud detection and prevention (volume thresholds, risk parameters)
Reduce invoicing costs
No additional licensing fees
Virtual Terminals (no integration needed, no software to install, simply use your web browser to securely log in to process transactions)
Credit card tokenization for secure access to future customer transactions
Real-time Payment Gateway
Level 3 supported gateway for US accounts, (significant savings for business to government or business to business transactions)
Batch processing when real time approvals are not required
100% PCI-DSS compliant at no additional cost
Some of the lowest American Express fees in the entire industry
Next Day Funding including American Express making reconciliation process easier
Call APS at 888-685-1900 or email Patty Benitez to learn how to cut costs and benefit from the expertise the teams at Acumatica and APS bring to the table.
American Payment Solutions is one of the nation's leading credit card processing companies, providing 24/7 award-winning customer support, guaranteed rates, and up-to-date technology to thousands of merchants. Our team mission is to create highly robust, yet easy to use solutions for our clients. With our connections to many different industries, we have become the endorsed merchant solutions provider for many restaurant, hospitality, and software companies throughout the United States. American Payment Solutions is a Full-Service Merchant Services Provider (MSP). We serve thousands of small, medium, and large organizations.
American Payment Solutions is headquartered in Mesa, AZ with several field offices throughout the United States and Canada. For more information, please visit www.apsmerchants.com. APS is a registered ISO/MSP of Esquire Bank, Garden City, NY 11530.
North American Payment Solutions is a Registered MSP/ISO of the Canadian branch of U.S. Bank National Association and Elavon, Inc. Georgia (a wholly owned subsidiary of U.S. Bancorp, Minneapolis, MN).