Manufacturing companies seeking the perfect manufacturing software for their organizations would benefit from reviewing the 2017 Manufacturing FrontRunners Quadrant. The report ranks the top-performing software products as Contenders, Pacesetters, Masters, and Leaders. While all of the products in every quadrant have something to offer, Acumatica's functionality, ease of use, and focus on customer service is worth considering as you research your manufacturing execution system choices.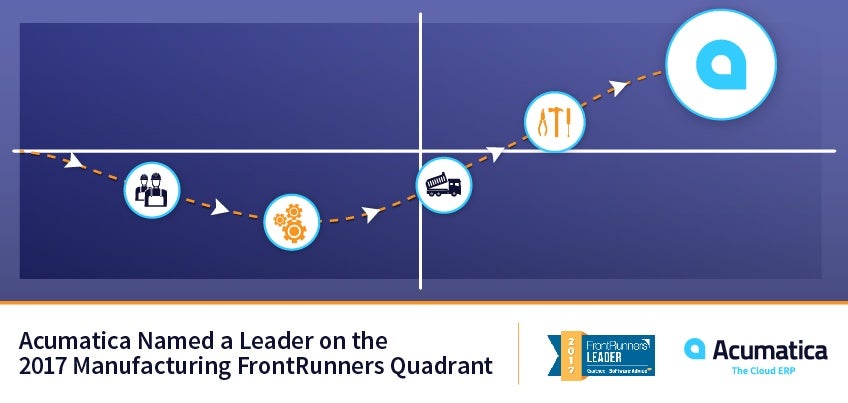 It is with pleasure that we announce the positioning of Acumatica as a Leader in the 2017 Manufacturing FrontRunners Quadrant report. FrontRunners is a 100% data-driven assessment of the most capable and valuable products for small and medium-size businesses, published on Software Advice. Based mainly on actual user reviews through the three Gartner Digital Markets of Software Advice, Capterra, and GetApp, our leadership status in the FrontRunners quadrant speaks to our effort of providing our manufacturing customers with the complete solution for their manufacturing ERP software needs.
The report, which offers insights to small businesses about the top-performing software products, is available for you to download here.
Take a look at the FrontRunners quadrant below.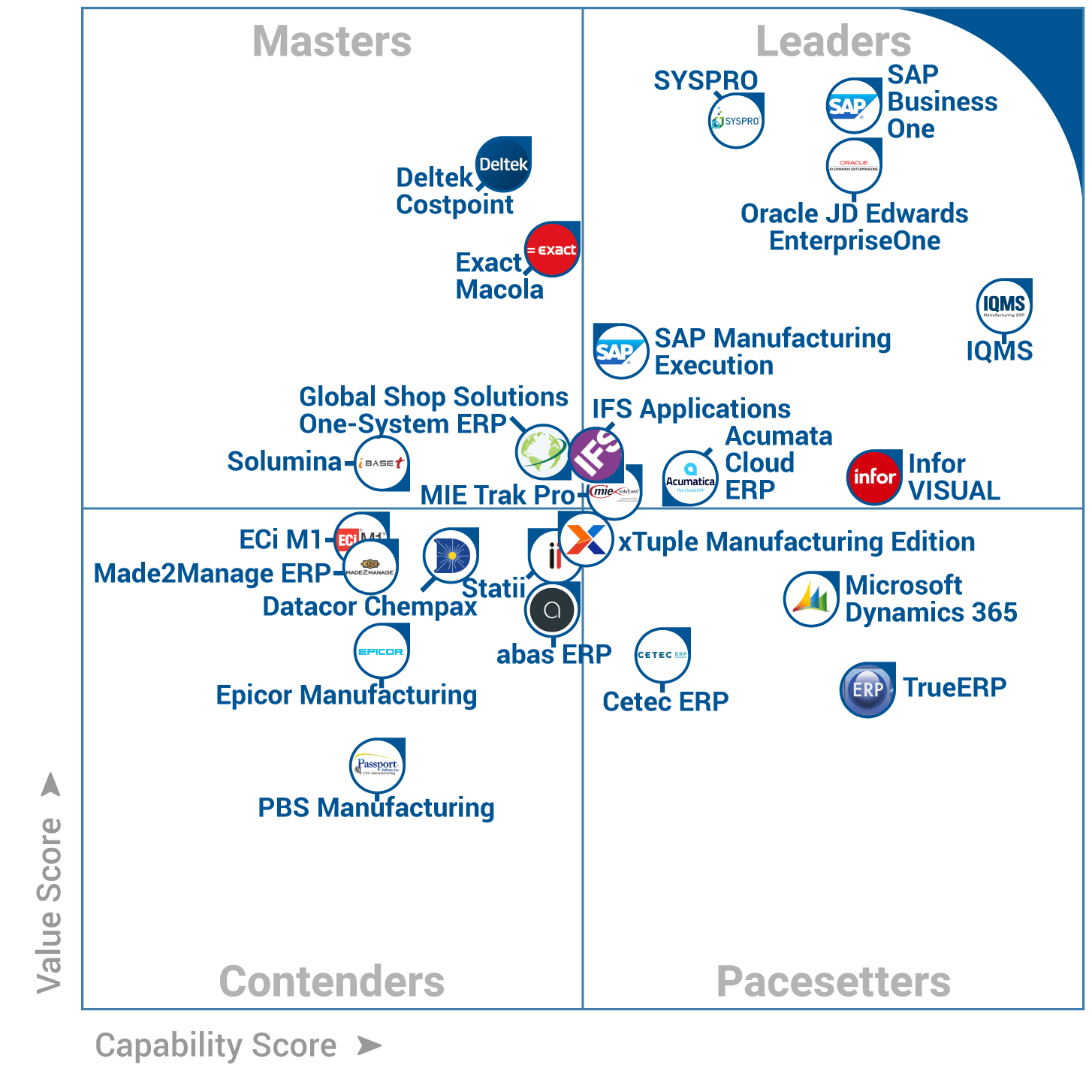 The "value" and "capability" of Acumatica's Manufacturing Management system
The FrontRunners quadrant evaluated the Value and Capability of 120 manufacturing products; they based their evaluation on customer reviews, the features of the manufacturing software, and the amount of customers who use their manufacturing management ERP system.
While you can read the report for yourself, here is a quick synopsis of FrontRunners' criteria for the quadrant ranking.
FrontRunners defined capability as "how much the products can do" based on:
Functionality
Ease of use
Customer support
Ability to supply core software functions
Integration capabilities
They also assessed a product's "business confidence", which is the idea that if the company and the customer base are growing, then the business is more likely to continue investing in their product.
For Value, FrontRunners decided if "they're worth their price/cost" based on:
User's ratings of their overall satisfaction with the product
Would they recommend the product to others
Relative value vs. price
They looked at "product adoption", as well. Product adoption is defined, and their full scoring methodology is available, in the FrontRunners report.
As a Leader, Acumatica received top scores from actual users of our ERP manufacturing software. Our focus has always been on delivering value to our customers through ease of use, adaptability, and flexibility. Acumatica's Manufacturing Management enables organizations to integrate their production planning with their customer, sales, inventory, and financial processes; our cloud-based manufacturing ERP is a single solution able to coordinate business activities in real time.
Acumatica relies on customer feedback
Just as FrontRunners relies on user input for evaluating software products, we rely on our customers' honest feedback for development cues. We use their personal experiences and suggestions to show us what is working well and what may need improvement.
Acumatica customer Steve Cates, President of Ray Allen Manufacturing, says this about his experience, "The strength of Acumatica is that it's an open system that's flexible and integrates well with other applications. That gives us a lot of control to run our business the way we want." Watch Cates discuss business growth and Acumatica in the video located here.
And CEO Bram Kleppner of Danforth Pewter, a company who can trace its family roots in pewter manufacturing back to 1755, says, "Once we heard about Acumatica, the choice was easy. It was the only one that met our criteria. The leadership team of any small or medium business considering an ERP system is doing themselves a great disservice if Acumatica isn't on their list to investigate."
Are you already an Acumatica manufacturing software user? We'd like to hear about your experience. Looking for a manufacturing ERP? We hope the report by FrontRunners encourages you to contact us and give us the opportunity to introduce our manufacturing management system to you.