In many ways, nonprofits share similarities with major corporations. Both have employees to keep happy. Both have goods and services they provide. Both have a budget. However, unlike major corporations, nonprofit organizations have a unique set of complex needs with regards to financial management. Donations, grants, donor relations, and an enhanced audit trail, among other things, all must be accounted for. The way finances are managed at a nonprofit are quite different than a Fortune 500 company.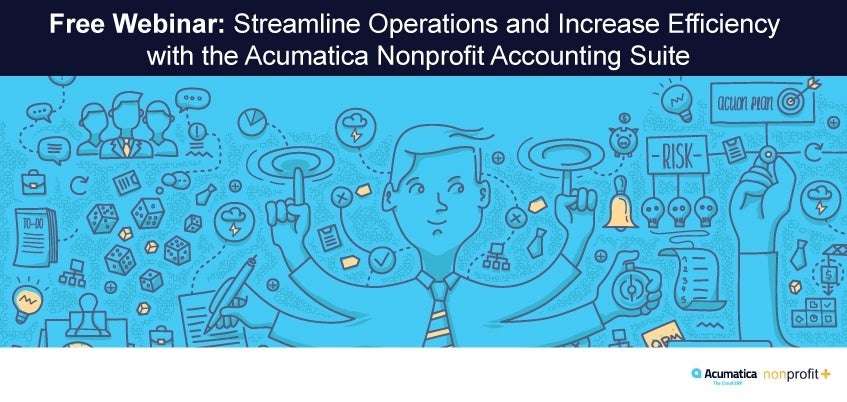 Because of these unique needs, we've partnered with NonProfitPlus to create an integrated solution built exclusively for nonprofits. The Acumatica Nonprofit Accounting Suite enables your organization to demonstrate accountability and stewardship, maintain funding sources, and engage leadership by analyzing your true financial picture.
Want a closer look? Download this on-demand webinar to learn how this solution can save you time and bring visibility into your nonprofit. Jeremy Pokota, Director of Client Services & Partner Strategy at NonProfitPlus, will show you how the platform brings a new level of functionality, emphasizing accountability rather than profitability.
NonProfitPlus is business management software engineered with nonprofits in mind. It enhances the cloud ERP experience, providing the unique functionality required to run a successful nonprofit organization. Delivered on the powerful Acumatica platform, NonProfitPlus brings the following key benefits:
Fund Accounting: You can easily track revenues with purpose restrictions against the expenditures made for those purposes. Our Fund Accounting module allows you to bring balance to funds and maintain accounting integrity between defined dimensions.
Restricted Funds Management: Properly define funds and eliminate commingling of cash. NonProfitPlus provides the ability to define and manage how cash is received and expended without over-complicating the data entry process.
Grant Management: Managing grants is an afterthought in most accounting software systems. We engineered our product to allow you to manage, track, and report on grants, even if the grant life supersedes the financial year.
Encumbrance Accounting: NonProfitPlus understands your need to reserve funds to fulfill a future obligation. You are able to record these obligations at the time they are foreseen, even if the services haven't yet been rendered or the billing hasn't taken place.
Enhanced Audit Trail: Acumatica Cloud ERP gives you a complete audit trail that stretches across all modules so that you can understand who, when and where transactions were entered and approved.
Download the on-demand webinar today for an in-depth review of the platform. Let us know of any further questions you have!